The new African Continental Free Trade Area (AfCFTA) is open for business since January 1st, 2021. This article discusses Africa's potential in engaging in the global supply chain under the AfCFTA.
On January 1st, 2021, the African Continental Free Trade Area (AfCFTA) started to trade under the preferential terms. This world's largest trade bloc by number of participants, with 54 member states, aims to gradually reduce 90% of the tariffs over 5 years. More than 81% of products are currently traded under preferential terms, with negotiations on the remaining 19% aimed to be concluded by July 2021. 35 out of the 54 signatories have ratified the agreement, including the three largest African economies: Nigeria, South Africa, and Egypt.
The AfCFTA signals a major effort towards a more integrated African regional economy as well as the will to better include Africa in the global supply chain.
Africa in the Global Value Chain
Currently, Africa engages in the global value chain mainly via the supply of primary goods. In comparison to other regions, like the Americas, Asia and Europe, the intra-trade level in Africa is significantly lower (Figure 1). The AfCFTA, by boosting the intra-regional economy, can bring new dynamics to Africa's participation in the global value chain.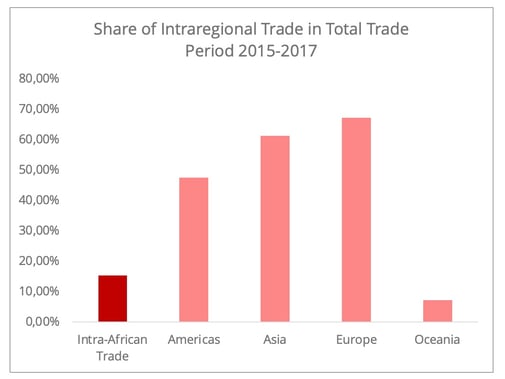 Figure 1 - Data source : UNCTAD Report, Economic Development in Africa Report 2019
According to World Bank's analysis, the AfCFTA will boost intracontinental exports by over 81% and exports with non-African countries by 19% by 2035. In terms of sectors, manufacturing exports are anticipated to make the most gains: a 110% increase for intra-African trade and 46% for non-African trade. In contrast, service trade is envisaged to have the most modest rise (14% of intra-African trade).
In the manufacturing sector, Europe and China are estimated to see the largest increase in trade with Africa. Europe [1] is forecasted with an increase in imports of textile and chemical manufacturing goods from Africa by 2035. Meanwhile, a significant growth in African imports from China in the manufacturing sector is expected (Figure 2&3). The estimated rise in the manufacturing industry under the AfCFTA will make Africa a significant opportunity as a future option for supply chain diversification.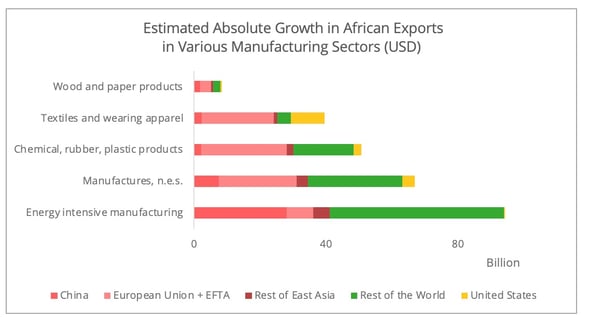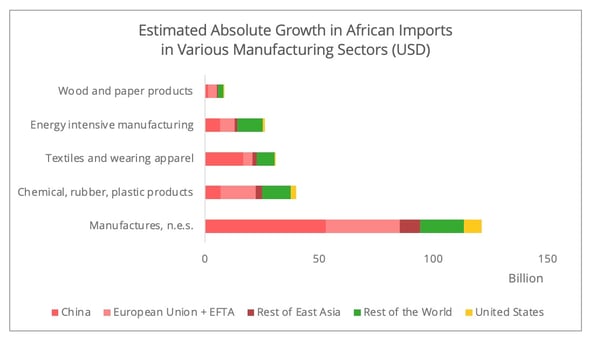 Figures 2&3 - Data source : World Bank's Report, The African Continental Free Trade Area Economic and Distributional Effects.
A More Integrated Africa in Global Manufacturing
Firstly, the removal of tariff barriers and non-tariff trade barriers across the AfCFTA member states facilitates sourcing within Africa to form a regional manufacturing cluster, which will in return attract more foreign investment to establish manufacturing activity in this region.
There is already an emerging tendency for foreign investment in labor-intensive manufacturing sectors in Africa, for instance the textile industry in Ethiopia. China is a major investor in Africa's light manufacturing industry, especially textile and footwear (Figure 4). Some of the factories in this field with foreign investment are already sourcing a significant share from local suppliers and the AfCFTA will further add to this tendency. The growing labor force in this region will be another reason to see this trend increase. By 2035, 70% of the population in Africa is estimated to be of working-age.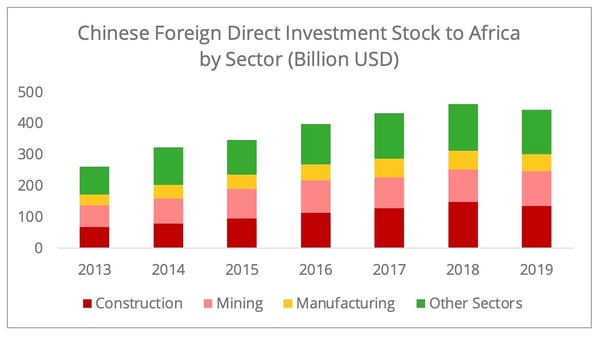 Figure 4 - Data source: Johns Hopkins University SAIS China-Africa Research Initiative [2]
Over and beyond the low value-added sectors, some North African countries with established industrial capacity are already attractive nearshoring options for European or European-focused manufacturing. Morocco, which is at the final stage of the ratification process, stands out as a promising option for the automotive industry. The political stability, geographical proximity to Europe, well-established logistics connection to Europe, and pertinently cheap labor costs make it competitive to Central and Eastern European countries.
In recent years, Morocco has emerged as a regional automotive manufacturing hub, especially due to French investment. Tanger Automotive City has now attracted 50 companies from various nations. The plants belonging to PSA in Morocco in 2019 have attracted investment from automotive intermediate parts manufacturers, especially Chinese suppliers, due to their tight cooperation in China, to form a local supply chain. In January 2021, two Japanese automotive intermediate parts suppliers, Yazaki and Sumitomo, are reported to be building new plants in Morocco, further indicating its potential as a nearshoring option. With more North African countries to ratify the AfCFTA[3] in the future, this may generate growing interest from Europe for them as nearshoring options. It also allows this sub-region to grow as a manufacturing hub to meet the growing African market.
Expanding Consumer Market and E-Commerce
The anticipated income growth under the AfCFTA also means an expanding regional consumer market. The middle-class population in Africa is estimated to reach 1.7 billion by 2030 from 1.2 billion in 2018. An earlier report from Brookings Institute highlighted the growing demand for two types of goods: fast-moving consumer goods and luxury products, along with an anticipated income growth.
The enlarging consumer market also provides room for e-commerce to grow. The establishment of this institutional infrastructure creates the necessary tools for the Digital Transformation Strategy for Africa and the liberalization of e-commerce-related services (Phase Three Negotiation) under the AfCFTA. Currently, e-commerce is at a fast-growing, yet early stage in Africa, with Nigeria, South Africa, and Egypt having the most e-commerce traffic. In past years, there have been emerging African e-commerce marketplaces and retailers. For instance Jumia, the Nigeria-based e-commerce market place is regarded as the African Amazon. There are also emerging foreign invested e-commerce platforms dedicated to the African market, for instance KiliMall, a Chinese run Kenya-based e-commerce platform. The development of the e-commerce sector means a more connected intraregional economy and provides a new pathway, especially for local SMEs, to export to the foreign market.
What comes along with the expansion of e-commerce is a growing demand for distribution and warehouse management services. The service providers with a well-established local network will be particularly in need of facilitating last-mile delivery, which also provides local e-commerce marketplaces and retailers certain advantages in comparison with international e-commerce players.
Furthermore, the expansion of the e-commerce market, especially cross-border e-commerce, can transform some areas into regional distribution hubs. Mauritius surely is one of them, it is ranked the highest among all the African countries in the DHL Global Connectedness Index 2020. Specifically, regarding e-commerce, Mauritius not only ranks the highest in the 2019 B2C E-commerce index in Sub-Saharan Africa issued by the UNCTAD, but it is also the very first African country to sign a Free Trade Agreement with China, which entered into force on January 1st, 2021. As a country that has already ratified the AfCFTA, Mauritius could become a gateway to connect China-Africa trade.
Non-tariff Trade Barriers
Africa is among the regions with the highest non-tariff trade costs. Removal of non-tariff barriers, such as red tape and customs clearance procedures, can generate a higher income increase than merely removing the tariff barrier. However, it must be noted that there are also sub-regional agreements with different regulations on the rule of origins and other trade facilitation measures. As harmonizing the trade facilitation measures among these regional and sub-regional agreements remains unaddressed, there could be confusion in actual practice.
Transportation and Logistics Infrastructure
Transportation and logistics infrastructure is another factor hindering the prospects of the AfCFTA, either in the formation of regional manufacturing supply chain clusters or in growing e-commerce. According to the World Bank Logistics Performance Index ranking, South Africa is the only African country to have made it into the top 50 (33rd).
China is one actor that cannot be neglected when it comes to infrastructure investment in Africa. Construction represents more than 30% of China's total FDI in Africa (Figure 3). Construction investment paves the way for China to deepen its economic engagement in Africa. Under the Belt and Road Initiative, there are also joint collaborations between China and European countries, especially France, in various projects in the transportation sector in Africa [4], both inland transportation and maritime sector. One typical example is the collaboration among CMA CGM, Bollore Logistics, and China Harbor Engineering Company on the Cameroon Kribi Port project.
Europe is forecasted to generate the most increase in the trade in transportation services with Africa, though with a much smaller growth than that of the manufacturing industry (Figures 5&6).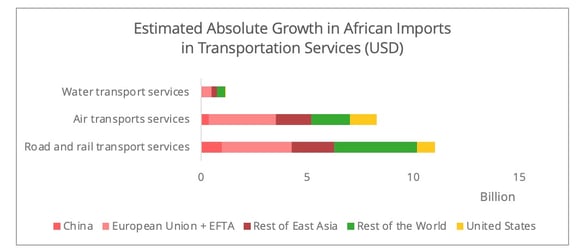 Figures 5&6 - Data source: World Bank's Report, The African Continental Free Trade Area Economic and Distributional Effects.
Just like every international trade agreement, implementation is the key to realizing the potential of the AfCFTA. For the non-tariff trade barriers, in an effort to improve digitalization an online monitor and reporting tool has been developed to address these barriers via in collaboration between the African Union and the United Nations Conference on Trade and Development.
---
[1] Europe is based on the World Bank's definition, and includes the EU, and EFTA countries (Iceland, Liechtenstein, Norway, Switzerland).
[2] Figures are generated from the Johns Hopkins University SAIS China-Africa Research Initiative, from data collected from the Chinese Statistical Yearbook.
[3] Currently, among the six countries of North Africa, three have ratified the agreement: Egypt, Tunisia, and Mauritania
[4] This type of collaboration is called "Third-party Market Cooperation" in Chinese press and policy documents.