The pandemic has meant that consumers are increasingly turning to online shopping. E-commerce has become a very significant source of traffic flow between Europe and Asia in both directions.
Consumers are increasingly turning to online shopping in the face of the pandemic. Major shopping events such as China's Singles' Day and America's Black Friday which take place in November have a presence that is increasing globally. Cross-border e-commerce proves to be an important means of injecting traffic flow onto the Europe-Asia trade lane, in both directions amid the second wave in Europe.
Dissecting the products
According to China Customs, over the past three quarters Chinese cross-border B2C e-commerce reached 187 billion RMB (24 billion €) [1], with a YoY increase of 52.8%, in sharp contrast to the 1.8% decrease in total trade. While the B2B sector accounted for around 80% of total Chinese cross-border e-commerce, the volume of its B2C share continues to experience very rapid growth (Figure 1). In this article, we will focus on B2C and B2B2C during the November 11 Singles' Day shopping festival.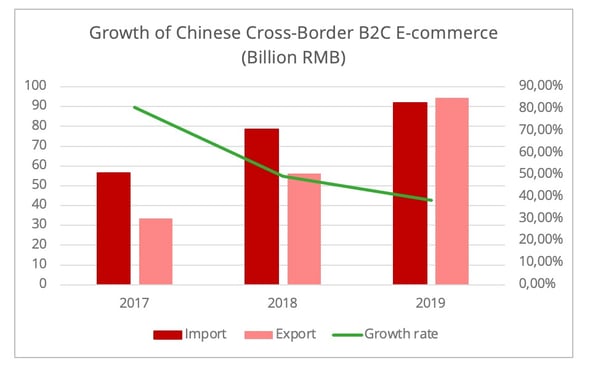 Figure 1 - Datasource: China Customs and Chinese Ministry of Commerce.
The pandemic's travel restrictions are preventing Chinese consumers from traveling abroad and are likely to generate higher expenditure in cross-border e-commerce for purchases of overseas goods. The double-digit increase in cross-border B2C e-commerce from Chinese consumers could generate a consistent demand for European goods. According to the China Statistical Report on Internet Development, the number of Chinese customers buying foreign products through cross-border e-commerce reached 130 million in 2020 [2]. In 2018, the number was around 88 million. Furthermore, Europe has long been a significant supplier to Chinese cross-border e-commerce retail. In 2019, Europe accounted for one-fifth of China's total import value via cross-border e-commerce retail (Figure 2). According to the latest press on this year's Singles' Day results for Alibaba, four out of the top ten countries for Chinese imports are European: France, Germany, Italy and the UK [3].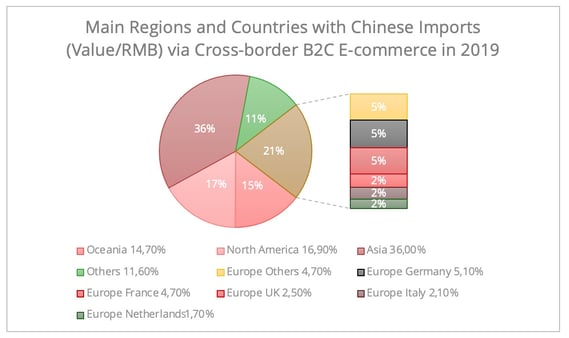 Figure 2 - Datasource: generated from report E-Commerce in China published by the Chinese Ministry of Commerce
In terms of products, apart from goods with stable high demand such as baby products, cosmetics, and nutrients, there is also a growing demand for pet products from the Chinese market. Chinese pet owners are turning to cross-border e-commerce platforms for premium quality products. Imported cat food was among the best sellers on Alibaba's cross-border market place during the 2019 Singles' Day shopping festival. According to a joint report by Deloitte and Tmall Global, Alibaba's cross-border e-commerce platform, it recorded an increase of 670% in the sales of imported cat snacks in Jan-March, 2020.
As well as seeking premium quality, the motivation behind the Chinese consumers' use of the cross-border e-commerce platforms are the savings made when purchasing luxury goods from Europe. The travel restrictions due to the pandemic have further added to this tendency. According to JD Worldwide, a primary Chinese cross-border e-commerce platform, its sales of imported luxurious bags and suitcases saw a 93% YoY increase during its Black Friday shopping event.
This situation means that European luxury brands and luxury goods e-commerce retailers are capitalizing on major online shopping events in China, but it also acts as a catalyst to the already growing strategic cooperation between the different Chinese cross-border e-commerce platforms aimed at accelerating the digitalization of luxury retail on the Chinese market.
In 2019, for the first time, the value of Chinese cross-border B2C e-commerce exports surpassed that of imports. According to the 2019 cross-border e-commerce shopping survey conducted by the International Postal Corporation, China was listed among the top 3 most popular vendor countries in this sector for 24 of the 25 surveyed European countries [4]. Unlike Chinese consumers that seek premium quality goods from overseas, the comparatively low price of Chinese products drives European consumer purchasing from these platforms. Two European countries, Spain and France, were among the top ten countries for Chinese exports on this year's Singles' Day [5].
The top-selling goods via B2C channels from China overseas are apparel, home décor, kitchenware, electronic goods, and sports goods. During the pandemic, PPE, home décor, office goods, and gardening goods have been experiencing a significant increase on cross-border e-commerce channels, as people spend a substantial amount of time at home.
Intermodal shipping connection
Intermodal air/rail-road freight shipping has been largely adopted in cross-border e-commerce shipping westbound from China to Europe. Namely, shipping to European distribution centers and warehouses via airfreight and rail freight and then utilizing road transportation for intra-Europe shipping via collaboration with local delivery service providers. For instance, Alibaba has paired up with Correos in Spain and Relais Colis in France.
Airfreight is the primary freight mode for cross-border B2C e-commerce. The large e-commerce shopping events probably contribute to the continued recovery of air cargo demands, especially under the pandemic, according to IATA. However, belly cargo capacity remaining at around 70% less than the pre-pandemic period poses a significant challenge to cross-border e-commerce. This may favor the following two trends.
Firstly, this may accelerate the vertical integration trend between e-commerce giants and logistics operators to better control distribution, and consequently create a more resilient supply chain. For instance, for the 2020 Singles' Day Shopping Festival, Cainiao Logistics, the logistics subsidiary of Alibaba, chartered over 700 flights to deliver 90% of the total products leaving China. On the EU-Asia trade lane, the air cargo flow generated by this is particularly observable in Liege airport (Figure 3), which became Alibaba's distribution center in Europe in 2018.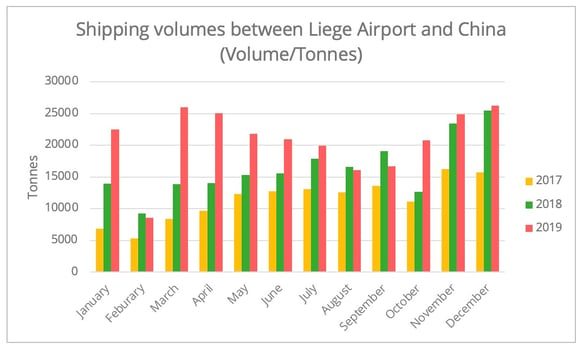 Figure 3 - Data source: Eurostat
In the first half of 2020, among the top five airports with the highest freight volume to and from China, Liege Airport is the only one seeing growth (Figure 4). Beyond Europe, further integration can be seen in Korea and Japan, where Alibaba is stepping into 3PL service provision.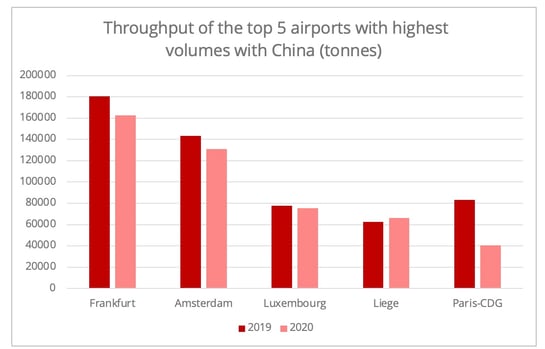 Figure 4 - Data source : Eurostat
Secondly, e-retailers may seek to locate their inventory closer to the final destination to reduce uncertainties, especially in situations akin to the first outbreak this year. As such, this may favor the use of the B2B2C model. Namely, pre-stocking goods in a (bonded) warehouse in the destination country and then using local delivery services for the last-mile distribution. This mode could negatively impact air freight demand in cross-border e-commerce in the long run and benefit the lower-cost shipping modes, such as ocean freight or rail freight, for the first-leg transportation. The increasing utilization of ocean freight has led to a growing partnership between Alibaba and major ocean carriers, such as Maersk, CMA CGM, China Merchants Group and ZIM. However, this model comes at the expense of flexibility, and is perhaps more suitable for goods with consistent demands, such as milk powder and nutrients in the Chinese market.
The uncertainty in airfreight and the Chinese policy initiative contribute to integration between cross-border e-commerce and land freight, though the shipping volume remains marginal compared to that of air cargo. This summer, the lifting of the Russian embargo on EU food shipping via its territory also made the shipping of high-demand European food products to China via rail freight possible. For instance, in October, a dedicated block train of dairy products arrived in Wuhan China from Poland, in preparation for the Singles' Day, with a regular monthly service being planned for the future.
For this year's Singles' Day shopping festival, it was estimated that around 4 million parcels were shipped to Europe via rail freight, mainly through the Yiwu/Zhengzhou – Liege connection. This estimation does not include the goods sent via the B2B2C format mentioned above, a business model being encouraged by the Chinese government.
However, the congestion and container shortage on the Asia-Europe corridor remains an outstanding issue for railway freight. This provides an opportunity for the newly emerged road freight service between China and Europe. The flexibility of Europe-Asia road freight can be an attractive service for time-sensitive cross-border B2C e-commerce. Particularly as shipping facilitation measures have also been implemented for cross-border e-commerce via the TIR road transportation at some of China's border points.
---
[1] This includes both imports and exports.
[2] This number is based on the number of people purchased imported goods via cross-border e-commerce in the past six months.
[3] The other 6 countries are: US (1), Australia, Canada, Korea, Japan, New Zealand.
[4] This refers to the UK and 24 EU countries.
[5] The Top ten countries with the highest value of imported cross-border e-commerce from China are US, Russia, Malaysia, Singapore, France, Spain, Australia, Korea, Japan, and Canada.