Demand is returning in the air freight industry, which is little by little catching up on its 2019 traffic levels. After a lull, freight rates are climbing again.
Worldwide air freight traffic in tonne-kilometres in September 2020 was down 8% on its level in September 2019, according to the figures of the International Air Transport Association (IATA). This amounts to a small increase in the rate of recovery since the difference between traffic levels in August was 12.1%. Traffic in September, moreover, was 3.7% up on August, which represents the strongest month-on-month increase since the month of May.
Capacity down 25.2%
The air freight sector is still struggling with a real capacity deficit. Airlines are a long way from having re-established normal passenger flight programmes since the Covid-19 epidemic is still having a major impact on demand from both the business and tourism clientele. "For air cargo, 92% of the business is still there, whereas about 90% of international passenger traffic has disappeared," said Alexandre de Juniac, IATA's director general and CEO. Freight transport capacity fell 25.2% year on year in September 2020 because massive use of all-cargo aircraft is simply not enough to make up for the shortfall in passenger aircraft hold capacity.
To satisfy demand as much as is possible, the companies have continued to make use of the solutions they came up with at the height of the crisis to meet the urgent demand for personal protection equipment. They are continuing to use what IATA calls "preighters", which is to say passenger aircraft on which the cabins have been modified to enable them to accommodate freight. IATA estimates that 2,500 aircraft of this kind have been in service since the start of October.
Prices still increasing between Asia and Europe
Although the pressure on capacity is causing problems at operational level, it is having a positive effect on prices for the airlines. After a period of sharp increases, the situation became calmer in July. Our Upply data base shows that air freight prices were still on a downward trend overall in September. Nevertheless, these prices are markedly higher than those registered in September 2019, except eastbound from Europe to Asia. The increase in westbound freight rates from Asia to Europe, on the other hand, has never faltered.
Source : Upply
Upply's first estimates for the month of October confirm this trend for Asia to Europe flights but also for intra-Asian routes. This trend represents the first tangible effects of the peak season. Operators are used to this characteristic fourth quarter increase in the air freight industry but, this year, it is expected to reach record levels.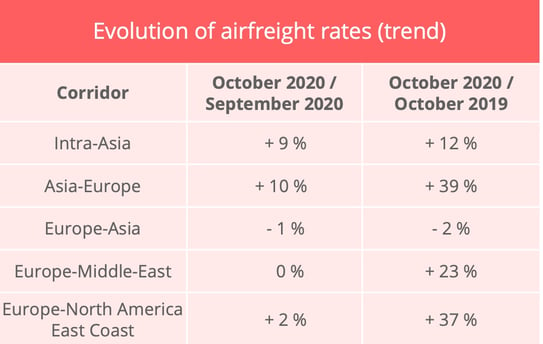 Source : Upply
An exceptional peak season
"In the near-term, cargo demand is likely to improve further," IATA said. "As the world economy emerges from the crisis, companies would be normally expected to turn to air as their preferred mode of transport to get inventories into their production facilities as quickly as possible." The launch of electronic products like the iPhone 12 and PlayStation 5 are also drivers of growth in air freight.
E-commerce, stimulated by Christmas and commercial events like Black Friday, should give business a particular boost. Although this sector has already seen exponential growth, the sanitary crisis is making it even more attractive. New lockdown measures to deal with the second wave of Covid-19 can only accentuate the phenomenon.
More generally, the economic indicators are improving, particularly the new export orders component of the Purchasing Managers Index (PMI), which shows "a robust recovery in demand for manufactured items", according to IATA, which adds that international trade should continue to grow until the end of 2020. The World Trade Organisation has revised its forecasts upwards, moreover, reducing the year-on-year decline in world trade volumes in its most optimistic scenario from 12.9% to 9.2%.
Another phenomenon could also work in air freight's favour in the weeks to come, namely an increase in demand for medical equipment related to the second wave of Covid-19. At the same time, the second wave also carries a major threat since the new lockdown measures risk causing a new fall in economic activity and confidence, according to IATA.
Major regional disparities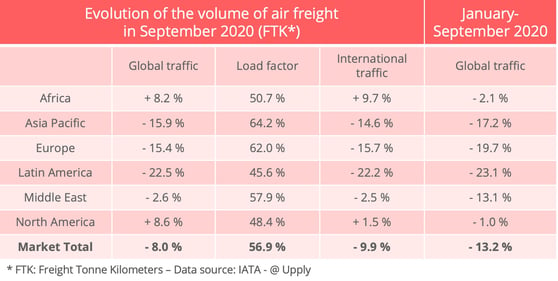 American carriers are still leading the recovery with an 8.6% increase in traffic year on year in September which IATA said was driven by the "Asia-North America routes, reflecting e-commerce demand for products manufactured in Asia". For the first time since the start of the crisis, moreover, international traffic increased 1.5%. African airlines also performed well with a traffic increase of 8.2% year on year. Taking account of their lower share of the world market, however - 1.8% compared to 24.3% for North America - their performance is less globally significant. We can nevertheless see confirmation of a phenomenon we have already noted, namely the increase in Asia-Africa trade, particularly China-Africa trade. Asia-Africa flights increased 26% in September.
There are still difficulties, however, on the two other major markets, Asia and Europe. The Asian companies, which represent 34.5% of traffic worldwide, saw their traffic fall 15.9% in September, while their European counterparts which represent 23.6% of the world market, experienced a 15.4% reduction. This was certainly an improvement on preceding months but carriers in these regions still failed to end the negative trend.
In the Middle East, IATA says that the prospect of a V-shaped recovery has been further confirmed. September traffic figures were down 2.6% on September 2019, whereas, in August, traffic was still 6.9% down on the previous year. "The region was one of the most severely affected by COVID-19," IATA noted. "However, due to regional airlines aggressively adding capacity following the peak of the crisis, it has seen a sharp V-shaped recovery."
In Latin America, however, the slump is continuing, with the airlines' traffic in the region down 22.5%.