Worldwide air freight traffic rose in January 2022 but at a markedly slower rate than at the end of 2021. Prospects have been dimmed by the conflict in Ukraine.
Worldwide demand for air freight in tonne-kilometres increased by 2.7% year-on-year in January 2022 and by 3.2% in the international sector alone. The results were "significantly lower" than the 9.3% growth seen in December 2021, with 11.1% growth on international flights alone, but also lower than expected, according to the International Air Transport Assocation (IATA). Seasonally corrected figures confirm the trend, with traffic down 3.6% in January 2022 month on month.
It is true that traffic in 2021 showed a strong recovery after the Covid shock of 2020. The progression seen in early 2022, therefore, probably reflects "a shift towards the more normal growth rate of 4.9% expected for this year", in the words of IATA director general Willie Walsh.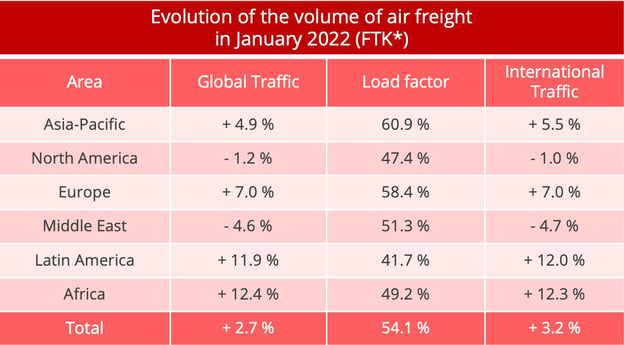 * CTK : cargo tonnes-kilomètres – Data source : IATA - © Upply
Omicron impact
In January, worldwide air freight traffic clearly suffered from the new wave of Covid-19, driven by the Omicron variant. The travel restrictions introduced led to an immediate deterioration in global freight capacity because of a reduction in the number of mixed cargo-passenger flights. In year-on-year terms, available capacity was up 11.4% on January 2021 overall and 10.8% up in the international sector alone, but it remains 8.9% down on the pre-Covid level in January 2019. "Although the slowdown in capacity growth was lower than that of CTKs (cargo tonne-kilometres), it played a key role in January's weak outcome," IATA said. "Indeed, seasonally adjusted, ACTKs (available cargo tonne-kilometres) dropped by 7.5% MOM (month on month), the worst performance since April 20820."
North America was the zone most affected by this phenomenon, with a 13.5% reduction, followed by the Asia-Pacific region with a 7.9% fall. The two regions were also the ones which suffered the biggest slowdown, along with the Middle East.
IATA said that the Zero Covid policy implemented by continental China and Hong Kong was clearly the main cause of the weak capacity seen there. "The Lunar New Year in China could have been expected to lead to lower manufacturing activity and front-loading of cargo in January, but its impact is more blurred than in the past due to factories remaining open," IATA said.
In the United States, other factors disrupted operations, including difficult winter weather conditions and the installation of 5G close to airports, which led to flights being cancelled for security reasons. Another factor which contributed to the slowdown was a shortage of labour, which, according to IATA, could become more structural.
Weakening economic drivers
After a period of strong recovery, the traditional economic drivers of demand for air freight showed signs of weakness in January, as indicated by the new manufacturing export orders component of the purchasing managers' index (PMI). The reduction was particularly marked in China and the United States. IATA estimated that the high 7.5% year-on-year inflation rate recorded in the United States in January partly explained this trend, since it pushed consumers to limit their purchases. Many manufactured goods purchased in the United States are made in Asia, particularly China.
Another cause for concern was the persistence of supply chain disruption in early 2022. The supplier delivery times component of the PMI dropped to 37.8 in January before rising back to 39.3 in February. Of course, production tensions can favour air freight up to a point by increasing demand for speedy deliveries to compensate for delays but, currently, this disruption is the result of bottlenecks which are generally harmful to world trade.
Freight rates influenced by slowdown
The easing of demand in January clearly has an impact on air freight rates, with a marked slowing of the rate of increase in rates on Asia-Europe routes and a fall in transatlantic rates from month to month. At the same time, the spot-regular price mix in Upply's database showed that prices stayed at high levels by comparison with 2021, and the war in Ukraine should lead to further increases.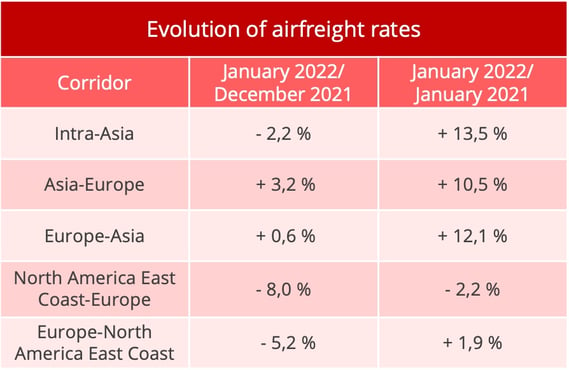 Source : Upply
Prospects dimmed by war in Ukraine
After the relatively weak start to the year, with disruption still being caused by the Covid-19 pandemic, the air freight industry will have to absorb this new shock. "The Russia-Ukraine conflict will have a negative impact on air cargo," IATA said. Air freight in and out of Russia only represented 0.6% of worldwide traffic in 2021, according to IATA figures, but the impact of the conflict will far outweigh this relatively small market share.
In the first place, the closure of air space between the European Union and Russia will considerably hamper flights between Asia and Europe. The airlines will need to avoid flying over Russia and will have to take routes which will increase flying time. The conflict will have a negative impact on all carriers but particularly on European carriers, which will see the 7% year-on-year increase in demand they registered in January cut short.
The conflict will also have an impact on available capacity. Lufthansa Cargo estimates that it has suffered a 10% reduction in capacity as a result of the war in Ukraine. It also has a direct impact on transporters' costs, since the new routes will result in greater consumption of aircraft fuel. Oil prices have already shown a marked increase in recent months and the war in Ukraine is exacerbating this trend. In addition, rail links between China and Europe, which represented an interesting alternative to air freight for some types of transport, are suffering from disruption and saturation. The stage is set, therefore, for an increase in freight rates. How great an increase ? "It is still too early to predict" according to Willie Walsh.
It is also too early to measure the overall impact of the conflict on demand and supply chain fluidity, since no one today can foretell how long it will last or how extensive it will be.