Demand for air freight reached its highest ever level in March. Cargo volumes exceeded pre-Covid levels and prices continued to show favorable growth.
For the second consecutive month, global air freight volumes, measured in tonne-kilometres, exceeded pre crisis levels. In March 2021, growth was up 4.4% on March 2019, to take volumes up to their highest level since records began in 1990, according to the latest monthly market analysis from the International Air Transport Association (IATA). Compared to March 2020, when the Covid-19 pandemic became a worldwide phenomenon, demand rose 22.1%.
Overall, the airlines had a positive first quarter, at least in their cargo businesses. Cargo volumes showed increases of 5.6% over Q1 2019 and 14.1% over Q1 2020. The only small flat note was that month-on-month growth was only 0.4%, compared to 1.8% in February.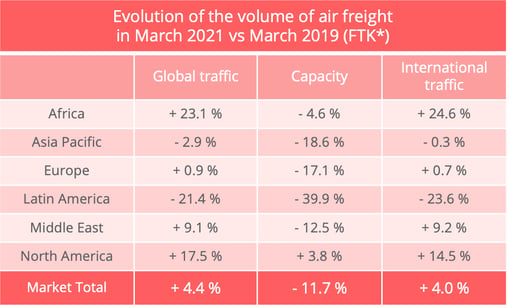 *CTK: cargo tonne-kilometres - Source: IATA-@ Upply
Favorable economic conditions
This small decline in growth from one month to another was not a source of concern to IATA's analysts, who can see that the economic fundamentals likely to sustain demand for air freight are solid.
In the first place, world trade increased 0.3% in February to register its ninth consecutive month of growth. The World Trade Organisation (WTO) is forecasting that world trade in goods will grow by 8% in 2021 after having fallen 5.3% in 2020.
More precisely, export prospects are favorable. The new export orders component in the purchasing managers' index rose to 53.4 in March, compared to 51 in February. Given that a total of more than 50 indicates that manufacturing activity has increased in relation to the previous month, the trend is very positive. Another encouraging factor is that detailed analysis shows that export demand growth, which had until now mainly been confined to developed countries, is now tending to spread to emerging countries.
The recovery in world trade is all the more favorable for the air freight business for the fact that manufacturers are working to meet demand on a just-in-time basis. Using air transport allows delivery times to be reduced and so reduces the time it takes to get products to market. This trend, which is characteristic of post-recession periods, should continue. IATA is forecasting a 13.1% increase in air freight volumes in 2021 year on year and a 2.8% increase, compared to 2019. Volumes should reach 63.1 million tonnes this year, compared to 63.5 million tonnes in 2019 and 55.9 million tonnes in 2020.
The grounding of the container ship Ever Given in the Suez Canal does not, on the other hand, seem to have had a significant impact on the March figures since demand in tonne-kilometres in the Asia-Europe trades actually fell 3% in March by comparison with February. Perhaps we should wait for more figures to measure any eventual impact since it may have taken some time to reorganize cargo flows.
Capacity increase
Since the start of the pandemic, air freight activity has been suffering from a lack of capacity caused by the immobilisation of many passenger aircraft. The situation improved in March when capacity increased 5.6% compared to February. The increase was particularly marked in North America (6.5%), where the airlines are now offering more capacity than in March 2019. On the two other main global freight markets, the trend was favorable for Asia-Pacific airlines, which saw capacity increase 13.3% between March and February, but still showed a double-digit decline in relation to March 2019, as did European carriers.
Overall, capacity was still 11.7% below its March 2019 level and 14.7% down on international routes. Available capacity on all-cargo aircraft on international lines increased 20.6% compared to March 2019 but hold capacity on passenger aircraft was down 38.4%.
Slowdown in freight rate growth
As our Upply data base indicates, the balance of power is still favorable to the airlines and is enabling them to maintain freight rates at high levels, particularly on Asia-Europe and transatlantic routes. The recovery of the American economy, which has been stimulated by recovery plans and efficient vaccination campaigns, is benefiting airborne trade. On Asia-Europe routes, there was a slowdown in March by comparison with February but freight rates stayed at high levels.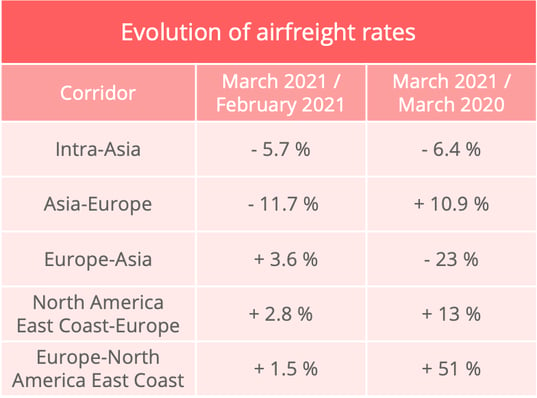 Source: Upply - NB: These estimates are based on real transactions. The Covid-19 epidemic and its impact on business activity levels has made data gathering more complicated. The trends indicated might be revised gradually as new data is incorporated into the Upply data base.
The growth in activity on the main markets means that the airlines' freight revenues could reach record levels. In its latest review of performance indicators, IATA forecast that global freight revenues could reach $152.3 billion in 2021, an all-time record. In 2020, revenues stood at $128.2 billion, compared to $101 billion in 2019. Unit receipts, which shot up 40% in 2020, should progress by a further 5% this year.
North America leads the recovery
The North American airlines are clearly benefiting from the dynamism of their home market. Demand continued to show double-digit growth as compared to 2019. Growth is being maintained too in Africa, which showed double-digit growth in cargo volumes and activity levels which were higher than before the start of the Covid crisis. Middle Eastern companies also confirmed their return to form in March, thanks again to growth in trade with North America and Asia, which showed increases of 28% and 17% respectively by comparison with March 2019. European carriers had to make do with a more modest 0.7% growth rate but this was nevertheless 1.2% up on the previous month.
For Asia-Pacific companies, however, traffic stayed 2.9% below their 2019 level and was 2.7% down on the preceding month. Latin American airlines are seeing no prospect of improvement for the time being either, although it is true that the region has been particularly affected by Covid-19.