Demand for air freight is returning but more slowly than certain economic indicators had led the sector to hope. Freight rates overall are on a downward trend but remain at high levels by comparison with 2019.
Global demand for air freight in tonne-kilometres remained below the 2019 level in July, according to the latest data from the International Air Transport Association (IATA). The reduction was 13.5% but the gap, which was 17.6% in June, is closing. On a seasonally corrected basis, traffic in tonne-kilometres, showed an increase of 2.6% after having risen 3% in June.
IATA nevertheless considers that the results are a little disappointing, taking account of the improvement seen on the economic front. IHS Markit's PMI (Purchasing Managers' Index) show a marked recovery, notably in manufacturing production and export orders. But the traditional correlation between these indicators and the evolution of the air freight market is absent. IATA says that this phenomenon is at least partly due to capacity constraints.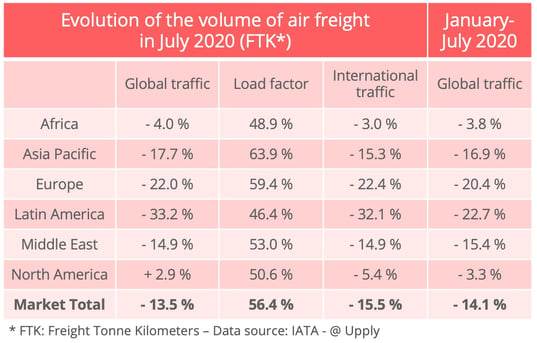 In July, cargo capacity was still 31.2% below its level in July 2019. This is barely any better than June. The sector is suffering from the fact that the passenger flight programme is still very limited. Cargo capacity available aboard passenger aircraft in July was 70.5% down on the same month last year. This shortfall was only partly counterbalanced by a 28.8% increase in cargo capacity on freight-only aircraft. "If borders remain closed, travel curtailed and passenger fleets grounded, the ability of air cargo to keep the global economy moving will be challenged," said Alexandre de Juniac, IATA's Director General and CEO.
Freight rates at a high level
In this situation, freight rates overall are continuing to fall or, at best, stabilise after having risen sharply at the height of the Covid-19 epidemic. They nevertheless remain at a high level compared to 2019 at the same point and have even begun to rise on certain routes, as Upply's data illustrates. Provisional figures for the month of August seem to confirm that they are stabilizing.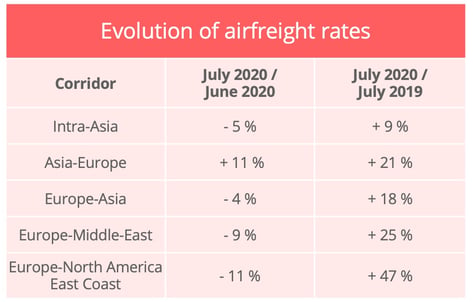 Source : Upply
Europe struggling
The geographical breakdown of the IATA traffic data shows that, among the main air freight markets, Europe was still the one where demand was lowest in July, with a 22.4% reduction in the international sector. The Asia-Pacific region showed a 15.3% fall and North America a 5.4% reduction. The strong performance by North American carriers was driven by strong demand in the trans-Pacific market, itself "reflecting e-commerce demand for products manufactured in Asia", according to IATA.
Middle East carriers confirmed the recovery they experienced in June, with international demand down 14.9% compared to 19% the previous month. On a seasonally corrected basis, the figures show an increase of 7.2%, the biggest of any region.
Carriers in Latin America remain in a catastrophic situation, however. The fall in traffic in July increased to 32.1% compared to 28.6% in June. For the first time since 1990, when IATA began publishing these regional statistics, the Latin American air freight market was smaller than Africa's. African carriers, helped by the healthy state of traffic between Asia and Africa, can lay claim to the smallest reduction in traffic year on year in July. The fall in international demand was down just 3% on July 2019.