Ocean freight rates in the trans-Atlantic trades held up relatively well during the first quarter, as is illustrated by the evolution of the rate on the Antwerp-Norfolk line for a 40' dry high cube container, carried on a port-to-port basis, THC included. But the economic crisis which has smitten the United States since the start of the coronavirus epidemic has changed matters.
Let's take a little trans-Atlantic trip this week after having focused heavily on China for several months in the wake of the coronavirus crisis.
The first important thing we note is that the wine and spirits segment has held up better than expected against the retaliatory measures taken by the American administration, thanks to the rapid, coordinated efforts taken by the supply and distribution sectors. We can also include in this success the contribution of the traditional logistical service providers in this very particular sector. They were able to adapt very quickly, even after the strikes this winter which, notably, affected the French port of Le Havre, a key player in this trade. All told, according to our information, wine and spirit volumes between North Europe and the United States East Coast fell only 5-10% in the first quarter in relation to the preceding year, which makes for a remarkable result in the circumstances.
The second thing we note is that capacity, which has traditionally been tightly managed on the route, was kept under control in the first quarter of 2020 and that volumes held up. This enabled shipping companies to maintain their rates and even increase them a little, as Upply's data baseshows.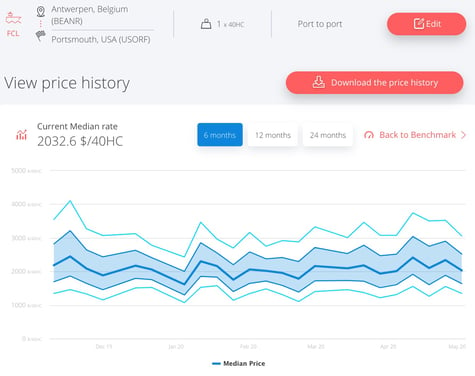 Source : Upply
Capacity reduction likely
It would be wise to be vigilant, however, for a possible a boomerang effect at the end of the spring. There are signs, moreover, that this has already start. The record 14.2% unemployment level in the United States in April will inevitably have an impact on consumption of French wines and spirits, which fall into the middle-high and high-end consumer product categories. American consumers clearly have other priorities and distributors no longer have any room for manoeuvre on prices, given the efforts they have already made to respond to the recent surcharges.
Trans-Atlantic freight rates are likely to suffer as a result, particularly at the start of the summer, unless there are drastic capacity reductions in June on sailings out of Europe. These reductions are highly likely to take place, however, given the great discipline currently being shown by the shipping companies on all container transport markets.