SPECIAL REPORT.

The road freight transportation in the Centre-Val-de-Loire region is on a positive momentum. Global traffic has increased by 4% in 5 years, thanks to internal traffic.
Over the past 5 years, road freight transportation (RFT) in Centre-Val-de-Loire, excluding transit, international traffic and foreign flagged companies, has experienced very clear growth in internal flows. Its share in total traffic increased from 17.5% in 2014 to 23% in 2018. This strong ramp-up will compensate for the decline in incoming and outgoing flows. Global traffic has passed the 15 billion tonne-kilometer mark over the past two years.
The year 2020, as elsewhere, will certainly mark a halt, after an already significant slowdown since 2018. However the prolonged positive development remains the sign of a solid trend.
* in millions of tonne-kilometers transported (excluding transit, international traffic and foreign flagged companies) - Source: SDES, Road Freight Transportation Survey.
Breakthrough in trade with the Hauts-de-France
Traffic figures expressed in tonnes tell a slightly different story. In 2018, total regional traffic, excluding transit, international traffic and foreign flagged companies, amounted to 112 million tonnes (Mt), an increase of 3% compared to 2017 and 12% compared to 2015. However, this result remains 2% lower than the peak of 114.4 Mt recorded in 2014.
Inter-regional flows

, up 9% compared to 2017 and 16% compared to 2015, represent 56.5 Mt, "fairly evenly distributed between incoming and outgoing flows", specifies Philippe Munier, TLF Union's regional delegate for IDF, Centre and West France. Ile-de-France is very much the leader in terms of partner regions for Centre-Val-de-Loire

,

ahead of Pays de la Loire and Nouvelle-Aquitaine. An identical trio for 5 years now. The most remarkable change comes from Hauts-de-France, which went from 7th to 4th place with 5.7 Mt traded, particularly thanks to the jump in inflows: + 173% between 2015 and 2018. Normandy, although in decline, closes the Top 5 partner regions.

Intra-regional flows

represented 55.7 Mt in 2018, down 2.4% compared to the previous year and up 9% compared to 2015.
Agricultural, hunting, forestry and fishing products play an important role, in particular for outgoing flows, ahead of bulk goods, raw materials and food products. "Construction, energy, the pharmaceutical / cosmetics sector and the food industry are very important sectors for our transporters", explains Pauline Martin, regional delegate of the National Road Transportation Federation (FNTR).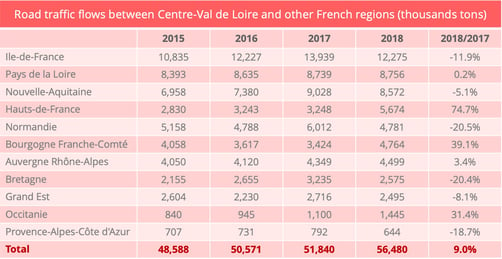 Source : DREAL Centre-Val-de-Loire
Professionalization of operators
As of December 31st, 2019, according to the 2019 regional report by the OPTL (Prospective Observatory of professions and qualifications in Transportation and Logistics), 1,590 companies were entered on the freight register, against 1,428 in 2015, including establishments without employees. Among the region's emblematic SMEs we can mention les Transports Blanchet, Tendron, les Transports TLR Robinet, les Transports Satas, les Transports Catroux, Charbonnier, les Transports Coutant or again MDS Transportation et Matériaux.
The companies with between 1 and 9 employees represent 57% of establishments with staff, but they only employ 12% of transportation and logistics personnel, while the 8% of establishments with 50+ employees represent 46% of the workforce. Proportions that are roughly equivalent to the national average. In continuous growth since 2015, the entire road transportation and ancillary activities branch accounted for 30,042 employees in Centre-Val-de-Loire. But this dynamic situation is mainly due to a boom in logistics jobs.
In road transportation itself, the OPTL notes an interesting trend: the increase in the workforce in transportation operations. "It attests to the recognition of the crucial role of operations in the successful realization of transportation services. Indeed, the activities linked to the operations are less and less diluted among the many activities of entrepreneurs in the VSEs and SMEs, and are more and more entrusted to the operators for whom it is their sole activity ", analyzes the OPTL.
Concerns among business leaders
The operational results for 2019 and 2020 are not yet available, but the first indicators suggest that the Centre-Val-de-Loire region has held up rather well. For example, the FNTR economic survey for the second quarter of 2020 showed good resilience of carriers during the first wave of lockdowns. The loss of sales and the percentage of trucks lying idle in May and June were rather lower than the national average. "However, the situation varies depending on the type of activity. We can consider that as of last autumn, one in two companies has returned to a more or less normal level of activity in terms of volumes and turnover. But for the other half, the situation remains difficult ", says Philippe Munier.
As everywhere else, the current context gives rise to palpable concerns. "Surveys of business leaders show a deterioration in the level of confidence in the short and medium term. The shippers have renegotiated rates over periods and in proportions that are unprecedented. The sector is therefore facing great uncertainties," reminds Philippe Munier.