The financial results of shipping companies and freight forwarders in the first half of 2023 illustrate the brutality of the market turnaround.
After reaching unprecedented levels, thanks to the vigorous post-Covid economic recovery, sea freight rates began to fall again from the summer of 2022, with a brutality that surprised even the shipping companies themselves. The market turnaround was clearly felt in the financial results of the first half of 2023, after a year 2022 marked by record profits. Freight forwarders have also suffered the consequences of this turnaround on their maritime activity, albeit to a lesser extent.
1/ Shipping companies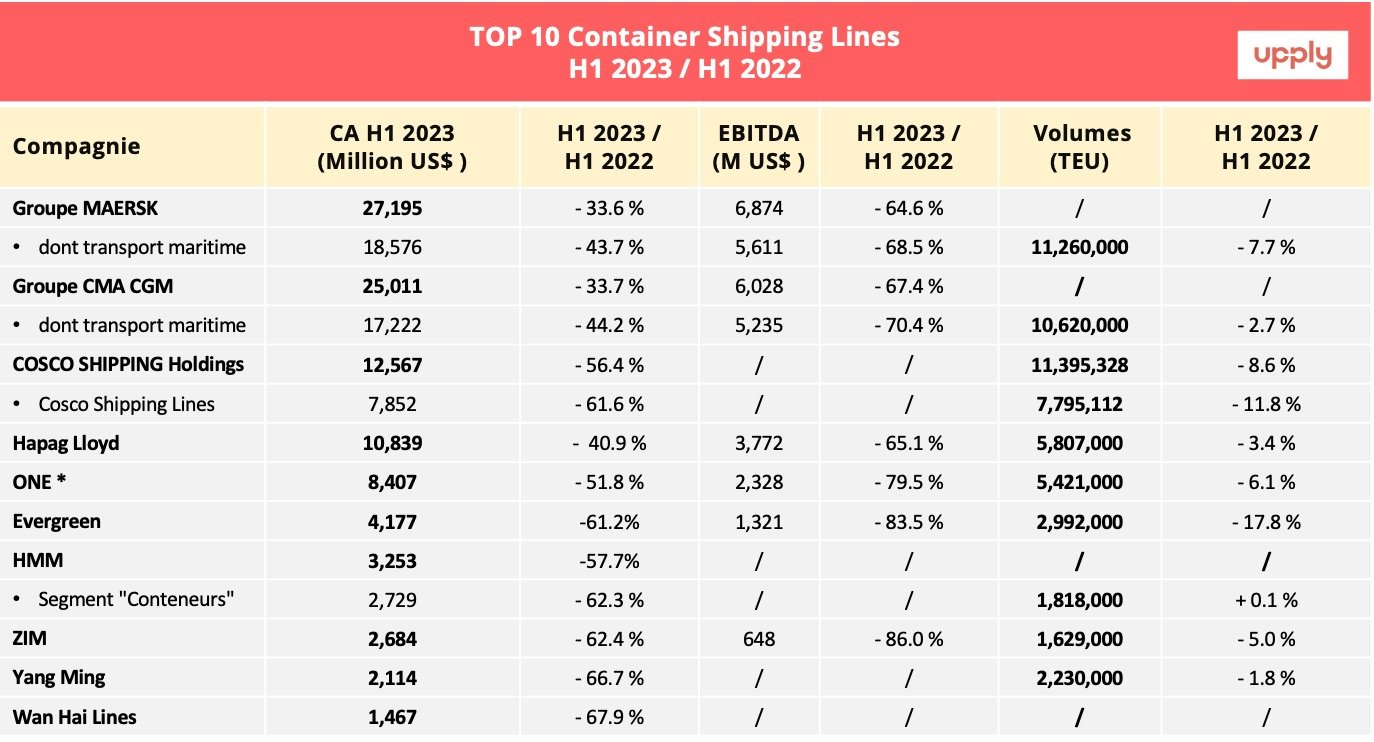 Data source: companies' financial publications - (*) For the company ONE, we added the results for Q4 of the fiscal year 2022 and Q1 of the fiscal year 2023 to obtain a figure covering the first calendar half year. MSC does not appear in this table because it does not publish its financial results[1].
Shipping companies mostly continued to make money in the first half of 2023, but both revenue and EBITDA saw a double-digit drop. At the same time, the vast majority of companies have noted an erosion of volumes that remains relatively contained. It is therefore the decline in freight rates that explains the drop in revenues.
The results of the 3rd quarter went on to confirm and amplify this trend.
2/ Freight forwarders

Data source: corporate financial publications. Na: non avaible.
The world leaders of ocean freight forwarding are also showing a clear decline in activity. However, contrary to what has occurred among shipping companies, the erosion of EBITDA remains lower than that of turnover, at least for the Top 3 in the world, made up entirely of European operators. The landing has therefore been a little smoother.
---
[1]MSC does not publish its financial results The main figures for the 2022 financial year were, however, inadvertently revealed by the group on 13 October, and spotted by the Italian press. According to the newspaper Il Messaggero, the MSC group achieved a turnover of $91.1 billion in 2022, 10 billion more than Maersk, for an EBITDA of $45.6 billion and a profit of $38.2 billion. The details of the figures for containerised shipping line activity have not been disclosed.