The French ports are in a modest position in the container shipping rankings. They nevertheless have strong development potential and pulling power.
At the end of 2021, France's three big container ports set a new container traffic record of more than 5.2 million teu. Dunkirk showed the strongest progress, ahead of Marseilles and Haropa.

© Upply - Data sources : Port authorities.
Going beyond the legitimate and slightly chauvinistic satisfaction inspired by these new record traffic levels, we wanted to assess the attractiveness of the French market with the regular line shipping companies.
A modest share of the European and world markets
It is useful to remind ourselves of the scale of things. The Port of Shanghai, which is the world's leading container port, ahead of Singapore and Ningbo, handled a little over 47 million teu in 2021, 8% more than in the previous year. The Chinese ports, eight of which figure in the international top ten, handled 282.7 million teu overall, 7% more than in the previous year. Traffic at Singapore returned to and even slightly overtook its 2019 level to reach 37.5 million teu but was only 1.6% up on the previous year.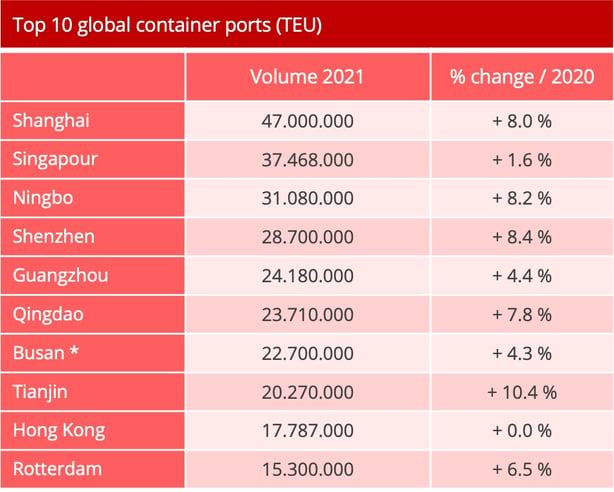 © Upply - (*) Results not yet published. The figure corresponds to the traffic target set by the port authority - Data sources: Chinese Ministry of Transport; port authorities.
France is in a modest position in the world and European rankings. We are a small market compared to the enlarged German bloc, which extends into eastern Europe, Austria and most of Switzerland, relying increasingly on its "extra-territorial" presence in the port of Rotterdam and, to a lesser extent, the port of Antwerp.
The big German ports of Hamburg and Bremerhaven are struggling to expand because of the physical and space constraints from which they suffer. In the case of Hamburg, bringing giant container carriers in via the River Elbe poses insoluble problems (the same goes for Antwerp). Hapag Lloyd announced that it was launching a new service from southern China to Hamburg in April 2022 with a fast 27-day transit time. This premium service will be provided by eight small panamax ships which will not be hampered by Hamburg's physical restrictions. A service of this kind will clearly not be enough to deal with the massive flow of cargo between Asia and North Europe, which explains the gradual shift in imports and exports to Rotterdam, the most modern port in Germany's extended catchment area.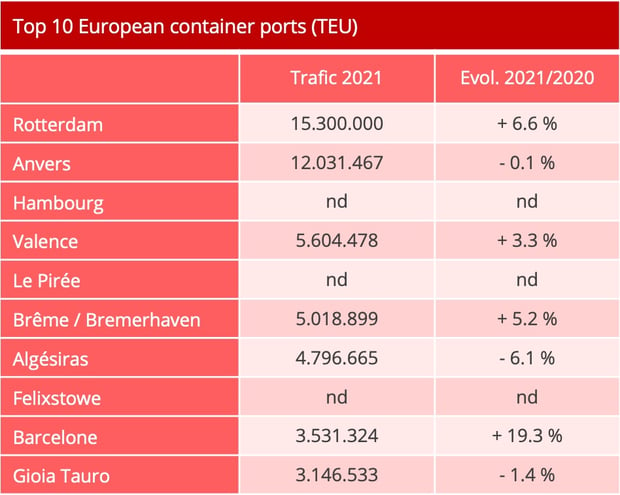 © Upply - Data Source : Port Authorities
French ports less likely to be "feederised"
Given its position in the world and European rankings, could France lose its direct services and see its ports relegated to a secondary role ? This was a real threat prior to the pandemic, when the shipping companies were having to deal with major profitability problems and the social climate in France was tense. This is much less the case now, however, for three main reasons :
Exceptional nautical accesses
From the nautical access point of view, Le Havre's Port 2000 facility is the favourite with masters of big ships in Europe. At a time when there is congestion and a great deal of waiting, Port 2000 can be accessed quickly, simply and efficiently in all weathers.
Like Fos-sur-Mer and Dunkirk, Le Havre is a port which enjoys exceptionally good natural conditions. Southampton, on the other hand, is heavily handicapped by navigating conditions in the Solent, which are often difficult in winter. Access to Hamburg and Antwerp involves costly and fastidious manoeuvring, while Genoa and Barcelona are ports which have always been hampered by their physical environments.
In short, French ports currently have an opportunity to take full advantage of their natural geographical advantages.
A relatively well balanced market
Although it is heavily in deficit in value terms, as was shown by the 2021 external trade statistics, the French market balances its inward and outward container flows fairly well in volume terms. This is perhaps French ports' biggest advantage in terms of their attractiveness to shipping companies.
Even if France imports a lot from Asia, our agri-food, chemical and industrial sectors enable us to line up roughly equivalent volumes of imports and exports even if a chronic shortage of reefer containers has been penalising French products for a number of years.
Our ability to balance our inward and outward trade flows puts us among the European leaders, despite a market which is limited in size compared to Germany and, to a lesser extent, Italy, which is a serious competitor for France in Europe.
In this situation, one can better understand why French shippers are bitter about having lost around 10% of their export volumes in the first half of 2021 because of a shortage of empty containers. A real waste…
By comparison, the United Kingdom and Spain are markets with weaker export capacities in volume terms…They are the ones which risk being "feederised", therefore, even though they are, naturally, the two European countries which export their empty containers most quickly and on the greatest scale…to Asia with a view to having them returned full and at high cost quickly. For now, this capacity is enabling them to avoid being "feederised" but, in our opinion, this will only be the case for a certain time.
The sharp rise in freight rates during the pandemic has enabled the shipping companies to return to good financial health. This is the case for French champion CMA CGM. When it was in difficulty, the French state was always at its side, particularly when it needed a rescue plan in 2009 and in the early days of the Covid-19 pandemic. It would be politically inopportune on the company's part to turn its back on France now that things are going better for it.
We can talk, too, about MSC, which has always had a strong presence in France and which would benefit if it were to show its French clients that it is still faithful to them now that it is enjoying a period of opulence.
It seems legitimate to expect that some recognition should be shown today and we can hope that French ports will be the first to benefit from it.