The average road freight transportation rate in Europe fell by 1% in the 4th quarter of 2020 compared to the previous quarter. The new wave of Covid-19 has clearly slowed demand.
The resurgence of the Covid-19 pandemic in October got the better of the recovery observed during the summer in road freight transportation. Faced with weakened demand, rates did not hold up. The average road freight rate in Europe came to 1,061 € in the 4th quarter of 2020, which represents a decrease of 1% compared to the previous quarter and of 1.2% year-on-year, indicates the latest European Road Freight Rate Benchmark published by Upply and Transport Intelligence (Ti), based on data collected on the main European international lanes.
There was also a drop in average road freight rates for the whole of 2020, with a decline of 1.6% compared to 2019. "Compared to the four-year baseline in the database, this is the first time that a downward trend has been observed", specify Upply and Transport Intelligence.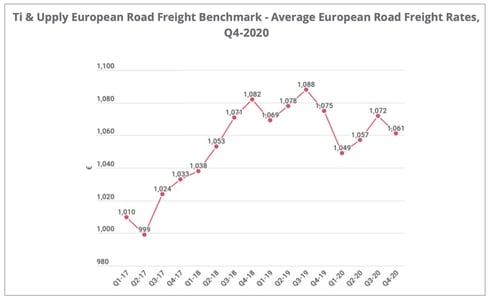 NB : These estimates are based on actual transactions. The Covid-19 epidemic and its impact on the level of activity have made data collection more complex. The freight rates mentioned for the Q4 2020 period may be subject to revision as new data is incorporated into the Upply database.
A less violent impact
The restriction measures decided in the fall were less violent than during the first wave of Covid-19. Production tools, in particular, have remained largely open. The fluidity of road transportation operations has also been better preserved.
There was therefore no collapse in activity as in the spring. However, most carriers did not feel the usual positive effect of the end-of-year peak season.
One notable exception: Great Britain. The approach of Brexit has triggered a movement to build up stocks which has boosted demand for road transportation. "Rates to the UK grew by 1.1% year-on-year in Q4, contrasting against non-UK rates, which were 1.8% lower than prior year levels", underlines the Ti / Upply report.

Where to learn more
> Watch the webinar
> Download the Upply / Transport Intelligence Q4 2020 European Road Freight Rate Benchmark