The increase in road freight transport prices in Europe continued and even accelerated in the second quarter of 2022, boosted in particular by the surge in fuel prices.
The Ti/Upply/IRU Road Freight Rate Benchmark in Europe has reached historic levels, after several consecutive quarters of increase. The contract rate index rose 6.1 points quarter-on-quarter, peaking at 121 points. This represents an increase of 13.1 points compared to the second quarter of 2021. The spot market index increased almost twice as fast, with a growth of 11.8 points compared to Q1 2022 and 20.1 points compared to Q2 2021.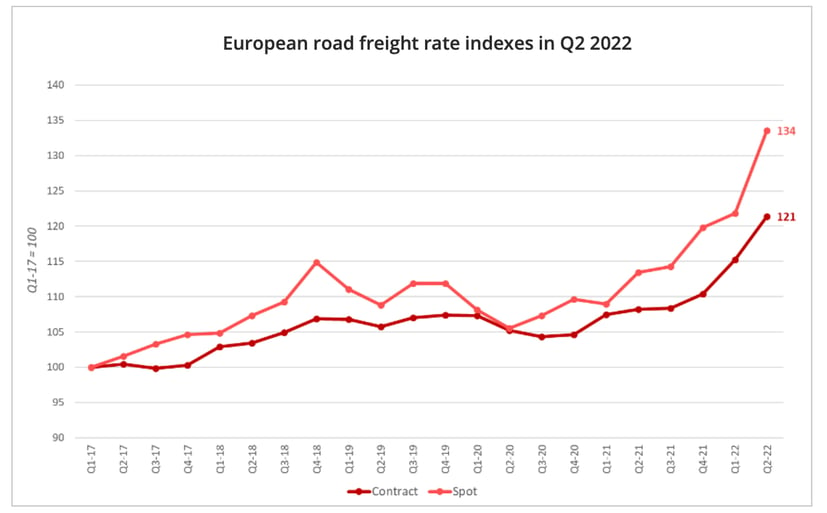 Source: Upply - NB : Our price estimates are based on actual transactions. The index may therefore be subject to revisions as new data are incorporated into the Upply database.
Diesel prices, principal factor for inflation
As in the first quarter of 2022, the increase in transport prices is mainly fuelled by the spike in the price of diesel. In 2021, this factor also played a role, but the increase was mainly driven by an increase in demand.
Although there are different developments in different countries, the EU-27 pre-tax diesel price jumped 69% from its January level. At €1.9 per litre, the average price of diesel at the pump in Q2 2022 in the main European countries showed an increase of 13% compared to Q1 2022.
Many countries have taken steps to minimise the impact of this surge in fuel prices, including through reductions in taxes. Despite this, the increase remains significant. Fuel now accounts for about 50% of the operating costs of a long-distance truck, compared to a third before.
A slump in demand
Economic activity, on the other hand, is showing multiple signs of weakness, with a slowdown in all major economies and inflation rates which are weighing on consumer and business confidence. Overall inflation in the euro zone reached a record high of 8.6% in June, with energy prices being the main driver.
To date, there is no evidence of a significant reversal of the trend. The economic context will therefore continue to exert upward pressure on prices, "which will slow down growth and thus demand for road freight in the third quarter," says the Ti/Upply/IRU report.
However, road freight transport prices in Europe are not expected to collapse. "The lull in European demand should slow the upward pressure on road freight rates On the other hand, hauliers are still facing significant cost increases (fuel, labour, etc.) So rates are likely to remain at high levels in the coming months", said Thomas Larrieu, Managing Director of Upply.
MORE INFORMATION
> Download the Upply / IRU / Transport Intelligence report: