Ocean freight rates for 40' HC containers on the Fos-Algiers route are showing great stability despite shipping companies having announced increases.
On the Fos-Algiers line, we are seeing weaker than usual cargo volumes because of the political and economic uncertainty which has persisted since March, combined with the hardening of import restrictions decided by the outgoing provisional government.
In this situation, shipping companies are continuing to visit Algerian ports regularly but are announcing surcharges to take account of the situation and the risk of having to wait before entering the main ports.
Freight rates are nevertheless showing relative stability, as announced increases fail to take effect because of the fall in traffic volumes.
Some container traffic being switched to trailers
We are seeing some container traffic being switched to trailers, which are reputed to offer greater fluidity in times of crisis. Militzer & Münch, a trailer transport specialist on the Marseilles-Algiers route, is ending the year on a positive trend despite the chaotic circumstances which have marked 2019.
It remains now to know what import policy will be followed by the new Tebboune government. It has little room for manoeuvre because the break-even point in the Algerian budget is based on an oil price of around $120, whereas the current market price is $60-65 for West Texas Intermediate crude oil (a little more for Brent crude).
Captain Upply
---
Freight rate progression between Fos-sur-Mer and Algiers during the last six months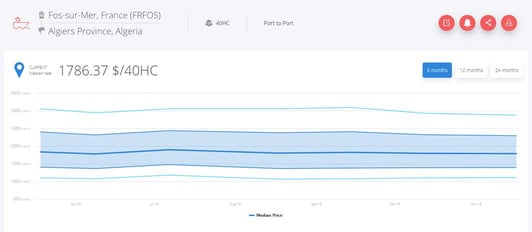 Source : Upply