BAROMETER. With a slight decline of -0.2% in September, the Upply Freight Index demonstrates the resistance in road transport prices in France, despite a decelerating economy.
The month of September has seen France enter into a form of decline. Firstly, there is the energy crisis, with the announcement made of a reduction of heating by a few degrees in offices, at home and even at the pool, then came the queues at petrol stations (firstly those of Total, followed by others). At the same time, household consumption is falling: purchases plunged by 3.5% in all retail chains (hypermarkets, convenience stores and e-commerce) according to the latest survey of the market researcher IRI.
A plateau-shaped decline
Under these conditions, road freight transport prices recorded a second consecutive decline in September, as shown by the Upply Freight Index. However, the decline is limited to 0.2% compared to August.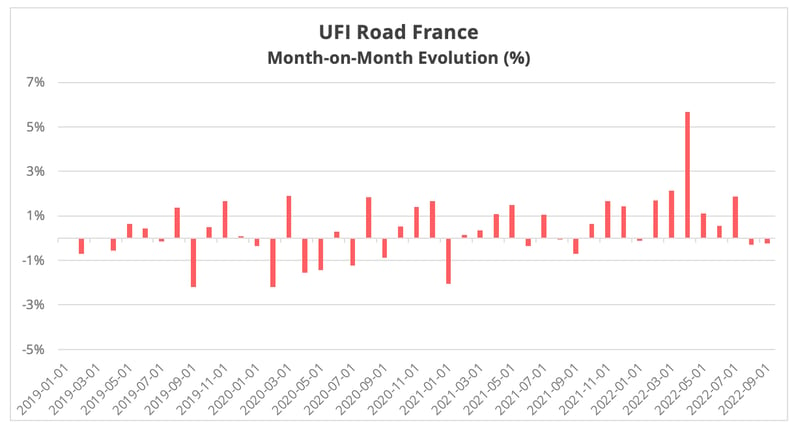 Source: Upply Freight Index – Road France
This relatively limited decline raises questions. We might have predicted that the decline in prices would follow that of professional diesel, which fell by 0.8% this month and by 10.2% since June.
However, the curve of the evolution in road freight rates in euro/km has formed an unexpected plateau. Prices seem to be unrelated to diesel indexation. Mechanically, if prices had followed the decrease in the price of fuel, freight rates would have fallen by 3.6%, if we take as a reference the indicator CNR LD EA (Long Haul Articulated Set) to assess the influence of fuel prices.
There is therefore a fairly strong resistance against the decline that is taking place. Regardless of the supply-demand balance, it is evident that in a sector with very low profit margins, carriers have no choice but to pass on in their prices the inflation of the various cost items