BAROMETER. Road transport prices on the French market fell slightly in October 2023 compared to the previous month but remain at a high level. The situation is favourable to further consolidation in the sector.
In October, global political news was dominated by the resurgence of the Israeli-Palestinian conflict. From an economic point of view, the instability in the Middle East caused the immediate rise of Brent, which on October 19 experienced its second annual peak at $93.48 per barrel. We would normally have bet on a new surge in diesel prices at the pump, but in the second half of October, due to sluggish global economic activity, Brent again fell sharply. In France, professional diesel finally fell by 2.5% in October month-on-month.
On the other hand, the Israeli-Palestinian conflict has increased uncertainty in an already gloomy economic context. In October 2023, the business climate in France dropped by 2 points, falling below its long-term average. This means that we are now entering a negative dynamic. The morale of business leaders is at half-mast. All sectors of activity contribute to this decline: industry, services, and construction all lost between 1 and 2 points, while retail trade alone fell 5 points.
The only good news is that inflation is falling. According to INSEE's provisional estimate made at the end of the month, consumer prices increased by 4% in October year-on-year, compared to an increase of 4.9% in September. Bruno Lemaire, Minister of Economy and Finance, assures us: "we are emerging from the inflationary crisis".
French road transport prices down 0.7%
Road transport prices in France decreased by 0.7% in October compared to the previous month. This decline comes after a strong increase in September (+2.9%), confirming the alternating movement of increases and decreases observed over several months this year. Everything is occuring as if, in an uncertain market, the accelerator and the brake pedals were being pressed in succession.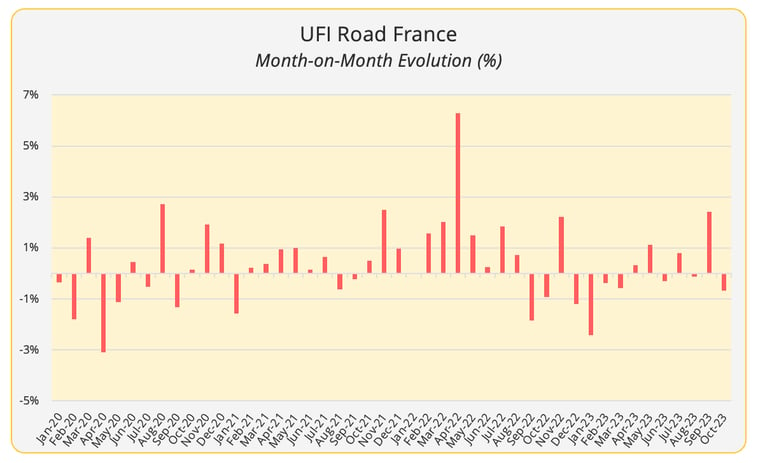 Source: Upply Freight Index – Road France
The mechanism of passing on the variation in the cost of diesel with a month of delay was not enough, this month, to stem the decline in prices. In September, commercial diesel increased by +4.3%. As a result, given the weight of diesel in operating costs, a 1% increase in transport prices had been expected. Other factors have therefore pushed prices down (...)