The rise in freight rates is continuing and is now affecting virtually all maritime trade routes. Demand, meanwhile, is showing no sign of weakening.
After the main East-West markets, the North-South and cross-trade markets are now experiencing a significant increase in freight rates. Only on the eastbound transatlantic market have rates stayed low and stable. But then ships crossing the Atlantic in this direction are never full and are used above all to bring empty containers back to Europe.
The annual tender call season, which relates to business negotiated directly between the shipping companies and shippers, is coming to an end. Two thirds of contracts have been settled. The shipping companies are strongly encouraging their direct customers to make their shipments as much as possible during the summer and autumn. They want to take maximum advantage of the high rates which are going to continue to be applied during the spring in the FAK and NAC forwarder markets before the arrival of new high-capacity ships this summer.
Demand vitality
At this stage, demand is holding up. After a period of observation, which had a slight impact on FAK rate growth on imports from Asia, the upward trend resumed in April. Many importers were unable to wait longer because their stocks had reached dangerously low levels. A large proportion of bookings initially planned for March were carried over into April, leading to a new increase in freight rates.
Our Upply data base indicates that freight rates will continue to rise over the weeks to come, particularly on routes from Asia to Europe.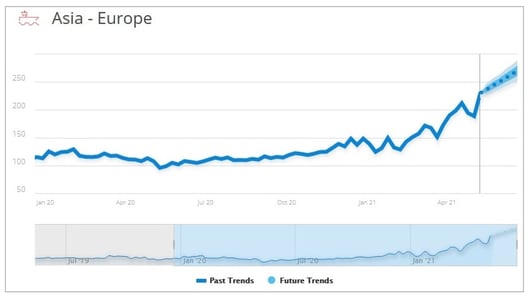 Source: Upply, 100 base in 2016
The market has remained tight on all main trade routes, with virtually all ships full in May. The risk of having containers left on the quayside are real. Major roll-over operations can be expected, leading to even greater operating strains in the big export terminals.
--> MORE INFORMATION IN UPPLY MONTHLY CONTAINER SHIPPING BAROMETER