BAROMETER. Worldwide air freight traffic increased 1.9% year on year in September 2023, confirming the halt in its decline registered in August. The recovery is still weak, however.
With a traffic total of 20.8 billion tonne-kilometres in September 2023, the world air freight industry showed 1.9% growth year on year. This result confirms the upward trend seen in August after 19 months of declining traffic figures. It does not, however, mark the start of a marked recovery, since it is due more to a low reference level in September 2022. Traffic is still 1.3% down on the pre-pandemic level recorded in September 2019. After correction for seasonal variations, moreover, traffic was 0.6% down on its August level, marking the first fall in consecutive monthly figures since March.
Capacity, meanwhile, continued to show double-digit growth, increasing 12.1% over its September 2022 level. The increase is clearly due to the recovery in passenger traffic, which has encouraged carriers to expand their flight programmes. In the international segment, freight capacity available in passenger airlines increased 31.5% year-on-year, while capacity available on all-cargo aircraft slipped 0.3%.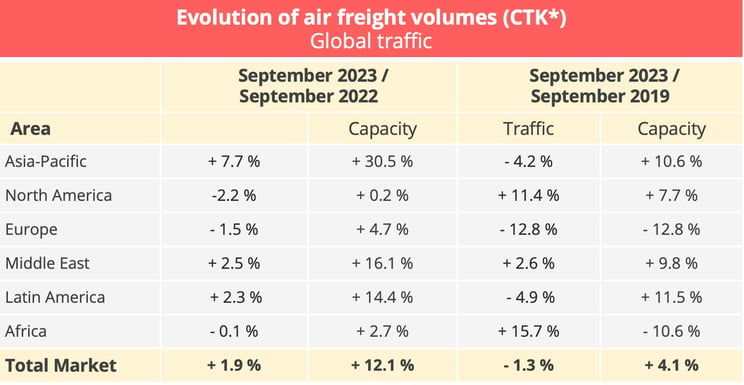 * CTK : cargo tonne-kilometres – Data source : IATA - © Upply
At the end of September, global air freight traffic had reached a total of 177.8 billion tonne-kilometres since the start of the year - 5.3% less than in 2022 at the same point. Available capacity showed 10.4% growth over the same period, however, at 410 billion tonne-kilometres.
Solid increase in traffic in Asia
In the international segment, which represents the bulk of traffic, the traffic total increased 1.6% in September year on year, while capacity rose 11%. This market was thus 1.8% down on its September 2019 pre-pandemic level but the increase in capacity was kept under control, showing just a 2% increase over September 2019.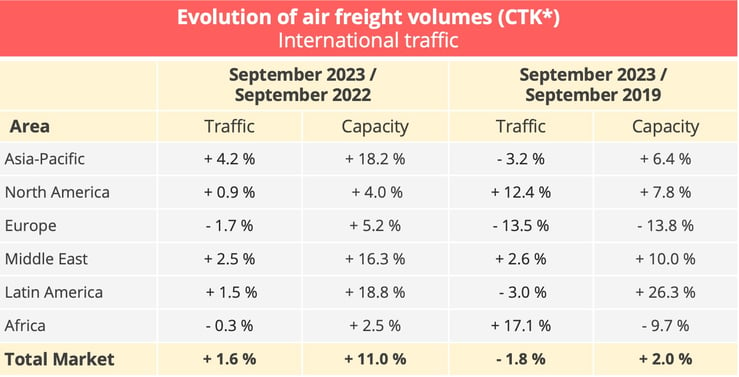 * CTK : cargo tonnes-kilometres – Data source : IATA - © Upply
The Asia-Pacific region experienced a marked increase in traffic in September. Africa-Asia, Europe-Asia and Middle East-Asia routes registered year-on-year increases of 12,8%, 9,6% and 7%. Intra-Asian traffic continued to decline, however, with a 4.4% reduction. North America-Asia routes also showed a decline, although IATA noted that the reduction was down from 4.3% in August to 1.8% in September. Asian carriers benefited from the improvement seen on most of the region's international routes, moreover, since they showed the strongest growth rate in September, ahead of their opposite numbers in the Middle East.
The recovery seen on Asia-Europe routes was not enough, however, to generate a return to growth among European carriers, which saw their international traffic fall 1.7% in September. They suffered from a continuing decline in traffic on transatlantic (-2.5%), and intra-European routes (-5,7%), which the 3.3% growth registered on Middle East-Europe routes was not enough to make up.
North American carriers gained some benefit from the recovery in international traffic recovery, even if their growth in this segment slowed in September to 0.9%, compared to 1.4% in August. On the other hand, difficulties on their domestic market resulted in a 2.2% fall in traffic overall for the North American companies, which suffered the heaviest drop in traffic in September, even more than that of their European counterparts. If one compares their performance with the pre-pandemic period, however, one gets a very different picture. North American carriers have seen their traffic increase overall by 11.4% since then, while European carriers have seen theirs decline by 12.8%.
Slower freight rate decline
Given the difference between the traffic growth and the increase in capacity, air freight rates are still under pressure. For the first time for several months, however, there was an improvement in rates on Asia-Europe routes, which could be the result of the traffic growth seen on these routes. This lull in freight rate decline may also be due to the decision of carriers to pass on increased in fuel costs through the imposition of fuel surcharges. Year on year, however price levels still remain markedly lower than they were in 2022.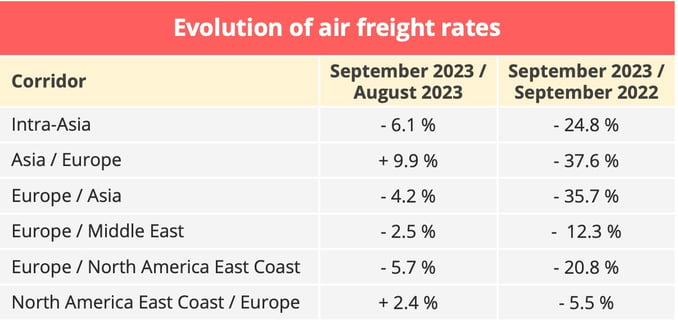 Source : Upply
Indicators still unfavourable
During the summer season, air transporters registered passenger results which were very satisfactory both in terms of passenger numbers and company revenues. This recovery will have been welcome for carriers, who are unlikely to see a spectacular recovery in the cargo activity in the short term.
Several indicators indicate that the global economy is still weak :
In September, the purchasing managers' manufacturing and export indexes improved slightly, compared to the previous month, to 49.7 and 47.7 respectively but they remain below 50 points, which means that the production and exports of the world's manufacturing companies are set to continue declining.
Worldwide cross-border trade contracted for the fifth consecutive month in August, falling 3.8% year on year. " This reflects the cooling global macroeconomic environment," IATA said.
The only good economic news is that inflation has been contained. Annual consumer price growth has stabilised in the United States, where it totalled 3.7% in September, as it did in August. It slowed down in Europe and Japan, where it stood at 4.9% and 3% respectively. Salary increases in recent months have not been enough to stem the decline in households' purchasing power in Western economies. It is too soon, therefore, to expect a massive increase in consumption, even if the Christmas holiday and the promotional events which precede it offer some hope of a small end-of-year recovery, which would certainly benefit the air freight industry.