Hungary is expected to become a major logistics hub for the China-Europe trade, as demonstrated by several major infrastructure projects that are already deployed or planned.
Multiple transportation infrastructure projects already deployed or planned place Hungary in a position to become a new logistics hub for trade between Asia and Europe. This article examines these projects and analyzes the new dynamics that these infrastructure projects can bring to the trade between China and Europe.
Snapshot of the China-Hungary Trade
China-Hungary trade relations have developed strongly in recent years. China is Hungary's largest trading partner outside of the EU, and Hungary is China's third-largest trading partner among Central and Eastern European countries (CEECs), following Poland and the Czech Republic. Machinery goods (HS code 84 & 85) dominate the China-Hungary trade, comprising 60% of Hungarian imports from China and 51% of its exports in 2020 by value. In terms of volume, plastics products, machinery goods, and woods are the main Hungarian exports to China, and machinery goods and chemical products are its main imports from China.
While Hungarian imports from China have shown a double-digit growth for three years in a row, the exports have fluctuated somewhat. In 2020, against the overall downturn of EU-China trade due to the pandemic, exports from Hungary to China increased by 4,3%, and Hungarian imports from China rose 18% in value (Figure 1). The increase in Hungarian exports to China in 2020 was mainly due to machinery goods.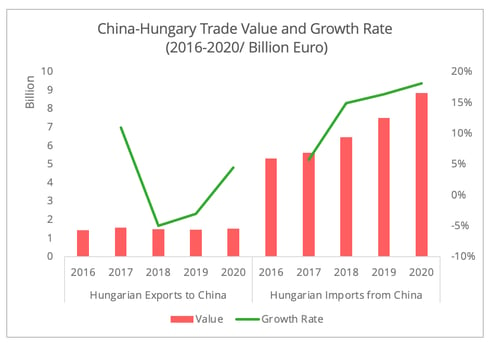 Figure 1- Data Source: Eurostat
Investments in transportation and logistics
The tightened bilateral economic and political relation between China and Hungary in recent years led to a growing presence of the China factor in the Hungarian transportation and logistics sector. From 2005 to 2020, according to the Chinese Investment Tracker of the American Enterprise Institute, Hungary is the fourth-largest recipient of Chinese investment in this sector and the largest recipient in the rail sector among the "17+1" countries (Figure 2 & Table 1). In 2020, China, for the very first time, became Hungary's largest foreign investor.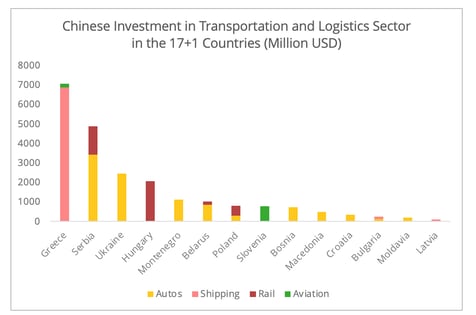 Figure 2- Data source: China Global Investment Tracker by American Enterprise Institute [1]

Table 1- A List of Selected Transportation and Logistics Projects
China-Europe rail freight
Hungarian rail freight benefited from the surged demand of China-Europe amid the pandemic. International rail freight shipping volumes in Hungary increased 3% and the tonne-kilometer grew 7.9% in 2020 compared to 2019. A trend that particularly benefited China-Europe rail freight via the Hungary/Ukraine border crossing (Záhony). Traffic has increased tenfold since August 2020, helped by the saturation of the infrastructure at Małaszewicze (Poland/Belarus), the main China-Europe rail freight border crossing.
The East-West Gate Terminal (EWG), which will start operating in 2022, will increase the attractiveness of the rail freight route via Hungary. The EWG, with a capacity of 1 million TEUs per year, will be the largest intermodal terminal with 5G facilities in Europe. Besides, the collaboration between East-West Gate Terminal and the Kazakhstan rail freight operator EuroTransit, which operates terminals at the China/Kazakhstani border crossing, is likely to inject shipping flow in this new route. Moreover, the recent tensions between the EU and Belarus could motivate shippers to take alternative routes to hedge against the potential political risks.
Besides the potential to be a new gateway for China-Europe rail freight, Hungary also serves a critical part in China's flagship Europe-Asia intermodal project: China-Europe Land-Sea Express. It offers a shortcut to central Europe via an ocean-rail connection from the Port of Piraeus. The goods are shipped by short sea from the greek port to the port of Rijeka/Trieste and then by block trains to Budapest, for a total transit time of 28-35 days from China to Budapest. In 2020, this intermodal route enjoyed a 47% annual growth. The double-digit growth continues in 2021, with a YoY 20% growth in the first four months of 2021.
The Budapest-Belgrade Railway that is currently under construction will reinforce Hungary's potential as a regional intermodal transit hub. This railway, which is largely financed via a Chinese loan, is expected to be completed by 2025 and shorten the shipping time by providing direct railway access to Central and Eastern Europe (CEE) from the Port of Piraeus.
European investors also see the potential in the rail and intermodal shipping in Hungary. For instance, in 2021, the intermodal company Metrans invested in a new rail terminal at Zalaegerszeg to enhance the connection with Southern and South-Eastern Europe and to make Hungary "one of the most efficient logistical hubs in Europe."
The pandemic has generated a growing need for alternative routes to maritime transportation. In addition to this, the "Green Pact for Europe" will also increase the demand for rail and intermodal transportation. The EU's "Sustainable and Smart Mobility Strategy" aims to double the rail freight traffic by 2050. Its new infrastructure has meant that Hungary is well prepared for these new opportunities. The country's intermodal transportation has been growing steadily in recent years and has recorded an increase of 1.7% in 2020 (in tons). The trend is expected to continue.
Hub of the "Air Silk Road"
In addition to land freight, Hungary also marked its ambition to be the future airfreight hub for the Belt and Road Initiative. Following the agreements with two Chinese airports, Xi'an Xianyang Airport and Zhengzhou Xinzheng Airport, inbound Chinese airfreight to Hungary jumped by 3.6 times in 2019 (Figure 3). In January 2021, Zhengzhou Airport and Budapest Airport further deepened this cooperation, with an terminal exclusively dedicating to air cargo to and from China in Budapest Airport.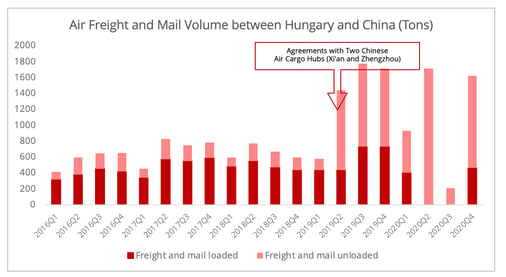 Figure 3-Data Source: Eurostat
This collaboration has caught the interest of Chinese e-commerce companies. In May 2021, Cainiao Logistics, Alibaba's logistics subsidiary, announced Budapest as its "East and Central European Distribution Hub", with five scheduled air cargo services per week between Budapest and Zhengzhou. Cainiao Logistics anticipates a 30% increase in its cross-border e-commerce volume from China to Hungary by the end of 2021. At Liege Airport, which has served as Alibaba's European distribution center since late 2019, tonnages to and from China jumped by 45% in 2020 [2].
Looking Forward
The infrastructures shed light on Hungary's potential as a future logistics hub for the Europe-Asia connection and could generate new transit shipping volume through its borders. To take this situation one step further, what kind of new dynamics may we envisage along with the new logistics infrastructures in Hungary?
Cross-border E-commerce Logistics Facilities
Following Budapest Airport becoming the CEE distribution center for Alibaba, new demand can be anticipated for the overseas fulfillment centers in Hungary for Chinese vendors targeting the rising CEE market (Figure 4 & 5).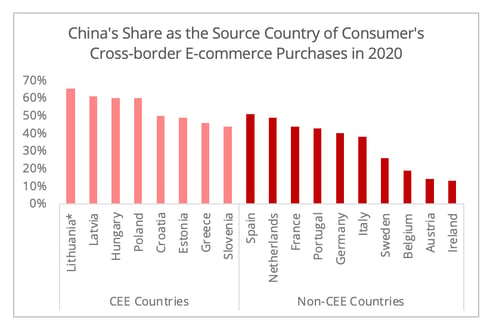 Figure 4- Data source: 2020 Cross-Border E-commerce Shopper Survey by International Post Corporation [3]
Overseas fulfillment centers play a crucial role in the emerging B2B2C cross-border e-commerce logistics model in China.
Figure 5- The B2B2C Cross-border E-commerce Model
Most Chinese-run fulfillment centers in Europe are located in Germany, UK, Spain, and France. Currently, Poland is the preferred location among the CEECs since it is the hub of e-commerce in CEE and the major border-crossing point for the China-Europe rail freight.
Potential Export Growth in Agricultural Products
Improved transportation infrastructure will undoubtedly facilitate inbound flows from China. But it should also benefit outflows from Hungary or other CEECs to China, particularly in the agriculture and food sector.
During the 2021 China-CEE Summit, the Chinese government set an import target of around 170 billion USD products from CEECs in five years. The agricultural and food sector is identified as one of the key sectors with a targeted 50% increase in Chinese imports in five years. In the case of China-Hungarian trade, this could concern beef in particular, Hungary being the largest beef supplier to China among the CEECs. Apart from the impact of Chinese policy, the current disrupted beef supply market and China's ice-cold relations with Australia are leading to a potential increase in Chinese imports from alternative suppliers around the world. Other agricultural products likely to benefit from this include Hungarian alcoholic drinks and coffee, especially via cross-border e-commerce channels.
As this import target applies to all the CEECs, the planned transportation infrastructures in Hungary are likely to generate outbound shipping flow to China from neighboring CEECs via Hungary. According to Chinese Customs authorities, the Chinese import value of agricultural products from CEECs via rail freight increased 157.7% in 2020. Admittedly, only 3% of all Chinese imports from CEECs in the agricultural sector was carried out by rail freight last year, but the growth is spectacular.
In the end, implementation will be decisive. The strong political motivations behind China's import target could be a positive signal in evaluating the degree of the future implementation. Meanwhile, some CEECs are also re-assessing their relations with China under the China-EU tensions and the establishment of the new Biden Administration, as we can observe from Lithuania's latest decision to withdraw from the "17+1". In this perspective, China may treat its cooperation with Hungary as an example of collaboration to assure other CEECs regarding its commitment on economy. It is to be expected that China will continue its active participation in the Hungarian economy. But on the other hand, this growing Chinese influence in Hungary raises domestic concerns that will inevitably bring a certain amount of uncertainty to Sino-Hungarian cooperation.
---
NOTES
[1] Lack of Data of Albania and Czech in the database. Noted that in May 2021, Lithuania has announced the decision to leave the "17+1".
[2] This is calculated based on the database: International extra-EU freight and mail air transportation by main airports in each reporting country and partner world regions and countries from Eurostat.
[3] Lithuania announced to withdraw from 17+1 in May 2021.
ADDITIONAL SOURCES
Budapest Business Journal, China Hoping to Build Pragmatic Economic, Trade Cooperation With Hungary
mlszksz.hu, The volume of intermodal transport increased last year, though not sufficiently
Railfreight.com, Tenfold increase for Eurasian rail freight traffic through Hungary
Reuters, Hungary, China sign loan deal for Budapest-Belgrade Chinese rail project
Port of Hamburg News, Rail subsidiary Metrans to expand network through investment in Hungary
Air Cargo News, Budapest Airport strengthens logistics links with Chinese hubs
Air Cargo News, Budapest Airport aims for China cargo with dedicated facilities
Lloyd's List, Cainiao designates Budapest Airport its 'East-Central European hub
Supply Chain Digital, Cainiao launches its first China-Hungary cargo flight
Ministry of Foreign Affairs of People's Republic of China, Keeping up the Momentum and Working Together for A New Chapter in China-CEEC Cooperation
Bloomberg, Argentina's Beef-Export Ban to Stoke Steak Prices Worldwide
Reuters, Hungary appears to back-pedal on Chinese university plans after protest