The coronavirus pandemic has boosted the emergence of new options for the supply chain between Asia and Europe. Other modes than ocean shipping and airfreight have been considered, in particular railway and intermodal shipping. The Chinese government strongly supports this trend.
The pandemic has posed significant challenges to transport between Asia and Europe. Owing to the tight capacity in ocean shipping and airfreight, other options such as railway, road, and intermodal shipping have gained popularity. In particular, the lower disruption in railway shipping has made it stand out during the pandemic on the Asia-Europe Route, with a double-digit increase in both directions (figure 1&2).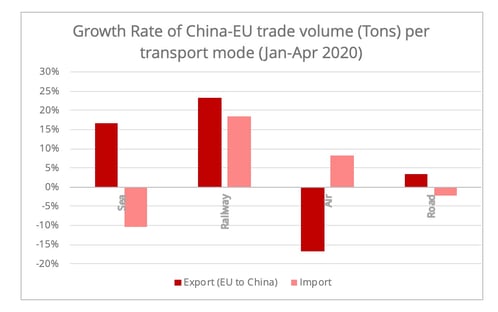 Figure 1. Growth Rate of China-EU trade volume (tons) per transport mode - Data source: Eurostat
A two-digit growth in both directions
According to China Railway's statistics, the shipping volume on the China-Europe railway in the first five months showed an increase in double digits, eastbound (Europe to China), 21%, and westbound, 44%[1] (figure 2).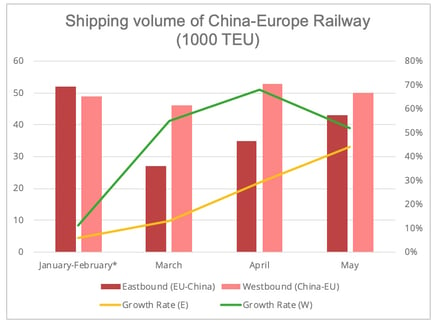 Figure 2. Shipping volume of China-Europe Railway (1000 TEUs) - Source: China Railway [3]
Some features can be generalized as follows based on trade data from the first four months[2].
Firstly, the disparity in shipping volume between the eastbound and westbound directions, which used to be one of the major problems, is decreasing. In January and February, for the first time the eastbound shipping volume surpassed that of westbound, as China was under total lock-down during the extended Chinese New Year holiday. In line with the diminishing gap between the eastbound and westbound shipping volumes, eastbound demand is expected to show continued growth, following the recovery of the Asian market.
Secondly, in terms of goods, machinery products were among the main categories diverted to westbound railway shipping. In the eastbound direction, the surge in shipping volume came from paper products, plastics, and pharmaceutical products. While automobile exports to China plummeted significantly, it is worth noticing the surge in demand from Sweden to China for the shipping of vehicles via railway in the first three months of the year.
Thirdly, the share of railway freight in the Asia-Europe trade remains, nevertheless, marginal, despite the high growth rate. Taking China-EU trade as an example, its share in eastbound trade is still below 1%, rising from 0.7% to 0.98% in the first four months of 2020. For westbound, its share increased from 2,5% to 2,8%.
Rail freight: strong political support
It is highly likely that railway freight will benefit from the tight capacity of ocean and air shipping in the third quarter. However, will the growth of the China-Europe Railway be sustainable when external shocks diminish? Here we address this issue based on some policies recently issued by the Chinese government due to the heavy policy-oriented nature of the China-Europe Railway.
Railway freight has been selected by the government as the primary supporting pillar for Chinese foreign trade. For instance, carriers are encouraged to closely cooperate with Chinese cross-border e-commerce firms, in the format of block trains, particularly in the logistics mode of "overseas warehouse + China-Europe railway". China-Europe railway freight operators are encouraged to transfer from carriers to supply chain solution providers in the Asia-Europe trade.
Cold-chain railway shipping could be one area where in the future new growth is created in eastbound railway shipping, especially under the current Chinese policy preference in this sector. Although the EU's meat exports (volume in tons) to China surged 75% in the past four months, no meat products were shipped via railway. This is the joint outcome of infrastructure barriers and administrative barriers. The positive news is that Russia has lifted sanctions on European food transit via the Russian territory in 2019, and a trial shipping of salmon from the Netherlands to China has been carried out this March, though some regulatory uncertainties of shipping via Russia remain. Furthermore, the reefer shipping by the express railway shipping line, taking 10-12 days between Xi'an and Hamburg/Neuss, could be one competitive option to airfreight for perishable food shipping.
Several initiatives in Intermodal Shipping
Essentially, the China-Europe railway is positioned as a link in the chain of China's global intermodal shipping network plan. For instance, China-Europe Railway connects to London via road and ferry shipping from Duisburg, via Rotterdam, though the eastbound shipping is reported as being somewhat costly. Developing intermodal shipping connections between Asia and Europe is also a shared interest for carriers and other countries, not just China.
China-Europe Land-Sea Express
One major intermodal shipping line under the BRI is the China-Europe Land-Sea Express, operated by COSCO. This connection uses Piraeus as the transition hub, connecting the Croatian port of Rijeka via an express shipping line, and then, from there, a railway connection to broader Europe. From January to April 2020, the shipping volume of this service increased by 52% and the number of cargo trains increased by 53%.
The long-term strategy of the China-Europe Land-Sea Express includes a direct railway connection, Piraeus-Belgrade-Budapest, to access the European market. In the midst of the pandemic, China agreeing loans to the Hungarian government to construct the Belgrade-Budapest railway this April is a critical signal of its keen interest in this intermodal shipping connection.
Carriers are also expanding the northeastern Asia-Europe intermodal connection via Russia's far eastern ports such as Vostochny and Vladivostok.
Since 2019, Maersk, in cooperation with Pantos Logistics, has been offering an intercontinental ocean-railway shipping line connecting South Korea and Japan to Europe; Pusan (ocean freight)-Vostochny (trans-Siberia railway)-Europe, which cuts the shipping time by around half in comparison with ocean freight. This line is reported to have increased by 30% in shipping volume during the pandemic in comparison to the pre-pandemic period.
Besides Maersk, RZD Logistics, FESCO, and PCC Intermodal have also launched a multi-modal shipping service from Northeast Asia to Europe via the Trans-Siberian railway. A test run was carried out last year from Yokohama in Japan, to Wroclaw in Poland, via Vladivostok to connect to the railway.
This is the case elsewhere than in Northeast Asia, China's strong economic and political interest in Southeast Asia has been transformed into a long-term vision of intermodal connections to link its manufacturing sites in Southeast Asia and the market in Europe by 2025. This vision will be achieved through combining two of its flagship projects under the BRI: "West Land-Sea international trade corridor" (China-Southeast Asia) and "China-Europe Railway". China is not the only country interested in this connection. In 2019, under the initiative of Vietnamese and Kazakhstan governments, a trial railway connection from Vietnam (Dong Dang) to Germany (Duisburg) has been conducted, with a shipping time of 22 days.
So far, the Southeast Asia-Europe connection remains more a conceptual line than a regular service. However, as Southeast Asia becomes the manufacturing hub in Asia, this railway connection could become an attractive option in the long run for high value-added products, such as electronic machinery products, of which Vietnam is already a major supplier to the European market.
Photo : @ DR SNCF
---
[1] Since China-Europe Railway also ships to non-EU countries, such as Belarus, the statistics provided by China Railway for the shipping volume will be larger than the data offered by Eurostat.
[2] Data is generated from Eurostat.
[3] For the first two months of 2020, China only offers the combined data.