The 2020 Incoterms®, which were unveiled in September 2019 by the International Chamber of Commerce (ICC), bring considerable changes which reflect new commercial and freight transport practices. There are still 11 Incoterms®, relating to places which must be designated as exactly as possible, but we note that the DAT has been replaced by the DPU.
There was no big bang. We can nevertheless see major changes in the Incoterms® 2020, which take account of changing commercial practices and, more particularly, the growth in containerization and multi-modality in global trade. These changes are very much in line with the Incoterms® revisions made in 2000 and 2010.
The guiding principle is still the clear wish to promote Incoterms® for multi-modal use. In this respect, it can be said that this 10-year revision has lived up to its promise.
The main points
Local custom and practice apart, the Incoterms® ICC 2020 are a transversal tool for use by contracting parties at international level.
#Incoterms2020 has arrived! #import #export@ICCSecGen John W.H. Denton AO highlights what this #trade term update means for #traders worldwide.

Learn more ➡️ https://t.co/2BH4T9JNUe pic.twitter.com/TKr3kABVfu

— ICC WBO (@iccwbo) September 10, 2019
Their purpose is to enable international bids and selling prices to be set out with maximum clarity. The aim is to avoid unpleasant surprises, extra costs and exposure to risks not clearly defined for each of the parties to a commercial contract.
The isolation of the United States, which does not participate directly in the talks on Incoterms®, is, sad to say, a constant which shows no signs of changing. As for China's wish to "appropriate" the Incoterms®, they have clearly been held in check.
Remember that an international commercial bid is a sale price linked to an Incoterm® and a place. The more a "well" purchased transport service is integrated into the final sale price, the more the international bid is competitive and traffic flow more tightly controlled.
What really changes
In the table below, you can see a resumé showing the major changes between the 2010 and 2020 versions.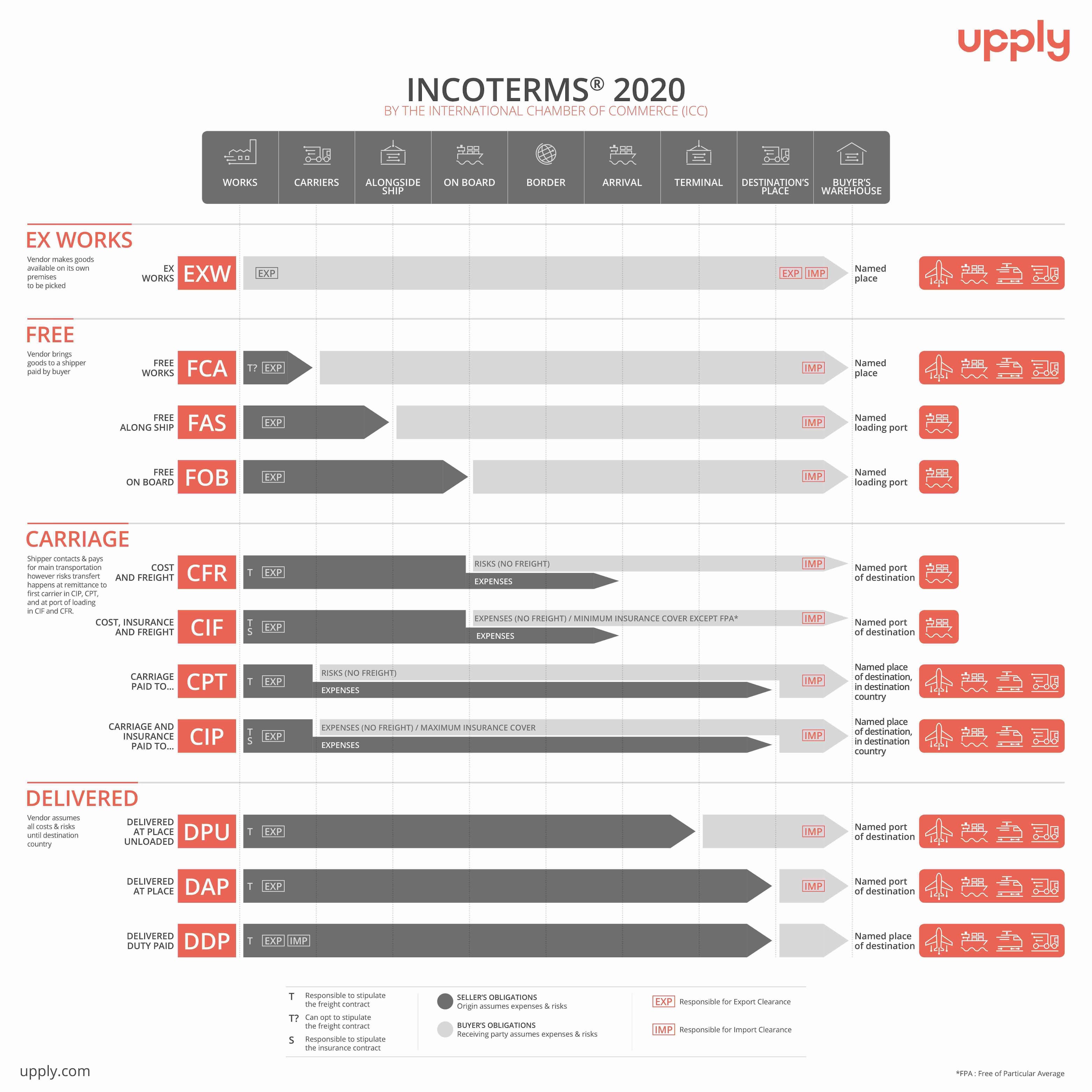 Some personal remarks
Here is a summary of what we can add.
EXW (Ex-Works). This Incoterm® has been preserved, even though it mainly refers to domestic transport and is often misused on a day-to-day basis. It is often wrongly turned into "Ex-Works loaded" or even "loaded with customs clearance" even though at face value this is offered at the basic ex-works price.
This implicit commercial gesture, which is not always taken into account by shippers' senior managements, is part of the so-called "local" agreements which are often reached without the knowledge of the buying departments of the major groups which thus bear costs which are not passed on.
Promotion or even imposition of the FCA (Free Carrier-named place) for ex-warehouse-type sales, would have simplified and better described the physical process and its integration in the sale price.
FCA (Free Carrier). This term, which is already promoted as the principal tool for outward sales, even when they involve a main transport partner in the maritime sector, now becomes the main all-purpose Incoterm®. Its main characteristic is that it allows for elasticity in the delivery between the initial transport departure point and the main transport leg departure point.
For the first time, the Incoterms® 2020 provide the FCA rule with an option mechanism. If the parties have so agreed in the contract, the buyer must instruct his carrier to issue a bill of lading with an on-board notation to the seller.
Doubts can be expressed, however, about the operational relevance of this option. In FCA, maritime practice provides for terminal handling charges (THC) to be met as a matter of course by the buyer. At this stage, it is illusory to believe that a seller could obtain an on-board maritime bill of lading, even if this is dematerialized. Nothing in port procedure proves that a container which is on the quay at the departure terminal will be loaded aboard the agreed vessel…
A future revision could provide an opportunity to extend the FCA to include loading aboard as a prerequisite for the transfer of cost and risk. This would make it possible to adhere to the operational reality for an export container delivered aboard and lashed at the agreed departure port. This would have much more sense for the fixing of an ex-works or ex-warehouse export sale price.
FOB (Free On Board). This term, which has been maintained for its historical role and for its use for conventional freight, should in the container sector be replaced by a widened, more directive FCA. In this sector, the idea that the ship's bulwarks need to be crossed before cost and risk can be transferred only muddies understanding of the transfer process.
In practice, a THC at the loading port cannot be chopped up. It is a port service package which includes a component covering reception by the haulier of the undischarged container at the entrance to the port terminal of departure to its loading aboard the designated ship and lashing at the same departure terminal.
Personally, I consider that it is a pity not to have gone further in the use of FCA and FOB. But my view is perhaps distorted by the highly multi-modal view of transport which I have acquired via my association with FCL shipping containers.
FAS (Free Alongside Ship). This term, which refers strictly to the maritime sector, concerns non-containerized conventional general cargo. The exact place, the designated quay and the correct address are primordial. Here again, a suitably adapted FCA could have allowed this very old Incoterm®, which has been increasingly fallen out of general use since the last two Incoterm® revisions, to be dispensed with. Has anyone seen an FAS commercial contract recently, notably in France?
The DPU (Delivered at Place Unloaded). This new Incoterm® replaces the DAT (Delivered At Terminal). It can be seen as giving contractors greater flexibility and the freedom to effect the transfer of cost and risk as part of the post-routing of the unloaded merchandise. It is interesting and makes sense as part of a mirror-reading of the FCA, which is also given prominence.
NOTA BENE
More than ever, with the widespread promotion of multi-modal Incoterms® and an increasing number of terminals, linking the name of a town or city to an Incoterm® is not enough. In addition to the name of the town or city, it is necessary to give exact addresses, not to say quay numbers and GPS coordinates, not forgetting either international ZIP codes and/or the associated LOCODES (UNCTAD). This rigorous approach is absolutely necessary if these contractual rupture points are be digitalized.
Captain Upply