Cartagena, the "mini Dubai" of central America, mainly serves as a transfer port. The volumes processed there are constantly evolving, and are currently at 2.8 million TEUs.
The Columbian port of Cartagena will probably exceed 3 million TEUs by the end of the year. The APM terminal's new entryways are finally compatible with ships carrying over 14,000 TEUs, which corresponds to the current size of the Panama Canal.
Exports coming from Europe and France in particular are very well oriented. Agricultural and food products, wine and liquor, along with luxury goods are the driving forces on this route, which irrigates the entire Caribbean area, with its numerous hotels and cruise ships.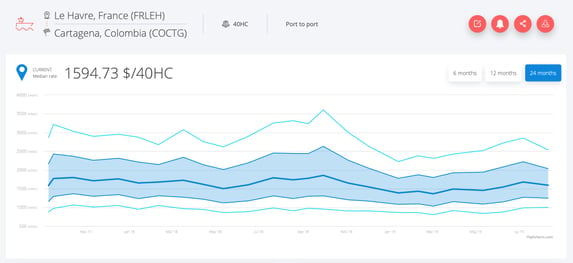 Cartagena's position, at the crossroad of large maritime routes also opens the opportunity of enjoying favorable tax policies to redirect goods towards south Florida, Latin American ports, but also towards the Pacific coast by using the Canal nearby.
When it comes to the Caribbean, Cartagena's main competing hub is Kingston in Jamaica, who's mainly controlled by CMA CGM. It is therefore only logical to find APM competing locally in the region from Cartagena.