Average ocean freight rates on trans-Atlantic routes have stayed high since the start of the summer. The trade war starting between the United States and Europe, which is, notably, targeting wines and spirits, could change this state of affairs.
"Quick, one last drink before we go home"! This phrase could characterize the reaction of exporters of French wines to the United States. The list of European products most likely to be subjected to higher customs duties on arrival in the United States from October 18 shows that this sector is one of the targets.
We have already indicated that French wines and spirits have been playing a locomotive role on trans-Atlantic routes to the United States. They are major contributors to a market which is a money-maker for maritime operators.
The double-digit growth rates registered by French wines had already been in the sights of the Trump administration since the spring and this led to US importers bringing forward some of some of their end-of-year shipments to the early summer.
If we look in detail at section 7 and HS code 22042150, which are cited in the announcement made by the American administration, French wines with an alcohol content of less than 14° and carried in containers of less than two litres will be subject to a 25% surcharge.
A few remarks:
- Titration, which in French law can vary by 0.5°, will certainly encourage some French wine producers to allow alcohol content to rise, helped by global warming. At the moment, the profession tends to want to hold down alcohol content. Some adjustments will be able to be made, therefore, particularly for wines from Burgundy and the Rhone Valley, which naturally come close to 14°.
- Packaging. The five-litre cubitainer, which in the past was reserved for bottom of the range wines, has been introduced more widely in recent years for middle of the range wines. It is probable that this trend will now be further extended to include more expensive wines. By the same token, containers fitted out with flexi tanks, which turn 20' dry containers into giant cubitainers, will be another option to consider for carrying greater volumes than at present.
AVERAGE OCEAN FREIGHT RATES BETWEEN LE HAVRE AND NEW YORK OVER THE LAST 12 MONTHS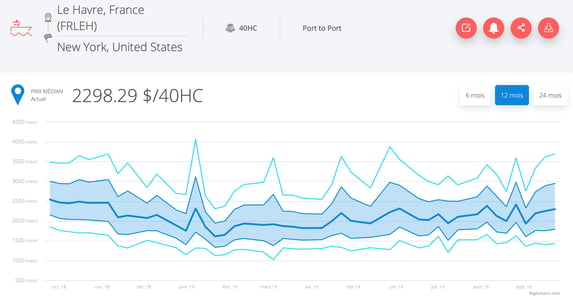 Source: Upply
Credit: Photo from Nirzar Pangarkar on Unsplash