Ocean freight rates between Ningbo and Rotterdam are experiencing a slight decrease at present but different factors indicate that a rising trend is likely over the next few weeks.
On this "classical" Asia-Europe line, which is representative in so far as it attracts large volumes of cargo of the sort required for the major retail sector, large-scale blank sailings have had the effect of stabilizing the market at high levels. This is exactly what the shipping companies were looking for during the Chinese New Year closure period.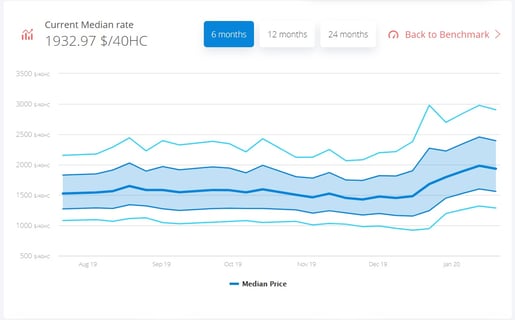 Source: Upply Database
A closer look, however, indicates that the following market trends are on the way:
Some rate erosion can be seen at present. Taking account of the integration of "Marpol" surcharges, however, rates should not fall. Clearly, some shipping companies are struggling to pass on the surcharges completely. Direct negotiations on the surcharges have now moved into active phase.
The coronavirus and the quarantining of the Wuhan region in China risk affecting rail volumes from this nodal point, benefiting river transport and, by the same token, the ports of Shanghai and Ningbo. This situation should generate additional activity, which should sustain rates.
Shipping companies' blank sailings programmes are particularly extensive this year, as we already know. But they are spread out over time (up to the end of March for some). It is, therefore, not unlikely, taking account of the relatively alarming health news coming out of China at the moment, that supply chains will suffer new and unexpected disruption, which will push up cargo rates.
This highly changeable situation will need to be followed closely over the weeks to come. Market volatility is likely.