Our Upply data base shows that transit times between Ningbo and Rotterdam have increased by 5% on average since the Chinese New Year. This is an important indicator for supply chain managers.
Reduced capacity, slower ship speeds. Shipping companies' "recipes" for maintaining their margins in periods of economic difficulty are well-known. But it is not always easy to evaluate their impact. We, therefore, decided to look at the situation on the major Asia-Europe trade route between Ningbo and Rotterdam. Our Upply data base shows that transit times have increased by an average 5% on the route since the Chinese New Year. This increase is not a projection but a calculation based on real transaction data.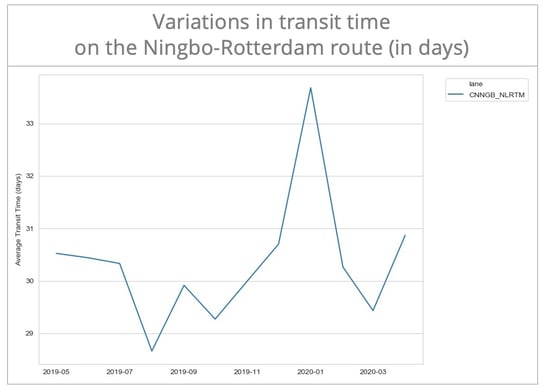 Source: Upply
This data is particularly relevant for supply chain managers using SAP or Oracle. Regular updating of average transit times recorded in a factual manner makes a lot of sense. It is a question of having a precise indication of the state of a market at any given moment, not of stoking up controversy. Subscribers to Upply's "Compare and Analyze" application will soon be able to follow this indicator very precisely since they will be provided with transit times for each regular shipping line covered by price comparison data. Supply chain managers will be able to integrate this data into their modelling applications to enable them to pilot their supply chains with greater precision and, above all, better manage the risks and costs they involve.
This function, which is a direct corollary of our price comparison service, makes it possible to take ocean freight flow analysis a step further and, so, make supply chain design more precise.