With the Chinese economy virtually at a standstill because of the coronavirus epidemic, we are seeing a slight reduction in freight rates. We believe that the future resumption of activity will not engender huge-short increases in rates out of Asia.
Economic activity in China is at a low ebb. Shipping companies have carried out additional last-minute reductions of part of their capacity out of Chinese ports after having already considerably reduced it during the last two weeks. And we are seeing a slight reduction in freight rates.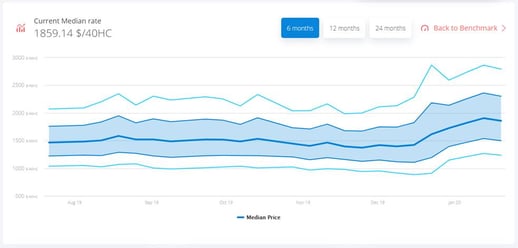 Source: Upply
A slow restart
Without having full visibility regarding the real impact of the coronavirus in China, it is difficult to know exactly in what conditions work will be resumed following the New Year holiday. We think, however, that activity will restart gently in China's warehouses and factories.
At this stage, therefore, it is unlikely that there will be a sudden huge flood of full containers for shipping from Chinese ports. Apart from the telephone and automobile sectors, which are the ones hardest hit by the halt in Chinese production, stock levels in Europe are not in a sufficiently critical state to justify transport being paid for at any price. And even in telephones and automobiles, it can be considered that they are markets on which purchases can be delayed. One might even take the view that delaying acquisition of a new car or telephone has educational value…
Dunkirk's new ambitions
As the destination port in this Lane of the Week, Dunkirk is struggling to establish itself as a main port on the northern European range. Indeed, only the CMA CGM-Cosco-Evergreen alliance offers a weekly service in this deep-water port, which is easily accessible and ideally situated for multi-modal connections serving northern France, the Hauts de France region and southern Belgium.
But one alliance out of three is not enough to become a major player in transoceanic shipping in the face of competition from Zeebrugge, Antwerp and Rotterdam. Dunkirk needs to attract freight coming out of Germany but, as one can imagine, the Benelux countries are not going to give up their position easily.
The major short-term asset enjoyed by the Dunkirk port complex lies in its huge land reserves, projects to build huge controlled temperature port warehouses which are already well under way and a relatively calm industrial relations climate. To this can be added its ideal position in the new post-Brexit era, allowing transporters to avoid bottlenecks in Calais. Public and private sector investors alike have every interest to take a closer look at Dunkirk.
Since 1940, we have shared an era of contemporary history with our British friends which is closely linked to this city marked by shared sacrifice. It is inconceivable that we should not work hand-in-hand to make Brexit a success and Dunkirk will again play a key role in this adventure...