SPECIAL REPORT. Road freight transport is essential to irrigate the Brittany economy and overcome the handicap posed by its peripheral geographical position. Internal freight flows dominate but inter-regional movements are also increasing.
Road freight transport in Brittany, excluding transit, international and foreign flag traffic, is characterised by a certain dynamism. Between 2014 and 2018, traffic overall progressed 12.6% to total 16.7 billion tonne-kilometres, according to the 2019 regional economic report published by French national statistical institute INSEE.
The sector recovered well after a sharp reduction in traffic measured in tonne-kilometres in 2015, particularly in the internal traffic segment which showed a 41.2% increase over five years. The segment showed steady growth and has now overtaken incoming traffic, which itself showed a respectable 7.5% increase. Conversely, outgoing traffic fell back 1.2% over the five years.

* In millions of tonne-kilometres (excluding transit, international and foreign flag traffic) - Source: SDES, road freight transport survey.
Traffic volume around 157 Mt per year
Altogether, road freight traffic in Brittany represents an annual total of 157 million tonnes (Mt), of which 115 Mt for intra-regional traffic and 42 Mt for inter-regional traffic. "Goods carried by road internally are mainly in bulk form (70%)," according to the Brittany region transport observatory (ORTB). "For trade with other regions, the situation varies." Bulks and palettes represent 46% and 38% respectively of incoming merchandise, while the proportions are reversed for outgoing merchandise, with 46% for bulks and 39% for palettes.
In the intra-regional segment, Brittany is particular in seeing the share of goods transported by companies and other entities for own account increase, whereas third party transportation has declined. Own account transport represents about 63% of intra-regional traffic flows. This phenomenon is closely linked to the nature of the goods transported. "In Brittany, 37% of intra-regional road traffic concerns agricultural and food products. Minerals and construction materials each represent 22% of intraregional trade," the observatory noted. Overall, Ille-et-Vilaine generated the most intra-regional traffic with a total of 43 Mt, followed by Finistère with 27 Mt, Côtes d'Armor with 25 Mt and Morbihan with 20 Mt.
In the inter-regional traffic segment, third party transport is naturally preponderant, accounting for 34 Mt, compared to 8 Mt for own account transportation. Incoming traffic represents 23 Mt, of which 16.7% for own account, while outgoing traffic totals 18 Mt, of which 28.4% for own account. Ille-et-Vilaine is once again in the lead, with an incoming and outgoing traffic total of 25 Mt, compared to 6.4 Mt for Morbihan, 5.3 Mt for Côtes d'Armor and 4.4 Mt for Finistère.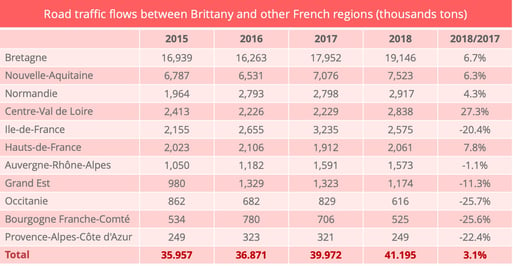 Source: Brittany regional transport observatory (OTRB)
A geographical analysis of trade shows the strength of the region's economic links with Pays de la Loire, which accounts for 46.5% of all inter-regional traffic, followed by Normandy with 18.3%. "In 2018, most road-borne traffic to or from other regions involved agricultural and food products (38.9% of deliveries and 46.6% of expeditions) and manufactured products (29.4% and 26.7%)," the regional transport observatory observed. "On the other hand, minerals and road materials, which represents a substantial share of intra-regional traffic, account for a smaller share of inter-regional trade."
Number of companies stable
The activities of transporters is sustained by a Brittany economy which has been fairly solid in recent years. According to INSEE, the region could even be less affected than others by the impact of the Covid-19 pandemic, thanks particularly to the strong presence of the agri-food industry. This is a positive factor for hauliers. The second quarter survey of the industry carried out by the FNTR road transporters' federation shows that during the first wave of lockdown measures, revenue losses and the number of trucks taken out of service was markedly lower than the national average. Anthony Rouxel, the FNTR's Brittany regional delegate, nevertheless warned against excessive optimism. "During this period, the imbalance between traffic flows increased and this affected companies' profitability," he said. In addition, certain important regional economic sectors are suffering, "particularly the automobile industry in the Rennes area," according to Philippe Munier, regional delegate of the TLF transport and logistics body in Ile de France and central and western France.
A close-knit region
On 31 December 2019, there were 2,168 companies on the goods transport register, compared to 2,093 five years earlier. "Among establishments with employees, about 40% are established in Ille-et-Vilaine, 25% in Finistère, 22% in Morbihan and 18% in Côtes d'Armor," said Anthony Rouxel. The region is home to major groups, including "some fine small transport companies which are still mainly family owned". Among others, we can mention the Lahaye group, STG, Rouxel, Le Guevel, Le Roy Logistique, Groussard or JLG Services.
According to the 2019 regional report of the OPTL (transport and logistics skills and qualifications observatory), companies with from one to nine employees represent 58% of companies with employees but employ only 9% of all transport and logistics personnel. At the other extreme, 11% of establishments have 50 or more employees but represent 58% of all employees in the sector.
The Brittany road freight transport industry faces the same recruitment, energy transition and urban logistics challenges as the profession as a whole at national level. When issues need to be tackled at regional level, however, the region can count on a strong collective sense. "We saw it on the ecotax issue. Representatives of the whole Brittany economy stepped up to the breach, not just the hauliers. This capacity to act together is a great help to us."