Ocean freight rates between Asia and Europe have been stabilizing since the start of the summer but remain at high levels. This situation should last, even though new capacity will slightly relieve the pressure on space aboard ship.
The excess heat is coming out of the market… After a limited downward correction in July, which was counterbalanced by some pressure on space, prices between Asia and North Europe have stayed relatively stable, as is demonstrated by data for the Shanghai-Antwerp route from our Upply data base. Our example refers to a 40' dry high cube container, port to port, THCL and THCD included.
It should be noted that the slight fall in rates registered on this route in the course of the summer was not seen in the West Med, where capacity was even more tightly managed, with the result that June conditions persisted relatively unchanged.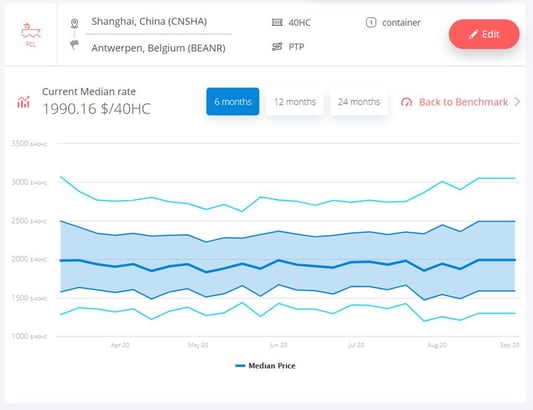 Source: Upply, Compare & Analyze
September looks likely to follow the same trend. The shipping companies have announced general rate increases, which seem to be failing to stick for the time being on the Asia-Europe corridor. The cat and mouse game being played between cargo volumes and the shipping capacity made available is highly volatile in the short term. The European retail sector is being very cautious about its purchases of goods. It is giving preference to "built to order" to keep stocks at a low level, given the uncertainty about consumer behaviour in the second half, but also, with visibility lacking, to minimise storage costs.
In addition, the introduction of 10 or so new ships between Asia and Europe by Evergreen and MSC to replace smaller vessels after the summer holiday period, will automatically relieve pressure on space.
In this situation, we do not expect any sudden increase in rates in September between Asia and Europe. The situation is very different, however, in the trans-Pacific market, where there is much greater volatility at the moment and where space is under pressure. This has resulted in rates climbing to record levels.