Ocean freight rates between Shanghai and Valencia have fallen significantly, showing that there is neither pressure on space nor a pre-Golden Week rush at this point.
From October 1 to 7, China will be operating at Golden Week pace. This annual event, which celebrates the birth of the People's Republic of China, creates a clear lull in activity which prompts shippers sometimes to bring their deliveries forward. This year, however, this effect is not strong enough to push up freight rates, as the Shanghai-Valencia line demonstrates. Clearly, available space is still largely sufficient.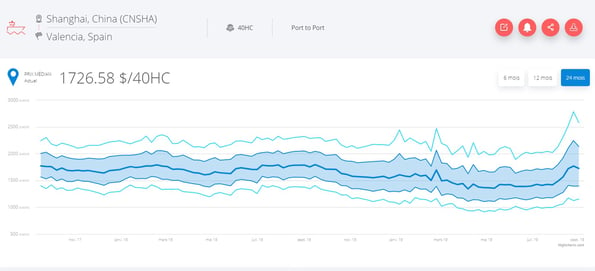 Source : Upply Historical View
The companies' response to market conditions is taking the form of sometimes late cancellations of ships' departures and general increases in rates.
The downward trend is being felt throughout the Asia-West Med range (Genoa, Fos, Barcelona and Valencia).
Valencia's rise to prominence
The Spanish port of Valencia, which was still an optional call 10 years ago compared to Barcelona, is today an indispensable port of call on each rotation. It is a great contributor to the development of all the Madrid zone and southern Spain. Its modern configuration makes it better adapted to high volume container traffic than Barcelona.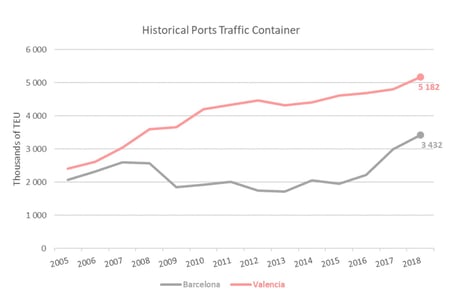 Source: Barcelona and Valencia port statistics, Upply
Retail logistics, notably, which is an import locomotive, has a marked preference for the Valencia zone for unloading for reasons of cost and also because of the proximity of logistics platforms.
Exports out of Valencia are still in deficit, however, particularly since tighter restrictions were introduced in China on waste shipments.
Business operators continue to be confident about the zone with a PMI composite activity index of 52.6 for Spain which has been at a high level for the last four months.
Captain Upply, with David Thébault
Photo : @ Puerto de Valencia