The supply chain diversification trend for moving out of China is benefiting South East Asia. Thailand, as the largest automotive manufacturer in the region, is perceived as being a promising option for the automotive industry, especially for electric vehicles.
Southeast Asia is one of the most promising regions in light of the supply chain diversification trend. While Vietnam has caught most attention, other Southeast Asian countries are also attracting growing interest from foreign investors, Thailand being one of them. Its well-established automotive manufacturing know-how, policy package, and strategic location make Thailand a promising diversification option for the automotive industry, including the strategic EV (electric vehicle) manufacturing sector.
Who are the Investors?
Like Vietnam, Thailand has attracted foreign investors, especially in the electronic machinery sector, who are seeking to shift their manufacturing activities amid the China-US trade war, including Japanese, and US firms, such as Sony, Sharp, and Harley-Davidson Inc, etc. Besides the electronic machinery sector, Thailand, as the largest automotive manufacturer in Southeast Asia and the eleventh largest in the world in 2019, is also perceived as a promising option for the automotive industry supply chain diversification.
Although the Thai automotive industry was hit hard by the pandemic, it aims to seize the opportunity of the rising EV manufacturing sector. Thailand has managed to attract significant FDI, the number of companies involved in the EV industry grew from 76 in 2015 to 420 in 2019. As of 2020, the BOI (Thailand Board of Investment) has approved 24 projects by carmakers to produce electric vehicles of all types in the country, with an annual capacity of over 500,000 units. In 2020, the government stated it aims to grow EV production so that it will account for 30% of the total Thai automotive production by 2030.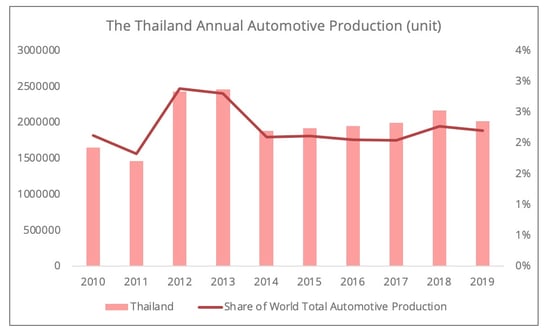 Figure 1 - Datasource: International Organization of Motor Vehicle Manufacturers
According to the BOI, the top three source countries for Foreign Direct Investment in 2020 were Japan, China, and the US (Figure 2). Apart from the long-term Japanese investment in the automotive sector, there is also growing investment from German and Chinese automotive manufacturers. As ASEAN countries have already started the transition process of addressing environmental concerns the investors see a major advantage in Thailand, as a means to access the fast-growing Southeast Asian market. In 2018, Mercedes-Benz chose Thailand as the site of its sixth EV battery factory. In 2020, the Chinese pick-up truck manufacturer Great Wall, took over General Motor's plant in Thailand as a means to access the ASEAN market.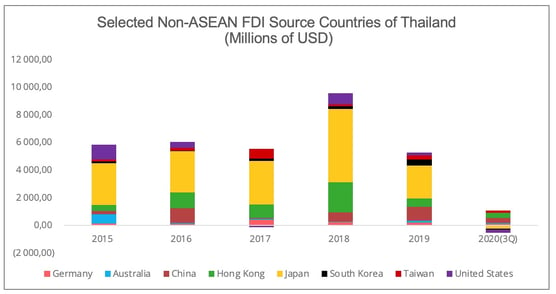 Figure 2 - Datasource: Bank of Thailand
Strong Policy Support
Thailand has been offering a relocation policy package since 2019 to attract international companies to shift their production. As for the automotive sector, some of its policies, such as no local content being required for vehicle production, is proving to be attractive, especially for an industry with such a well-established global supply chain.
Specifically, for the EV sector, in November 2020, the BOI approved a new financial incentive covering all the significant aspects of production. Projects will be granted various types of tax reductions or exemptions. For EV batteries, a 90% reduction in import duties will be granted for two years on raw or essential materials that cannot be sourced locally. Besides state-level incentives, there are also regional support policies. For instance, there is zero excise tax for full EVs from 2020 to 2022 in the EEC (Eastern Economic Corridor), a special economic zone bringing together three provinces on the east coast which is also Thailand's EV manufacturing hub.
Optimization Logistics Operation: Eastern Economic Corridor
The strategic geographic location and particularly high logistics performance in this region also contribute to Thailand's attractiveness (Figure 3). Notably, half of the EEC is covered by the 5G infrastructure as of February 2021, making Thailand the first country in Southeast Asia to offer 5G logistics connectivity.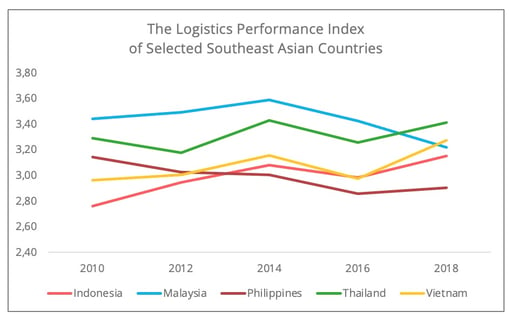 Figure 3: Data source: World Bank
Apart from being a gateway to access the Southeast Asian market, the EEC's comprehensive logistics infrastructure (Figure 4) also offers an optimized connection with both India and China, the two most populated countries in the world. As such, this makes Thailand an ideal place for investors to reach both markets.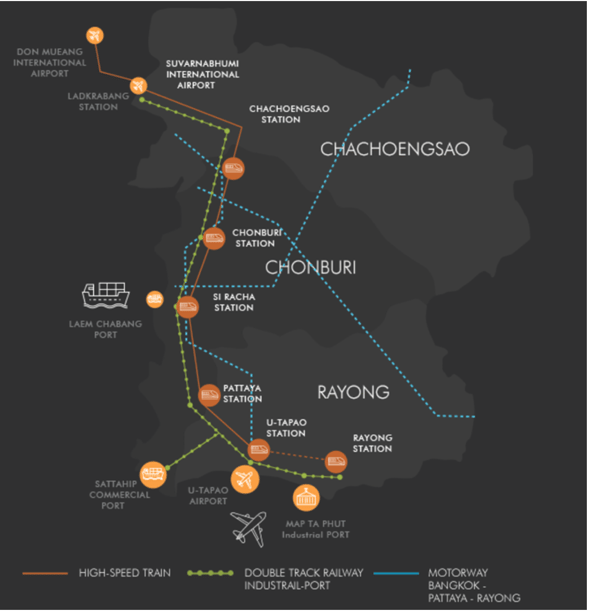 Figure 4: Source of the Illustrated Map: EEC Governance
A China-Thailand high-speed railway project paves the way for an intermodal shipping connection between Southwest China and greater Southeast Asia via Thailand. The passenger and cargo dual railway project is aimed to be completed by 2026 and will connect with the China-Laos railway link currently under construction, and will also be part of China's trans-Asia railway project that will eventually link to Singapore.
To connect the Indian Ocean and the South China Sea, in 2020 Thailand proposed to build a 100 km land bridge to replace the previous Kra Canal Project, with two planned deep seaports, one in the Gulf of Thailand and the other on the Andaman Sea. This ambitious project will allow shipping to bypass the Strait of Malacca via a multimodal shipping connection (Rail-ocean connection), a game-changer for the Europe-Asia shipping connection. However, it must be noted that this project remains largely a more conceptual than concrete plan. Its predecessor project Kra Canal has been in discussion for years but has not actually moved past the planning stage.
Growing Competition among Peers
Nonetheless, Thailand is also facing growing competition from its peers, resulting in a risk of missed opportunities amid the supply chain diversification tendency.
Firstly, Thailand faces

competition from Indonesia

in the EV sector. According to BloombergNEF, Indonesia, which holds the world's largest nickel reserve, can offer the

lowest cost of EV battery manufacturing among all Asian countries

, 8% lower than China. In December 2020, Korean company LG, one of the largest EV battery suppliers,

sealed a 9.8 billion USD deal

with its Indonesian counterpart to develop the world's first local EV battery supply chain, from upstream mining to downstream production. Similarly,

Tesla

is also reportedly showing interest in investing in EV battery production in Indonesia.
Secondly, the

potential trade barriers

imposed on Thailand-made automotive related goods can hinder its attractiveness for FDI. For instance, the probable implementation of US anti-dumping measures against Thai tires and light trucks could lead to

an erosion of its competitiveness with rivals

, such as Indonesia or Canada.
Thirdly, its

political unrest

undermines foreign investors' confidence in the Thai market. The Thai automotive industry was hit hard during the 2013-2014 political crisis, resulting in the decision by multiple Japanese automotive manufacturers

to shift production to Indonesia

and the temporary suspension of investment. Fitch Group has also

lowered Thailand's short-term Political Risk Index Score

from 70,4 out of 100 to 68,3, responding to the continued social turbulence.
The China-US tension in the South China Sea also poses risks in shipping and business operations in Southeast Asia. However, it is not a risk that is limited to Thailand. In fact, despite being the oldest ally of the US in Asia, Thailand manages to keep a good balance in its relations with these two powers.
The implication to the Global Supply Chain
While Southeast Asia is considered to be the home of primarily labor-intensive and low value-added manufacturing industry diversification, Thailand shows the promise of potential in Southeast Asia for attracting diversification of the mid/high tech manufacturing sector.
Under the regionalization of the supply chain and the fast-growing ASEAN market, Thailand's automotive assembly activities will continue to serve the regional market, including Southeast Asia and Oceania. As a signatory to the Regional Comprehensive Economic Partnership, the lowered trade barriers among the member states will reinforce its position as an important regional player in the automotive sector. A growing China-Thailand trade connection can be anticipated in the light of China's strong interest in engaging in the Southeast Asian market.
As for interregional connections, a growing trade flow of intermediate parts between Thailand and both Europe and the US, and also FDI coming to this sector, are expected. However, this will remain marginal in comparison to major Asian trading partners, such as China, Japan, and Korea.
The foreign investment in the EV battery manufacturing sector in Southeast Asia in general, not just in Thailand, also means a growing demand for tailored logistics solutions for EV battery shipping from Southeast Asia due to the complex nature of EV batteries. According to BloombergNEF's Global Lithium-Ion Battery supply chain ranking, four Southeast Asian countries: Vietnam, Indonesia, Thailand, and the Philippines, will continue to be among the top 25 global suppliers in 2025.
---
Sources
Sony, Harley-Davidson, Others Move Production from China to Thailand, Industry Week
Thailand's EV industry grows by 81% in 4 years
Strategic investment: Mercedes-Benz Cars pushes electric initiative in South-East Asia with battery production in Thailand, Daimler
GM shuts Australia, NZ operations; sells Thai plant to Great Wall, ReutersThailand awards contract for standard-gauge project, International Railway Journal
Thailand looks to cut Malacca Strait shipping time by land link between Indian, Pacific Oceans, South China Morning Post
Indonesia, world's biggest nickel producer, says it received an investment proposal from Tesla, CNBC
Thai auto sector slams on brakes as political crisis rumbles on, Reuters
Battery Making in Indonesia Can Cost Less than in China, BloombergNEF
Indonesia says $9.8 billion EV battery MOU agreed with LG Energy Solution, Reuters
US Anti-Dumping Duties: Long-term Cost Cuts Needed to Maintain Competitiveness, Kasikorn Research Center
Thailand's EV Industry – ASEAN Demand Grows, Industry Today
China Dominates the Lithium-ion Battery Supply, BloombergNEF