Ocean freight rates for 40' HC containers are showing an increase between Tokyo and Le Havre. They are being driven by strong demand for Japanese exports, thanks to strong performances by Japanese industry, which is in good fettle in this end-of-year period.
Several factors are driving current strong freight rates between Japan and Europe. First, we are at the end of the cyclical peak season for Christmas electronic games and the famous Nintendo consoles, as well as for the wines and spirits business. Japanese whiskies, which are of high quality and in abundant supply, have found a market in France, the second biggest exporter of spirits.
On the demand side, the aeronautical sector has registered positive performances, with Toray's new high-tech carbon-based components. The automobile and motorcycle sectors (Toyota and Yamaha) are also showing a favorable trend, as is equipment for gardening, small-scale mechanized cultivation and the upkeep of open spaces (Kubota and Iseki).
A mechanical pressure on rates
At the same time, ship capacity is restricted because of draft limits in Japanese ports and because ship space needs to be left for the loading of goods bound for Europe from Singapore. This creates a mechanical pressure on rates, which has been accentuated by the recent implementation of low sulphur surcharges.
For imports from China, a reduction in rates is expected from January 15 in relation to the Chinese New Year, which falls on January 25 this year, and to the gradual return to bigger capacities.
For imports from Japan, however, we can expect strong freight rates until the end of February at least, with little or no variation in available capacity. Japanese shipping companies are banking on this favorable period, moreover, to boost their results before the end of their financial years on March 31.
Captain Upply
---
Freight rate progression between Tokyo and Le Havre during the last six months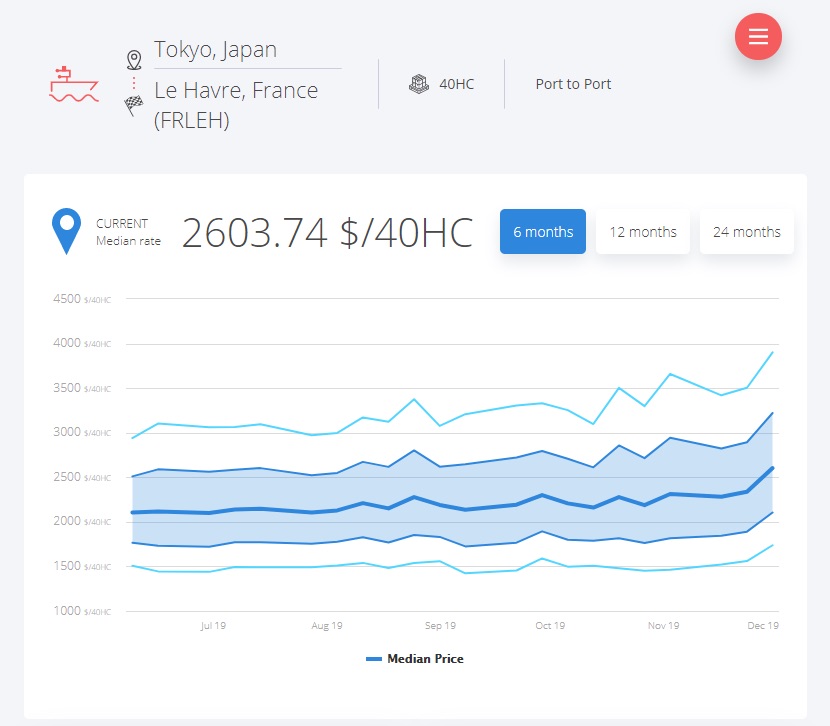 Source : Upply