BAROMETER. In August, French transport players were caught between the rise of diesel prices and the decline in volumes. This situation put a freeze on prices, in a summer when the burning issue of the TICPE (domestic consumption tax on energy products) was seriously heating up.
Unlike the weather, the morale of business leaders is increasingly showing signs of cooling off. On a downward trend since April, the business climate in France fell in August just below its long-term average, according to data published by the INSEE. The deterioration has particularly affected the manufacturing and services sectors. This is the lowest level since April 2021, reminiscent of the low observed at the height of the Covid-19 pandemic.
At an operational level, activity was marked at the end of the month by disruptions caused by a landslide that occurred in the Maurienne Valley in the Alpes. This event led to the closure for 15 days of the Fréjus tunnel, a major corridor for road and rail traffic between France and Italy.
Flattened freight rates in a context of rising costs
Road transport prices in France stagnated in August, with a variation of -0.06% compared to the previous month.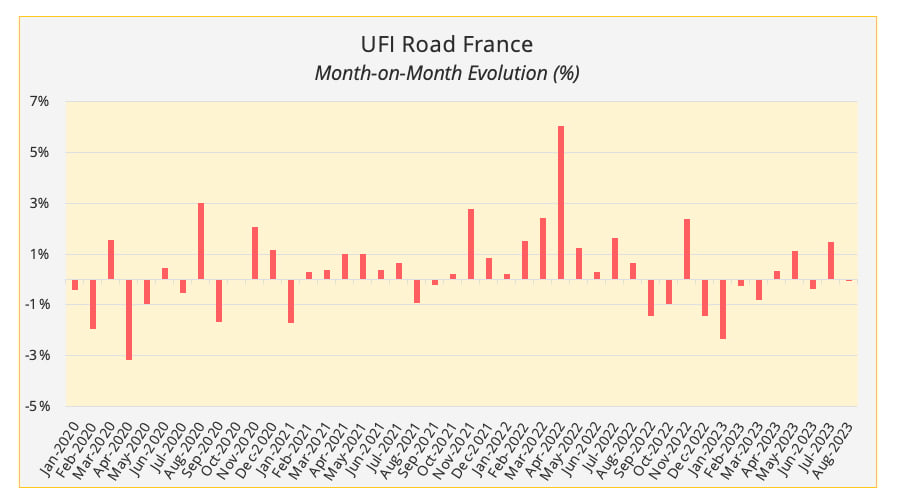 Source: Upply Freight Index – Road France
The comparison of the SPOT and CONTRACT indices showed a crossing over of their curves in August: the SPOT index, which represents the price reference index in France for non-regular transport, fell below the CONTRACT index (contractual price reference index). This is a fairly rare phenomenon, which has occurred only 3 times in 3 years, and is generally interpreted as a sign of market contraction: transport supply is much greater than demand, which leads to a fall in spot prices (...)