Let's have a look this week at ocean freight rates between Ho Chi Minh City and Hong Kong. Our data base at Upply shows that there has been a slight increase in recent weeks in rates for 40' high cube containers.
In Europe, this intra-Asian route is often viewed in terms of Chinese exports to Vietnam. There are two main factors behind traffic flows in this respect:
They can either be finished products which are then re-exported to avoid American customs duties
Or they can be Chinese components assembled in Vietnam to take advantage of more favorable labour costs.
It would be wrong to see things only in this way, however. Vietnamese exports to China are also on a good trend, principally for agri-food products, natural rubber (which remains a basic component in China's new tyre industry), some kinds of textiles and, above all, basketball-style sports shoes (which are worn increasingly by all strands of the population worldwide, including in China).
Inter-connected economies
It is indisputable that the Chinese and Vietnamese economies are increasingly inter-connected even though the political climate between the two countries remains tense. The cause of the tension is China's claim to have access to maritime zones and sub-sea resources all along Vietnam's east coast.
At this stage, we are seeing no reduction in volumes to Hong Kong despite the extreme political tension between the semi-autonomous state and the Chinese state.
---
Evolution of ocean freight rates between Ho Chi Minh and Hong Kong over the last 6 months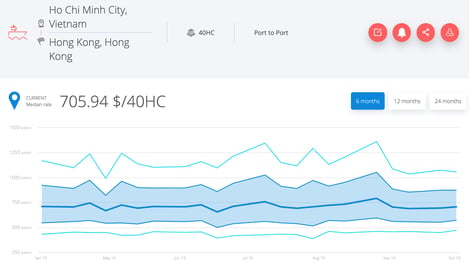 Source : Upply