The economic and operating environment in 2021 was clearly beneficial to the global leaders in the transport and logistics sector, which increased their revenues and, particularly, their profitability. These results demonstrate a real reversal of the balance of power between shippers and service providers.
Clearly, 2021 was a year of rapid and vigorous economic recovery. After having fallen 3.3% in 2020 because of the Covid-19 pandemic, global GDP rose 5.7% in 2021, according to World Bank figures. This growth was largely beneficial for world trade in goods. World Trade Organisation figures show that trade grew by 9.8% in 2021, largely making up for the 5.3% reduction seen the preceding year.This rebound has had a very significant impact on the transport and logistics industry, as the 2022 edition of our Financial Panorama of the World's Leading Groups shows.
Inflation returned in 2021
The virus had by no means disappeared. The world was shaken by a number of new waves of the epidemic, but the arrival of the vaccines meant that business activity was not totally paralysed, as it was at the start of the pandemic. In addition, massive aid plans stimulated consumption in Western countries.
In Europe and the United States, the recovery which began in the second half of 2020 continued and gathered pace in 2021. The flipside of this, however, was that the sharp increase in demand put pressure on the resources necessary to produce goods, whether in the form of energy, raw materials or intermediate goods like electronic chips. This situation had a major impact on supply chains.
The new economic situation led in the first place to a strong increase in inflation. Central banks wanted initially to believe that this was an isolated case of overheating which would come to an end in a matter of months. Today, however, we can see that it is long-term trend.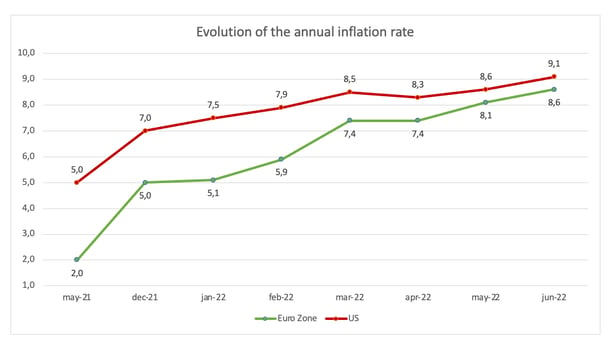 Data sources: Eurostat, U.S. Bureau of Labor Statistics - © Upply
Difficulties in getting access to resources took on such proportions that they resulted in shortages that themselves led to breaks in production. This led to a disorganisation of logistics chains which has had a negative impact on operational efficiency.
The balance of power between shippers and service providers was reversed
In the last two years, the supply chain fundamentals we have known over the last two or three decades have broken down. Shippers have been subjected to an unprecedented increase in their production and supply costs. Transport prices, in particular, have increased at never-before-seen rates, particularly in the international segment. Capacity constraints and congestion have put transporters in a position of strength for the first time for a long time.
Among supply chain managers, this change of paradigm has led to thinking about ways to reconfigure global supply chains as a means of minimising risk. But this involves complex procedures, which necessarily take time to come into effect. In the meantime, shippers have had no alternative but to dig deeper into their pockets… The increase in freight rates began in 2020 but took on unexpected proportions in 2021.
Overall, the increase in prices was particularly spectacular in shipping and very pronounced in air transport. Freight rates were slower to take off in road freight transport but became significant in the second half of 2021 and then started to set new records in 2022.
A new phase of market consolidation
As our financial panorama shows, the prize for growth goes to the shipping companies, with 3 or even 4-digit profit increases! Forwarders also registered comfortable financial results in general. This windfall gave fresh impetus to the trend towards consolidation on the transport and logistics market. Until now, express carriers and forwarders had led the dance but, with their new-found wealth, the shipping companies joined the ball.
The airlines had more mixed fortunes. The freight sector generally returned positive results again after a number of lean years. The companies nevertheless remained in fragile financial health since their passenger businesses only recovered very partially. In road transport, prices rose but on a much more modest scale and not always enough to prevent margins being eroded.
To read the analyses and rankings by type of activity, please
download the financial panorama :