The slight recovery which got under way in the global air freight industry in May continued in June. It remains modest and below expectations, however, while, at the same time, the number of urgent PPE shipments is being reduced. This situation is affecting freight rates, which are tending to fall.
Global demand for air freight in tonne-kilometres fell 17.7% year on year in June overall and 19.9% for international traffic alone. "That is a modest improvement from the 20.1% year-on-year drop recorded in May," IATA noted.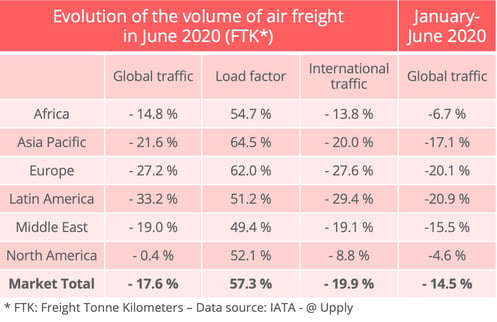 Competition from rail and sea
The stabilisation of manufacturing output and export orders in most regions of the world following a period of sharp reduction offered hope of better results, however. "That relative underperformance was driven by air freight losing market share of total world trade in recent months, as buyers are turning to cheaper but slower means of transport," IATA said in its monthly Air Cargo Market Analysis. "The rush to get personal protective equipment (PPE) to market has subsided as supply chains regularized, enabling shippers to use cheaper sea and rail options," IATA Director General and CEO Alexandre de Juniac confirmed. This was particularly true for Asia-Europe traffic. Although it remains marginal in terms of market share, rail traffic showed a particularly remarkable increase in this sector.
Operations still disrupted
The air transport sector is also suffering from continuing widespread disruption of its operations. Global capacity in tonne-kilometres showed a 34.1% reduction overall in June 2020 year on year and a 33.9% reduction for international flights alone. This contraction was virtually the same as the 34.8% drop recorded in May. With the vast majority of passenger flights still out of action because of the Covid-19 epidemic, available hold cargo capacity was down 70% in June in relation to June last year. This reduction was only partially compensated by a 32% increase in capacity on dedicated freight aircraft.
For the whole of the first half of 2020, volumes fell 14.5% year on year. "A peak-to-trough comparison shows that the COVID-19 impact on SA cargo volumes is similar to the GFC (Global Financial Crisis) impact," IATA said.
North America relatively spared
The fall in traffic affected transporters in all regions in June as it did in May. North America nevertheless continued to come out best, notably thanks to the strong presence of integrators, who are less affected by the disruption. European carriers, on the other hand, are still experiencing strong turbulence, as are their opposite numbers in Asia/Pacific. Because of the slowdown in exports of personal protection equipment by air, the latter are not getting the full benefit of the recovery in manufacturing output.
On other markets, the Middle East showed some improvement thanks to the "more aggressive operational strategies" of local carriers, according to IATA. Africa, which is starting to feel the impact of the pandemic more, is seeing some deterioration despite continuing growth on the small Africa-Asia market, which showed a 20.1% increase in traffic in June. Latin American companies, finally, are in an extremely serious situation, with the region affected by strict lockdown measures and a considerable shortage of capacity.
Prices continue to fall
The lack of global capacity led to a sharp increase in air freight rates in April. June figures, however, have confirmed the slowdown which began in May. According to Upply's data, over the whole of the month of June, two trade lanes showed growth over May: intra-Asia and Europe-North America. On the other hand, the variation between the first and last week in June indicates that the downward trend is becoming general.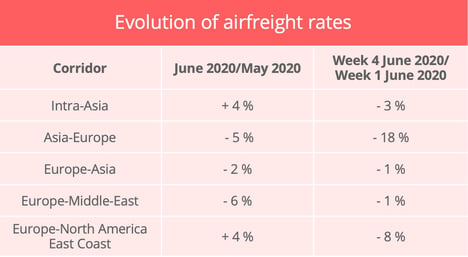 Source : Upply, "Compare & Analyze"
The trend looks likely to continue, moreover, so long as global demand for goods has not really taken off again. If recovery comes suddenly, this could stimulate the air freight industry since companies will need to reconstitute their stocks rapidly., For the time being, however, nothing indicates that this will happen in the short term.