Global demand for air freight fell by 8.3% in May year-on-year. This is a little better than in April, but the outlook for the coming months remains bleak.
Global cargo activity figures published by the International Air Transport Association (IATA) show a slight improvement in May 2022. On a seasonally adjusted basis, volumes expressed in tonne-kilometres showed a very slight increase of 0.3% on a month-on-month basis. "This is a welcome respite after two consecutive months of falling air cargo volumes, which lead to a 7% contraction between February and April 2022." said IATA.
However, year-on-year, the raw data show a drop of 8.3% compared to May 2021 (-8.1% for international operations), and - 2% compared to the pre-pandemic level of May 2019. Admittedly, this is also slightly better than the 9.1% drop observed in April, when Chinese lockdowns had affected demand. But this is not enough to fuel clear optimism for the coming months. "The return of Asian production as COVID-19 measures eased, particularly in China, will support demand for air cargo. But uncertainty in the overall economic situation will need to be carefully watched", warns Willie Walsh, IATA Director General.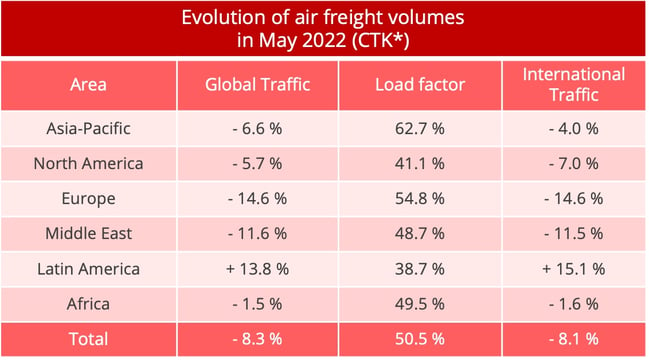 * FTK: freight tonne-kilometres - Data source: IATA - @ Upply
A deteriorating economic situation
The improvement in performance in May is good news for the air cargo industry, but it does not seem likely to be sustainable. The gradual lifting of China's lockdowns has effectively breathed new life into world trade. But new export orders, a key indicator for forecasting the evolution of demand in air freight, are not particularly dynamic. PMIs in major economies have fallen to, or stagnated at, levels below 50, indicating further deterioration, except in China, where the relaxation of health restrictions allowed for a return to figures above this threshold.
Another unfavourable element is the deterioration of the economic outlook. Global and European forecasts have been revised downwards. There is now talk of a global growth of 2.9%, and 2.6% for the advanced economies, whereas the forecasts were closer to 4% at the beginning of the year. Europe has been particularly affected by the consequences of Russia's invasion of Ukraine, and as such is moving in the same direction. The European Commission, which was forecasting 4% GDP growth this year, is now projecting a figure of 2.7%.
This pessimism is partly fuelled by the explosion of inflation, and the observation that this forgotten phenomenon is set to last last longer than central banks wanted to believe at the end of 2021. "The general consumer price index for the G7 countries reached 7.5% YoY in May, climbing above previously record-breaking levels seen in February 2022", recalls IATA. Ultimately, this high inflation is threatening economic recovery and, with it, the growth in transport demand. "Higher consumer prices are a dampener on consumer spending, and this could affect air cargo demand", warns IATA.
European airlines severely affected
Affected by the economic situation and particularly exposed in the context of the conflict between Russia and Ukraine, European airlines recorded the strongest decline in terms of traffic, with a drop of 14.6% in May 2022 compared to 2021 and 11.6% compared to May 2019. Asian airlines have also suffered the consequences of the war, as they themselves have had to opt for longer and more expensive routes to Europe to avoid Russian airspace. However, the recovery in manufacturing activity has made it possible to limit the erosion of demand to -6.6%. Middle Eastern airlines, on the other hand, failed to take advantage of a re-routing of Asia-Europe traffic via Middle Eastern hubs, as it fell by 11.6% in May year-on-year.
Despite being down 5.7%, North American airlines posted the best performance with the weakest erosion compared to 2021 and saw demand 15.1% higher than the pre-pandemic benchmark of May 2019. However, seasonally adjusted volumes contracted by 0.9% in May year-on-year. "This could be an early sign of inflation pressures impacting demand, and the next months will be telling in this regard. The Asia-North America market is weighing on the performance we are seeing for this region overall, but other key routes, such as Europe – North America, are bucking this trend and showing that cargo demand is still strong concerning certain routes", IATA said.
Finally, Latin American companies continue their recovery against the current trend, but their importance remains marginal on the world stage. African airlines are experiencing a lull after very dynamic growth rates in 2021, but they continue to wing their way above pre-pandemic levels.
A noticeable lull in freight rates
On a month-on-month basis, air freight transport prices are relatively stable. Only the Asia-Europe corridor posted double-digit growth, which can be explained by strong demand following the period of lockdowns in China. Over one year, the evolution of freight rates on this corridor is also very dynamic, while the level of rates is tending to stabilise on the transatlantic routes.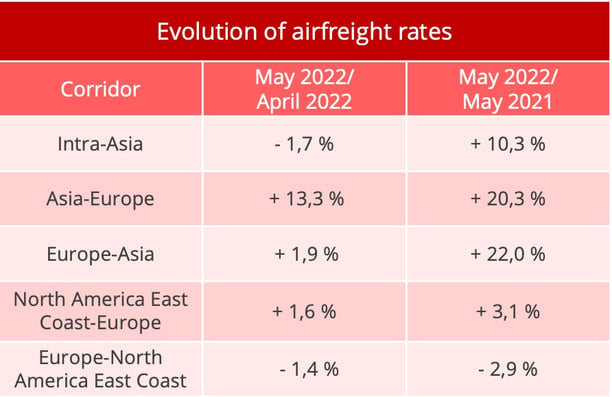 Source: Upply
The pressure is gradually easing on capacity, as the situation tends to normalise on the side of passenger transport activity. In May 2022, supply increased by 2.7% compared to May 2021, and even by 5.7% on international routes. The decline in demand, combined with capacity growth, has tempered price increases. However, points of tension remain as the deployment of capacity for passenger activity does not always coincide with the needs of air cargo.
Overall, congestion seems well on its way to easing, after several months of overheating. Airlines may even begin to fear a trend reversal in the balance of supply and demand, which could push freight rates down. Since the outbreak of the pandemic, cargo activity has weighed heavily on companies' operating accounts. If it declines before passenger activity has managed to regain its pre-crisis solidity, the financial equation could become very complicated for air carriers.