Global demand for air freight fell by 11.2% year-on-year in April 202. For the second consecutive month, volumes contracted.
The decline in demand for air cargo is now confirmed and is gaining in momentum, as shown by the latest figures published by the International Air Transport Association (IATA). After a 4.8% year-on-year decline in March, traffic expressed in tonne-kilometres plunged by 11.2% in April compared to the same period in 2021. For the second consecutive month, traffic is also below pre-pandemic levels, with a decrease of 1% compared to April 2019.
For seasonally adjusted data, volumes also showed a second consecutive decline, down by 2.7% compared to March.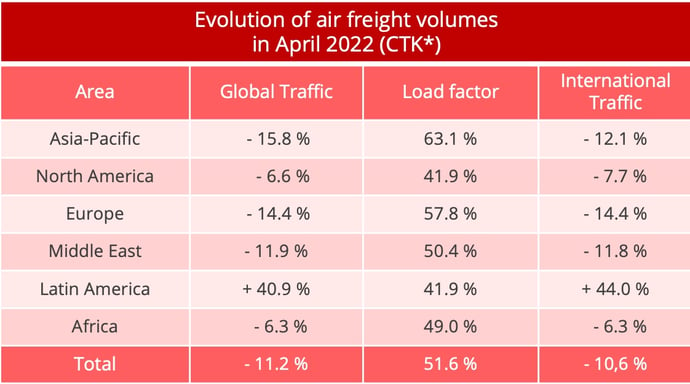 * FTK: freight tonne-kilometres - Data source: IATA - @ Upply
The double shock of Covid and war
According to IATA, the sharp decline in April is mainly due to two exogenous factors: the lockdowns decided in China to stem the Omicron wave and the war in Ukraine.
The world's second largest economy has indeed been running at a slower pace for several weeks, which has not only had an impact on exports but also on imports. "In other Asian countries, such as South Korea, trade volumes showed buoyancy in April, but the rates of growth were the slowest so far this year – with volumes of exports to China shrinking." IATA said.
The conflict between Russia and Ukraine is also creating downward pressure on trade by air. Firstly, several airlines from these two countries, which are significant players in the air cargo industry, have seen their activity shrink considerably. Secondly, the mutual ban on flights over European and Russian airspace has led European and also Asian airlines to reduce their flight schedules. The new routes lead to longer flight times and therefore to particularly high additional costs, at a time when the price of fuel is soaring.
Asian and European companies are on the front line
Asian and European airlines are actually the hardest hit by the reduction in traffic, with a drop of 15.8% and 14.4% respectively. For Asian airlines, there was also a sharp drop in the capacity offered (-19.4%), mainly due to disruptions in the domestic market in China.
Overall, on a global scale, capacity is down by 2%. Supply is stable in Europe, while it is increasing for companies in North America and the Middle East. An increase synonymous with an erosion of the load factor for these two regions, since they have at the same time experienced decreases in traffic of 6.6% and 11.9%.
A shining beacon in this sea of gloom: Latin American companies posted 67.8% growth in capacity. However, any optimism derived from this would seem rather misplaced when taking into account demand, which despite rising vigorously is expanding at a slower pace than supply with a growth rate of 40.9%. The figures are also to be put into perspective with regard to the weight of these companies on a global scale since their market share is limited to 2.2%. Finally, it can be seen as a sign of delayed relief of pent-up demand, as Latin American companies, unlike their counterparts on other continents, did not see a clear rebound in 2021.
Freight rates are starting to rise again
The 11.2% drop in traffic recorded in April, coupled with a fall in supply of only 2%, could have led to a drop in freight rates. Rates are indeed more or less stable for transatlantic traffic and slightly down for that in intra-Asia on a monthly basis, according to our Upply database. On the Asia-Europe corridor, on the other hand, logistical disruptions have led to significant difficulties in gaining access to capacity and consequently provoked a marked rise in prices.
The month-on-month progress also testifies to the good resilience of freight rates. "The operating environment is challenging for all businesses, including air cargo. But with China easing lockdown restrictions, there is cause for some optimism and the supply/demand imbalance is keeping yields high," said Willie Walsh, IATA Director General.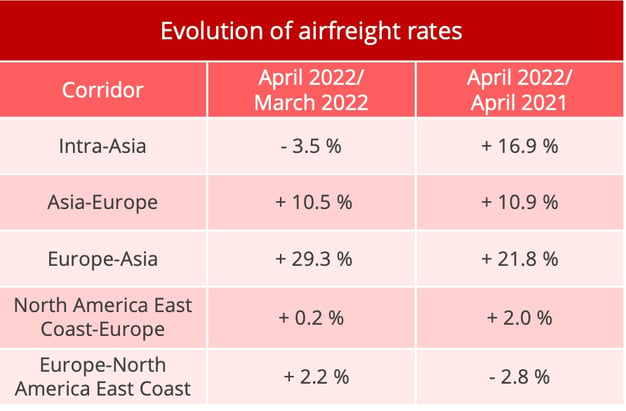 Source : Upply
Very gloomy Economic Prospects
It seems, however, that we are clearly moving towards the end of the cycle of pent-up demand that has boosted figures since the end of 2020, following the first drastic lockdowns. Inflation is rising to levels not seen in decades. "The general consumer price index for the G7 countries was at 7.1% YoY in mid-April, climbing above previously record-breaking levels in February 2022," said IATA.
The impact on consumer demand is inevitable. "New export orders – a leading indicator of demand for air cargo shipments and global trade – are now contracting in all major markets except for the US," said IATA. In the latest edition of its World Economic Outlook, published on 7 June, the World Bank clearly revised its forecasts downwards. "Global growth is expected to slump from 5.7% in 2021 to 2.9% in 2022— significantly lower than 4.1% that was anticipated in January. It is expected to hover around that pace over 2023-24, as the war in Ukraine disrupts activity, investment, and trade in the near term, pent-up demand fades, and fiscal and monetary policy accommodation is withdrawn," stresses the institution in a press release. The World Bank points to "a growing risk of stagflation" and its President believes that "for many countries recession will be hard to avoid."
This context is obviously worrying for the air cargo industry, whose health is highly dependent on that of the global economy. While the companies have restored their margins on cargo activity, they remain considerably weakened by the pandemic. The lucrative business clientele is gradually returning but only partially, this is because remote meetings have shown their effectiveness. It is therefore a new model that they will have to invent, in a context of very strong upheaval. Unlike shipping companies, airlines have not accumulated sufficient resources to cope with the stormy weather ahead that could last for months or even years. The question of market consolidation could quickly come to the forefront.