BAROMETER. Demand for air freight services in May 2023 was still lower than it was in the same month last year. And, since available capacity is increasing, freight rates are continuing to fall.
Demand for air freight services fell 5.2% year on year in May, according to figures from the International Air Freight Association (IATA). Particularly affected by the fall were carriers in Europe and North America, where demand was reduced by still strong inflationary pressures, even if these pressures were easing.
The big international air freight routes are all going through a difficult period. "The North America-Europe trade lane continued its double-digit contractions in May," said IATA, "falling by 10.3% in seasonally-adjusted international CTKs (cargo tonne-kilometres), while international demand on the North America-Asia trade lane also declined by 8.1%. The performance of the North America-Europe trade lane also affected European airlines, which faced a 7.8% YoY (year-on-year) drop in seasonally-adjusted air cargo demand within Europe. Similarly, on top of the 8.1% decline in the North America-Asia trade lane, Asia Pacific airlines also faced a 17.7% contraction in seasonally-adjusted international cargo demand within Asia, leading to the 3.3% YoY decline for the Asia Pacific region's airlines."
The Africa-Asia trade lane continued to see demand grow in May, however, thanks, notably, to the development of trade with China. Growth nevertheless slowed down considerably, "from 18.5% in April to 11.0% YoY in May, possibly due to the impact of the conflict in Sudan since April," said IATA. Demand on other African routes also showed signs of weakening, so that African transporters saw demand overall fall 2.4% year on year in May.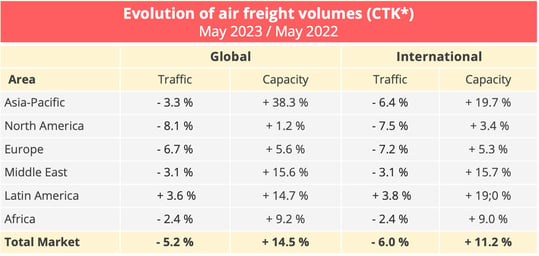 *CTK : cargo tonnes-kilometres – Data. source: IATA - @ Upply
Demand has been diminishing for 15 months now. The year-on-year reduction has eased following the -16.8% peak it reached in January but the fall in demand from one month to another has got worse by comparison with the pre-pandemic year of 2019. In May 2023, demand was 7% down on May 2019, compared with 5.3% in April.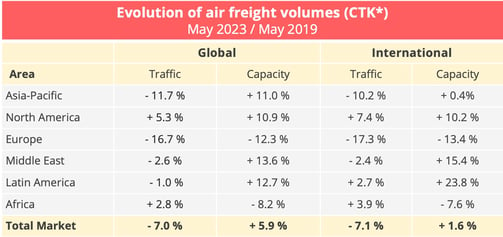 *CTK : cargo tonne-kilometres – Data source : IATA - @Upply
Capacity expands fast
The recovery of demand for passenger travel has incited carriers to increase capacity on their passenger service networks, which automatically increases the cargo capacity available in aircrafts' holds. This scissors effect, which has been in evidence for several months now, became more marked in May, as capacity grew by 14.5% overall and by 11.2% on international routes.
Capacity exceeded its pre-Covid level in April for the first time and did so again in May. Hold capacity in passenger aircraft increased 40.5%, compared to a 1.6% increase in capacity aboard freight aircraft. "Consequently, international ACTKs (available cargo tonne-kilometres) provided by belly-hold capacity exceeded dedicated freighters by 4.6%," IATA noted. "In comparison, in May 2022, international cargo capacity provided by passenger aircraft was 41.1% lower than the capacity on dedicated freighters."
A fresh reduction in freight rates
The opposing directions taken by supply and demand led, of course, to a new deterioration in the load factor, which stood at 41.5% in May, compared to 50.5% a year earlier. Freight rates registered this. Rates on all major routes fell, as they did in the previous month, both from one month to the next and year on year.
On the international market, the biggest increase in capacity was the 19.7% registered by Asia-Pacific carriers, which was mainly the result of the reopening of the Chinese market following the end of China's Zero Covid policy. Since demand fell 6.4% at the same time, the impact on freight rates was particularly marked, with a year-on-year reduction of nearly 50% in May.
European and North American companies recorded more modest increases in capacity but also the greatest reduction in demand. As a result, air freight rates also fell markedly, in line with the low cargo volumes.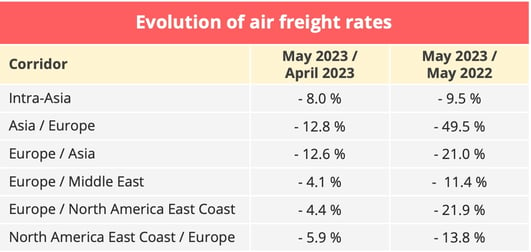 Data source : Upply
Depressing indicators
The business world currently has its eye fixed on the inflation trend, hoping that the downward trend of recent months is confirmed and that it will revive household and business consumption. "Trading conditions for air cargo continue to be challenging," said IATA director general Willie Walsh, "with a 5.2% fall in demand and several economic indicators pointing towards weakness. The second half of the year, however, should bring some improvements. As inflation moderates in many markets, it is widely expected that central bank rate hikes will taper. This should help stimulate economic activity with a positive impact on demand for air cargo".
For now, we are still far from this point and the economic indicators followed by the global air freight industry are generally negative. IATA has been following the manufacturing Purchasing Managers Index (PMI) particularly closely. "In May, new export orders recorded a 1.4% contraction YoY, down to 47.3, and the production PMI also declined by 5.2% to 49.6, suggesting that manufacturing demand was cooling globally," it said. Virtually all the leading economies, excepting that of the United States have seen their manufacturing output decline.
The general economic climate is affecting world trade in goods, which fell 0.8% in April. The fall in cargo volumes had a particularly strong impact on the container shipping industry, causing freight rates to plummet. The air freight industry, which reduced the competitiveness gap between it and the shipping industry considerably, now finds itself in a much less advantageous position, particularly since logistics chains are operating smoothly again. "The global supplier delivery time PMI index continued to improve, reaching 54.5 in May," IATA noted. "This index has rebounded from its lowest point of 35, which was recorded in October 2021.The threshold of 50 for this indicator represents stability in supplier delivery times, and a higher PMI indicates a greater proportion of shorter delivery times compared to the previous month." The air freight industry suffered from congestion during the crisis but also benefited from it, since it was the only transport mode able to offer fast delivery for urgent shipments. Opportunities of this kind are now much rarer.
The industry will have to live with weak demand for several more months. For carriers, the good news of the moment is coming clearly from the passenger side, which is recovering vigorously and preparing for a good summer season.