Air cargo volumes again fell in March, both year-on-year and compared to pre-pandemic levels. The erosion of freight rates is also continuing.
Data released by the International Air Transport Association (IATA) for March 2023 show a continued decline in measured demand in tonne-kilometres of -7.7% year-on-year. This trend, which began in March 2022, is confirmed for the 13th consecutive month. It affects international traffic even more markedly, down 8.1%.
At the same time, cargo capacity has increased compared to March 2022, both globally and internationally. This increase in supply can be explained by the increase in available capacity in passenger aircraft belly-hold space, as airlines intensify their flight programs to respond to the recovery in this area.
* FTK: freight tonne-kilometres - Data source: IATA - @ Upply
Improvement or volatility?
While demand remains down year-on-year in March, IATA notes that the magnitude of the decline is gradually decreasing, compared to -9.4% in February, -16.8% in January, and -15.6% in December. However, it is still too early to draw firm conclusions. "At this point, it is unclear if this is a potentially modest start of an improvement trend or the upside of market volatility. Irrespective of this, March performance slipped back into negative territory compared to pre-COVID levels," IATA warns.
Demand is down 8.1% compared to March 2019 (-9% internationally). Overall capacity has almost regained its pre-pandemic level, despite still falling behind by 5% internationally.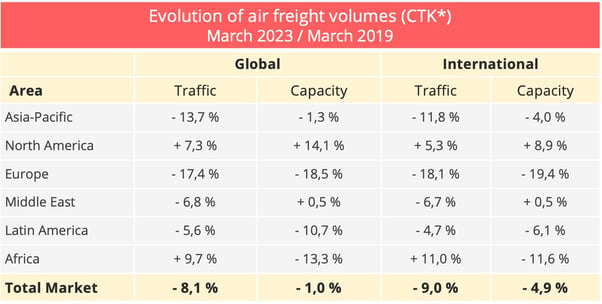 * FTK: freight tonne-kilometres - Data source: IATA - @ Upply
A scissors effect that weighs heavily on freight rates
This scissors effect between falling demand and increased capacity is putting downward pressure on air freight prices, which was incidentally anticipated by IATA in its forecasts for 2023, after the post-Covid outbreak.
On a month-on-month basis, the decline is now widespread, according to Upply data. Asia-Pacific is particularly affected by the strong increase in capacity (+23.6% in March year-on-year), as for North America, the dominant factor seems to come more from weak demand, as the increase in supply remains very moderate (+0.4%).
Europe, for its part, is in a very singular situation, marked by the impact of the war in Ukraine. Last year, the month of March was severely disrupted by the outbreak of the conflict, which led to a decrease in capacity and the adoption of new more expensive routes that may explain the atypical evolution of prices year-on-year on the Europe-Asia corridor. On the other hand, the massive injection of capacity from Asian airlines, in a bleak context in terms of cargo demand, has caused prices to plunge year-on-year. Asia-Pacific airlines saw their air cargo volumes decrease by 7.3% in March 2023 compared to the same month in 2022. This was a slight decrease in performance compared to February (-5.4%) The drop in demand suggests that air cargo traffic in the region has not yet stabilized following China's reopening in January.
Despite this general downturn, overall freight rates remain at levels above the pre-Covid period.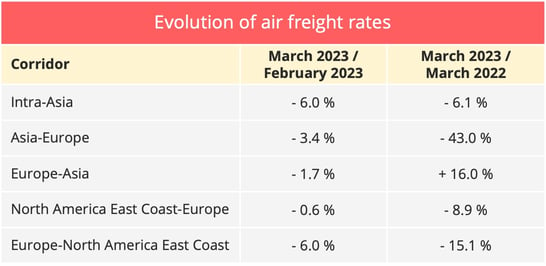 Data source : Upply
The outlook still gives cause for concern
The volatility in the air cargo market is to some extent a reflection of overall economic instability. IATA pinpoints several unfavourable parameters for the air cargo sector:
The global economy continues to decelerate "due to a combination of factors such as tightening global financial conditions, high levels of global debt, and supply chain problems including those linked to the war in Ukraine."
Global goods trade is also continuing to fall. It fell 2.6% in February, faster than the previous month (-1.0%).
No dramatic turnaround is to be expected in the immediate future. Quite logically, given the weakening of global trade, Purchasing Managers' Indices (PMIs) for new export orders globally remained below the critical threshold of 50 in March. Despite the abandonment of the Zero Covid policy, the Chinese economy is struggling to recover. China's PMI fell below 50 in March, after a slight improvement in February. Other major economies, including Germany, Japan, the United States and Korea, are also experiencing a contraction in the index in March compared to February, IATA said.
In the coming months, air cargo activity will also not be stimulated by the need to replenish stocks. The PMI for suppliers' delivery times reached a record high of 76 in March 2023, compared to the all-time low of 11 in May 2022. This reflects a reduction in delivery times, "particularly in the US and Germany," IATA said. While the extension of delivery times had boosted air freight in the post-Covid period, we are now witnessing the reverse movement.
Against this worrying backdrop, the main good news comes from the decline in inflation in the G7 countries. The consumer price index reached 5.4% in March, after peaking at 7.8% in June 2022. In the United States, consumer price inflation fell below 5% in April, for the first time in two years.
Producer prices are also on a downward trend. Companies benefit in particular from a decrease in oil prices. This is very good news for the world of transport in general and for airlines in particular.
If inflationary pressures continue to decrease, global financial institutions could ease the rate hikes that had been decided on in recent months as a means of reducing overheating, thereby helping to boost demand. The air cargo industry is counting on this possibility to finally end the period of decline and return to pre-pandemic levels.