Global air cargo traffic again exceeded pre-Covid levels in August. The high season promises to be very dynamic and prices are on the rise again.
Global demand for air freight turned out to be fairly stable in August, for the 4th consecutive month. But it remains well above pre-Covid levels, with a growth of 7.7% compared to August 2019, slightly lower than that of July (+ 8.8%). The growth recorded this year also far exceeds the monthly long term average for the sector, which stands at 4.7%, recalls the International Air Transport Association (IATA).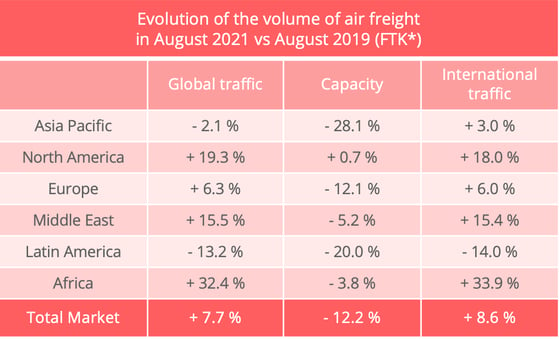 * FTK: freight tonne-kilometres - Data source: IATA
Renewed strain on supply
After a few months of improvement, the strain on capacity is increasing again. In August, supply fell by 1.6% compared to July, which is the largest contraction since January. Compared to August 2019, capacity is down 12.2%, and even 13.2% on international routes.
This phenomenon illustrates the persistent vulnerability of air transport in the light of the pandemic. The fall is mainly attributable to the spread of the Delta variant in Asia, which led to the closure of Nanjing airport and the application of very strict quarantine measures in other major airport hubs such as Shanghai or Beijing, according to IATA. The lockdowns decided in Vietnam have also affected air cargo supply.
The contraction of supply, in a context of dynamic demand, keeps load ratios at exceptional levels. The overall rate of 54.2% recorded in August 2021, 10 points higher than in August 2019, represents a record for this period of the year. The growth is particularly spectacular for Asia-Pacific airlines whose load ratios reached 69.8%, 18.5 points greater than in August 2019! This trend is a direct result of the operational disruptions that hit Asia/Pacific, resulting in a 28.1% decrease in capacity offered.
Prices rising globally
Air freight transport prices, while remaining very high compared to pre-Covid levels, have experienced a certain lull in recent months. But the renewed strain on capacity, combined with strong demand, gave them a boost again in August, "making air freight less affordable for many sectors," says IATA. This is particularly the case on the Asia-Europe corridor, as shown by the figures in our Upply database. The comparison with August 2020 also shows a significant increase in freight rates in the intra-Asian zone, as well as between Europe and North America.
This trend was confirmed in September, with intra-Asia prices continuing to rise, as well as on the Asia-Europe and Europe/North America corridors.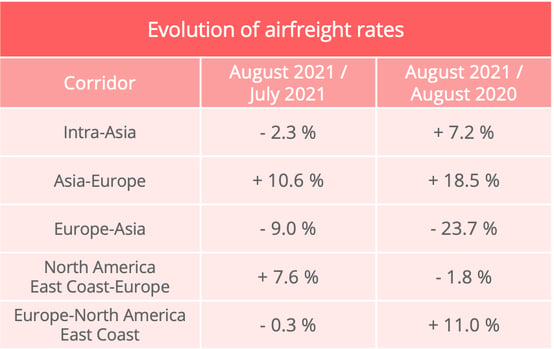 Source: Upply - NB : These estimates are based on actual transactions. The variations mentioned may be subject to revision as new data are integrated into Upply's database
A peak season heralding record levels
Economic indicators show that demand will remain very dynamic during the peak season, that is to say the 4th quarter of the year traditionally marked by several commercial events such as Single Day or Black Friday, and of course the Christmas period. As this period of high consumer spending approaches, stocks remain relatively low. A favorable factor for air freight, if the airlines manage to open capacity.
It is now too late to consider supplies by sea if the capacity has not already been booked. And rail freight is also a victim of its success, with border congestion which has significantly lengthened transit times.
Air freight prices should therefore continue to increase during the 4th quarter. Globally, according to the latest IATA estimates, airlines are expected to record cargo revenue of $175 billion in 2021, up 36% from 2020, for volumes up by 18.2%. The average unit revenue should thus reach $3/kg, compared to $2.71 in 2020 and $1.79 in 2019.
A lull in 2022
After the year 2021, which was marked by a "catching up" in activity, 2022 should retain positive momentum but in more moderate proportions. "We forecast that the value of international trade shipped by air this year will be $7.5 trillion, 15% higher compared to 2019, and it will rise by a further 7.2% in 2022" says IATA.
This should translate into a further increase in volumes (+4.9%), but IATA is already seeing some warning signs of the slowdown. The outlook for manufacturing output, as measured by the PMI, still points to growth in August, but slower than in previous months, "due to weaker outcomes in the US, Eurozone, and Asia," IATA said. The same goes for export orders: "The expansion has slowed globally and turned into contraction in emerging economies," says IATA.
This movement should lead to a decrease in prices. According to IATA estimates, the average unit revenue is expected to be $2.67/kg in 2022, which remains well above the 2019 level. Airline cargo revenue is expected to decline by 3.6% to $168.9 billion. Again, we will be well above the $100.8 billion mark in 2019.