Global demand for air freight fell 5.2% in March 2022 year-on-year under the impact of the conflict in Ukraine and the effects of the Covid-19 pandemic in Asia.
In recent months, air freight growth has been slowing after a period of strong recovery. In March, however, traffic growth stopped altogether as global demand in tonne-kilometres fell 5.2% by comparison with March 2021 and 8.8% by comparison with February 2022. "Seasonally adjusted March air cargo volumes have fallen to a 16-month low, impacted by the conflict in Ukraine and the growing disruptions of Omicron in Asia," the International Air Transport Association (IATA) said.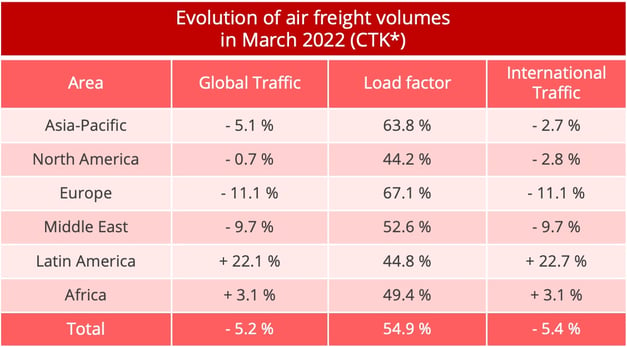 * CTK : cargo tonne-kilometres – Data source : IATA - © Upply
A sharp blow for European airlines
The blow was particularly hard for the European airlines but those in the Middle East and Asia-Pacific zone were also hard hit, while North American carriers were able to reduce the damage thanks to domestic demand. All the major markets were affected by the fall in traffic. Latin America and Africa showed traffic growth but they represent respectively only 1.8% and 1.9% of the global market. And the spectacular recovery of the Latin American market has come only after an equally violent slump in activity.
An examination of international traffic over the whole of the first quarter gives a better idea of the reduction in traffic experienced by the European airlines, since traffic fell to below pre-pandemic levels (-0.9% compared to the first quarter of 2019). This can be explained by the drastic reduction in the activities of the Russian and Ukrainian airlines. Other markets continued to remain ahead of pre-pandemic levels, with the exception of Latin America, where the market's strong performance in March was not enough to make up for the shortfall in the first three months. The North American airlines continued to stay well ahead of the game on both their international and domestic markets.
Public health issues continued to affect the results of Asian carriers, however. They saw a 3% increase in international traffic but a fall of 1% in their traffic overall. In the Middle East, meanwhile, the mood remained morose. "The markets carrying cargo through Middle Eastern hubs, reoriented there from Europe-Asia to avoid Russian airspace, have held up but failed to show any meaningful increase – likely dampened by subdued demand overall," IATA said.
* CTK : cargo tonne-kilomètres – Data source: IATA - © Upply
Freight rate growth eases briefly
Although demand fell, capacity continued to grow, with an increase of 1.2% in available tonne-kilometres in March 2022, compared to March 2021. The load factor thus fell back 3.7 points.
The difference between the variations in capacity and demand put freight rates under some pressure, particularly on Asia-Europe routes, which felt the double impact of the war in Ukraine and disruption in China linked to public health measures. The easing of freight rates looks likely to be temporary, however. According to initial data for the month of April, rates have begun rising again, particularly on Asia-Europe routes, where our Upply data base is showing an increase of nearly 30% between the last week in March and the first week in April. Cargo volumes are still down but operational disruption caused by lockdown measures in China have created some congestion, which is favouring an increase in freight rates.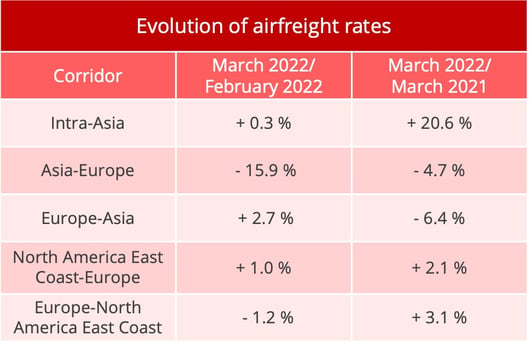 Source : Upply SMART
The global economy takes a worrying turn
The catch-up process in the air freight sector, which followed the strong economic recovery in 2021, is today coming to an end. There are an increasing number of unfavourable signs.
Runaway inflation on Western markets is starting to have an effect on household consumption and company spending.
The restocking, which began with the economic recovery which followed the first phase of the pandemic in late 2020, is coming to an end after having worked as a driver of growth in the air freight sector.
New export orders are falling on all major markets except the United States. "Sanctions against Russia have disrupted manufacturing activity, seeing export orders diminish in Q1 2022 in Germany, Japan and Korea", IATA said. In China, too, export orders fell below the 50-mark, which is bad news for the air freight industry, which has been very dependent on the "workshop of the world". The World Trade Organisation has markedly reduced its forecast for world trade growth, moreover. It now expects world trade to increase by 3% in 2022, compared to the 4.7% increase it forecast in October last year.
"Peace in Ukraine and a shift in China's COVID-19 policy would do much to ease the industry's headwinds", said IATA director general Willie Walsh. "As neither appears likely in the short-term, we can expect growing challenges for air cargo just as passenger markets are accelerating their recovery."