Unsurprisingly, the EU's trade with China in the first quarter of 2020 has suffered a 10% loss in exports and a 6% drop in imports, losing its position as China's largest trading partner to ASEAN. However, it is worth noting that there was an overall 6% increase of Chinese imports from Central Eastern Countries (CEE) in the first two months.
During January and February, Chinese imports from Europe as a whole dwindled by 11%. However, 9 EU member states saw their imports to China grow. Besides the major meat suppliers to China (Spain, the Netherlands and Denmark), the remainder are five CEE countries [1] and Greece. Not every CEE country increased its exports to China. The 6% overall growth rate of Chinese imports from CEE countries can be attributed mostly to Poland, Hungary, Slovakia, Bulgaria and Lithuania (Figures 1 & 3).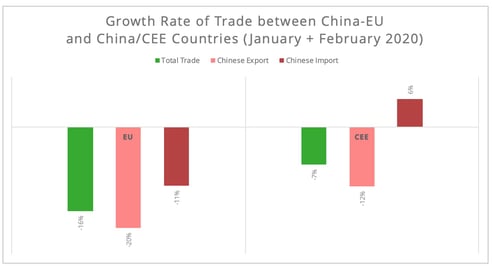 Figure 1 - Data source: Chinese General Administration of Customs
Although Chinese imports of medical protective gear and pharmaceutical products from the EU hiked, the goods contributing most to the increased Chinese imports from these countries were commodities such as cereal, ores, and wood and also manufactured goods, such as automobile and machinery goods.
In terms of shipping mode, diversion from ocean freight to faster options such as road, rail and air freight can be observed in Chinese imports from these countries, a repercussion of the disrupted supply chain due to the outbreak of the pandemic. For instance, road freight from Slovakia to China in the first two months of 2020 increased by a factor of 13 (figure 2). The products turning to these shipping modes were mainly manufactured machinery products, automobiles, and timber.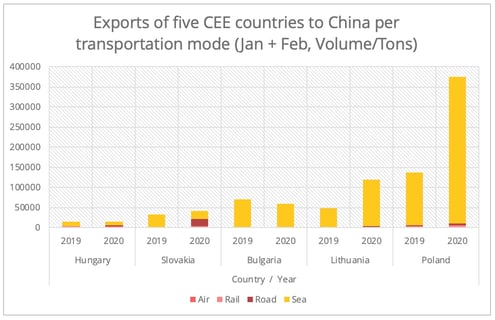 Figure 2 - Data source: Eurostat
What link with the BRI?
Some may see a link between this growth and China's Belt and Road Initiative (BRI). Out of the nine countries with increased exports to China, other than Spain, the Netherlands, and Denmark, all have joined this Chinese initiative. According to a Chinese Customs report, in the first quarter, trade between China and BRI countries has increased by 3.2% and imports surged by 9.6%. This seems to align with what we have observed here. It is, nonetheless, hard to make an inference that joining the BRI is directly associated with an increase in trade, since all the CEE countries have participated in the BRI program, yet only half of them saw an increase in their exports to China in the first two months.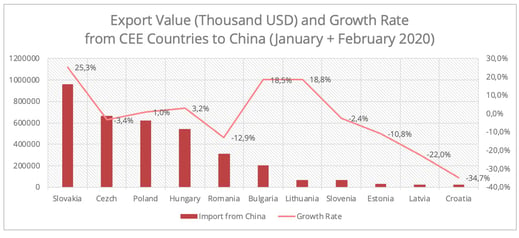 Figure 3 - Data source: Chinese General Administration of Customs
Why CEE countries?
Why within the EU were there more CEE countries benefiting from growth in exports to China?
For the Bulgarian and Lithuanian cases, their increased export figures can be associated with the BRI. The increased imports of cereals from Bulgaria (maize) and Lithuania (wheat) was a result of China's lifting of trade barriers to importing these two cereals from these countries. The agreements were concluded during the "17+1" summit in 2019. A sharp increase of Chinese imports has been observed since August 2019, making Lithuania and Bulgaria the second and third largest suppliers of cereals to China in 2019, respectively. As such, the increase in Chinese imports from these countries can be seen as a continuity of this tendency.
As for manufactured goods, the expanded investment from major western European manufacturers, as well as Chinese investment in some CEE countries contributed to the growth in Chinese imports. Poland is one of the EU's major home appliance manufacturers, and this is also the sector that contributed most to Chinese imports in the first two months. Not to mention that Slovakia is one of the automobile manufacturing hubs of Europe, and nearly all the growth in exports to China came from manufactured vehicles and parts.
Understandably, the rather modest trade volume between China and the CEE countries, especially in their exports to China, makes the impact of the growth on trade more significant than some other countries with greater trading volumes with China. For instance, while China's imports of cereals from France, the largest EU supplier to China, increased 1,5 times in the first two months, the impact on the total China-France trade was less significant due to a much bigger trading size. Still, this may suggest there is a good trade potential between China and the CEE countries.
A challenging second quarter
According to Chinese Customs Data, China-EU trade in March showed a slight recovery, though remaining in contraction, particularly in Chinese exports to Europe. The enhanced European imports from China in March can be attributed to both the finished export orders made before the Chinese New Year and to medical protective goods. However, more challenges are expected in the second quarter, due to the fast spread of the COVID-19 globally. Overall, for CEE countries, a mixed picture is presented here.
On one hand, Chinese demand is slowly recuperating, though the market is still disrupted. For instance, China's new infrastructure plan announced in March could generate a consistent demand for commodities, such as ores. Apart from that, a constant demand for agricultural products either for consumer or the husbandry industry can be envisaged. This could be good news for Bulgaria and Lithuania.
On the other hand, the temporary suspension of manufacturing activities in Europe to contain the COVID-19 means a shortage on the supply side for finished consumer products. For instance, all of Slovakia's car-makers had temporarily suspended their manufacturing activities by the end of March. In the meantime, with manufacturing plants slowly resuming work in late April, this may bring some welcome hope.
A strategic opportunity for freight trains
In terms of shipping mode, in the second quarter, we may observe a further push at the government-level for the China-Europe railway. In the first quarter, the shipping volume of the China-Europe Railway had spiked at 18% with a total of 174 thousand TEUs (Figure 4).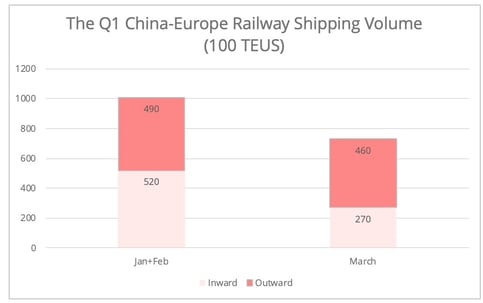 Figure 4 - Data source: Chinese National Railway
The Chinese Ministry of Commerce, in a circular issued in April, announced the decision to make the China-Europe railway the backbone for supporting Chinese foreign trade and the resumption of work. Specifically, this instruction puts emphasis on the enhancement of refrigerated container shipping to meet needs for food imports from Europe and the support on cross-border ecommerce.
---
[1] Central Eastern European countries refer to Poland, Hungary, Czech Republic, Slovakia, Slovenia, Romania, Bulgaria, Estonia, Lithuania, Latvia, Croatia.