BAROMETER. Shipping companies are slowing down their ships to reduce overcapacity, while the fall in freight rates is now affecting virtually all major trade lanes.
As in April, the freight rate market remained stable in May, but rates on the major east-west routes were at barely viable levels for the shipping companies.
The economic slowdown and the drop in rates are reflected in shipping companies' quarterly results, as can be seen in the results of the three European market leaders. Maersk, CMA CGM and Hapag Lloyd all recorded a marked fall in revenues and EBITDA in the first quarter of 2023, as compared with the first three months of 2022. And, as CMA CGM pointed out in its Q1 results announcement, the arrival of new capacity is likely to continue to hold down freight rates over the next few months.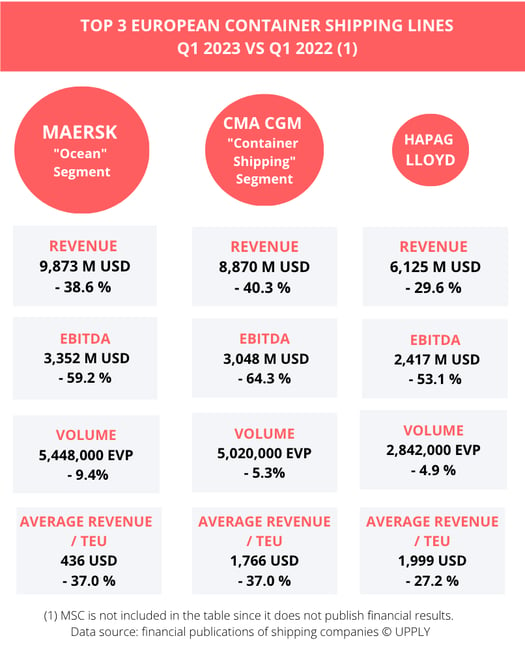 The return of super slow steaming
In this depressed climate, super slow steaming has returned as an artificial means of absorbing excess capacity, with environmental protection providing a helpful alibi. Since 1 January, in line with new IMO rules, ships must collect the data necessary to calculate the energy efficiency existing ship index (EEXI) and the carbon intensity indicator (CII).
Some, however, are starting to question the pertinence of slow and hyper-slow speeds (under 10 knots), pointing out that they result in consumption patterns which are the reverse of those intended. As with motor vehicles, fuel consumption increases when speed is becomes too low.
The difficulty of the exercise for the shipping sector is to reduce emissions in greater proportions and more quickly than market growth. This will not be an easy task in the years to come.
Faster greening
After having reduced sulphur emissions on a massive scale thanks to the virtuous and generally successful introduction of IMO 2020 regulations (even if there are some doubts about the use of scrubbers), the shipping companies now need to decarbonise quickly and on a grand scale. The good news for them is that the technology which will enable them to do this is progressing fast (...)