Chinese shipping company COSCO acquired 60% of the Chancay terminal from Volcan, a Peruvian mining company on January 23rd, in Davos. This is COSCO's first port acquisition in South America. Chancay is located 58 km north of Lima and the port will be developed jointly by COSCO and Volcan.
This is a new example of China's Belt and Road Initiative, through which the country has made large investments in ports overseas in recent years.
Specifically, this acquisition is connected to China's investment strategy in Peru's mining industry. Since launching this strategy in 2017, China has become the largest copper importer in Peru, as well as the overall largest importer of the country. In 2018, Chinalco, the state-owned aluminum company, invested USD1.3 billion in expanding copper mining in central Peru. COSCO's investment in Chancay will optimize China's copper supply chain.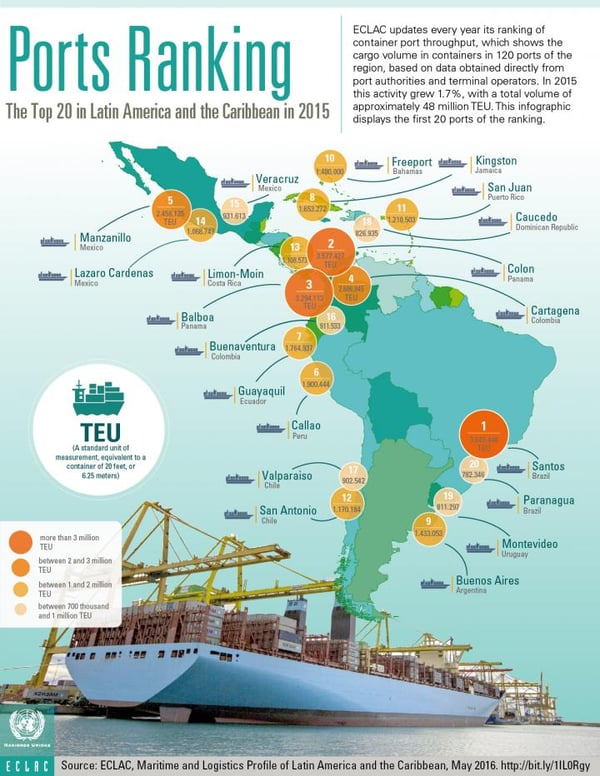 The development of the Chancay terminal may put some pressure on the APT Terminal, the port operator owned by Maersk, in Callao. The port of Callao, located 15 km from Lima, is the largest in Peru. This acquisition may trigger competition between these two ports regarding service provision and port charges, which can be beneficial for shippers.
New dynamics to the TRANSPAC freight market
In the long run, this move may bring some new dynamics to the ocean freight market in Latin America. So far, Peru is not the biggest Latin American player when it comes to ocean freight (Figure 1). With this project, Cosco unveils its ambition of making this port a "key hub of South America and a gateway to the Pacific". Surely, this investment in Chancay will increase shipping capacity on Transpac corridor, especially considering that, so far, COSCO's shipping lines to Latin America only touch the east coast of the continent. Furthermore, enhanced transportation capabilities pave the way for future investments from China in Latin America.
Sources: ECLAC, Dreamstime