The road freight rates in Europe remain on an upward trajectory in the 2nd quarter of 2021, supported by the increase in demand.
According to the latest edition of the Road Freight Rate Benchmark published by Upply and Transport Intelligence (Ti), the average freight rate on the main European lanes was € 1,147 for the 2nd quarter of 2021. This represents an increase of 0.4% quarter-on-quarter and 3.2% year-on-year.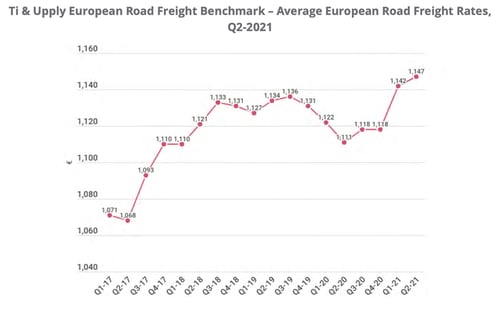 Source : Upply - NB : These estimates are based on actual transactions. The Covid-19 epidemic and its impact on the level of activity have made data collection more complex. The freight rates mentioned for the Q1 2021 period may be subject to revision as new data is incorporated into the Upply database.
Improvement in economic activity
This increase was primarily due to economic activity, which continued to improve during this period. "Vaccine roll-outs are enabling governments to reopen their economies, whilst the rebound in consumption after the first wave of the pandemic remains strong." note the authors of the report. This dynamic demand supports road transport activity, and as such drives prices up.
But the evolution of freight rates has also been influenced by another factor: the disruption of supply chains. Carriers have passed on some additional costs. Port congestion, for example, has created operational difficulties for road transport professionals who ensure the delivery of goods to and from the ports. Another illustration: the consequences of Brexit. The new mandatory administrative procedures have also led to an increase in costs which is being passed on, even if the situation has been less critical in the second quarter than in the first.
An uptrend expected through to the end of the year
In terms of disruption, some short-term issues might subside, such as a shortage of transport equipment and intermediate goods. However, more structural issues such as driver shortages remain problematic over the longer term for the cost of European road freight transport and therefore on the evolution of rates, according to Andy Ralls, quantitative analyst at Transport Intelligence.
"For the end of the year, the European road transport market will most certainly remain under pressure. The increase in demand in Europe in Q3 and Q4 2021 with Black Friday and the festive season will certainly push up transport prices in a market where capacity will be in high demand. Terminal congestion may lead to even higher and more volatile rates on routes from European ports. However, the impact of the Delta variant could change the scenarios in case of further drastic restrictions", says Thomas Larrieu, Upply's Chief Data & Research Officer.
MORE INFORMATION
> Download the Upply / Transport Intelligence Q2 2021 European Road Freight Rate Benchmark (in English)

> Watch the webinar