The road freight transport prices in Europe fell by 0.8% in the first quarter of 2020 compared to the previous quarter, and by only 0.2% compared to Q1 2019. The impact of the Covid-19 epidemic was still limited during this period, though there were some warning signals on certain lanes.
The road freight rate on the main international lanes in Europe averaged € 1,099 in the first quarter of 2020, a decrease of 0.8% compared to the 4th quarter of 2019, reveals the latest European Road Freight Development Benchmark published by Upply and Transport Intelligence (Ti). This is almost the lowest level seen in two years (€ 1,096 in Q2 2018).
Based on the 34 lanes studied in the Ti / Upply report, the average price per kilometer paid by shippers was € 1.61 in Q1 2020. If the health crisis has not yet had a massive impact on prices during this first quarter, it is manifested, however, through a sharp increase in rate volatility, which should continue over the coming months.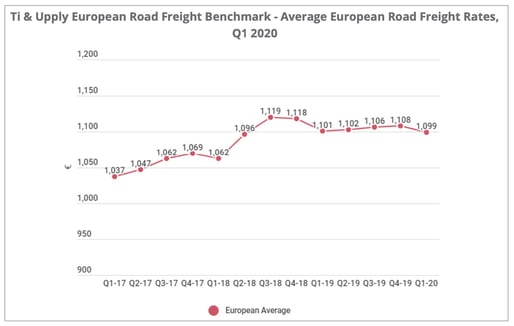 Source : Ti/Upply
Contrasting developments
The Covid-19 pandemic has of course played a role in the development of prices on certain lanes, particularly from March on. However, the decline is also explained by an economic slowdown that preceded the health crisis. In the manufacturing sector, for example, volumes had fallen by 1.3% on average in January and February, confirming an already significant despondency in the 4th quarter of 2019. This development obviously accelerated in March. However, carriers reacted quickly by significantly reducing capacity, which partially offset the drop in demand.
The France-Spain lane is a perfect illustration of the impact of a health crisis which has become entangled with an already fragile economy. On both sides of the Pyrenees, growth had already slowed in Q4 2019. France and Spain then became some of the countries most severely affected by the epidemic. As a result: even though certain market segments may have been exempt, on average road transport rates fell by 3.8% in the direction France-Spain and by 6.5% in the other direction, compared to the same period of 2019. Capacity reduction cannot be the only solution.
Another interesting point highlighted in the Upply / Ti report: road freight rates to and from the main European ports decreased by 2.4% in Q1 2020 compared to the previous quarter but are up by 0.8% compared to Q1 2019. Rotterdam is significantly stable, but Antwerp shows an increase of 3.5%. The latter was able to take advantage of the social movements which agitated French ports at the start of the year.