SPECIAL FEATURE 4/5. Germany has by far the largest European rail freight market with a total traffic of 123 billion tonne-kilometres in 2021, or about 31% of the EU total.
Germany is the main contributor to rail freight transport performance in the EU, with 123 billion tonne-kilometres (tkm) in 2021, or around 31% of the EU total. Poland and France followed with 54 and 36 billion tkm respectively.
1/ A mostly stable market share
The Covid-19 pandemic in 2020 created a slump after three consecutive years of progression. But then activity picked up sharply in 2021, with growth of 13.5% compared to the previous year.
In the longer term, however, the share of rail freight in inland goods transport has been stable at around 19%, according to the latest data published by Eurostat on a tonne-kilometres basis. The annual study of the rail market published by the Bundesnetzagentur is a little more optimistic. It estimates that rail freight broke a record in Germany in 2021, with a total of 139 billion tkm, bringing its share of inland freight transport to a historic level of 20.2%[1].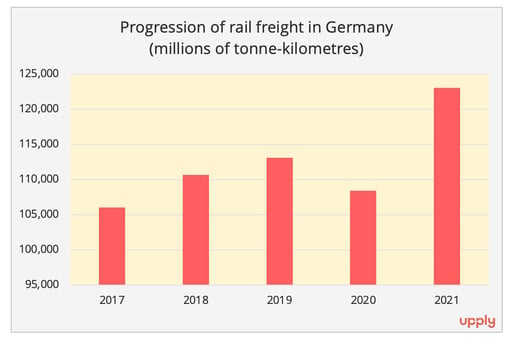 Data source : Eurostat
Rail freight traffic, expressed in tonnes, reached a total of 364 million tonnes in 2021, returning to 2019 levels, while remaining mostly equivalent to 2012 levels. According to an ECM Ventures study for the European Rail Freight Association published in 2022[2], while volumes have not changed much, there is "a significant evolution showing a shift away from traditional bulk goods, such as coal, oil, oil and gas, and towards the 'Other' segment - a conglomerate of generally unspecified goods that are transported in sea containers, swap bodies or trailers. The growth in rail freight volume results from the acquisition of new customers and the transfer of goods from road to rail, mainly in the (intermodal) combined transport segment", the study concludes.
The activity expressed in number of train-kilometres has also returned to pre-pandemic levels, reaching 263 million train-kilometres in 2021.
2/ A very international profile
The German rail freight market is characterised by its very international profile. With a total of 61.4 billion tkm, the national market even comes in slightly below 50% of total activity in 2021. This is the first time this has happened in the last five years. However, national traffic increased by 12% between 2020 and 2021. But at the same time, international traffic jumped by 17.3% compared to 2020 (while transit traffic grew more modestly by 7.3%), and by almost 24% compared to 2017. Germany stands out very clearly from its rivals in the Top 3, since the share of national activity amounts to 69.5% in Poland and 61.2% in France.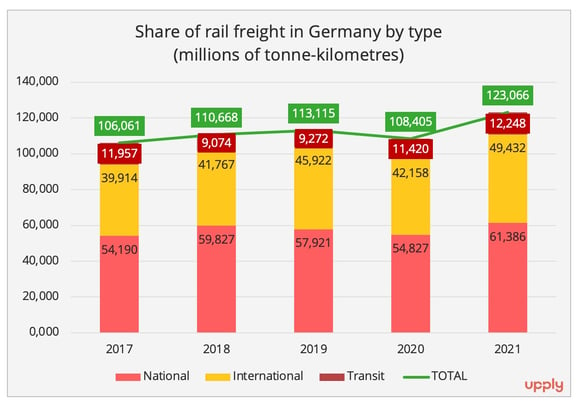 Data source : Eurostat
International activity in Germany is fairly balanced between inbound and outbound traffic. Inbound rail freight represented 25 billion tkm in 2021, an increase of 15.6% compared to the previous year and 23.5% over five years. Outbound freight represents 24.3 billion tkm, up 19% compared to 2020 and by 24.2% compared to 2017. "Germany is also the most important transit country in Europe. Six major rail freight corridors are routed through Germany towards all directions ranging from major ports at the North Sea and the Baltic Sea as well as key industrial areas in continental Europe", says ECM Ventures[3].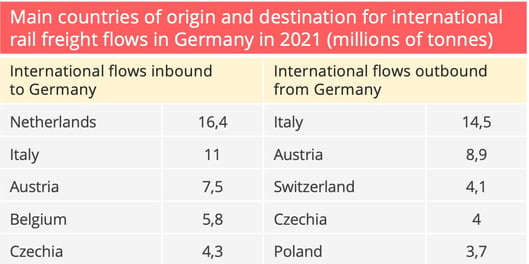 Data source : Eurostat
The analysis of international rail flows shows that in 2021, the Netherlands is the main country of origin of flows to Germany, ahead of Italy, Austria, Belgium, the Czech Republic and Poland. "The Netherlands and Belgium are key origins due to the major ports of Rotterdam, Amsterdam, Antwerp and Zeebrugge with a high share of intermodal traffic, while Italy, Austria, The Czech Republic, and Poland are supplying raw materials, components and finished goods for German industry and trade sectors. Hence, traffic will be a mix of traditional block trains for dry and liquid bulk commodities and intermodal trains," the study carried out for ERFA said. Leaving Germany, Italy is the most important destination country for rail freight, followed by Austria, Switzerland, the Czech Republic, and Poland.
3/ Strong competition
Liberalised in 1996, the market for passenger and freight rail transport in Germany has become very competitive.
In terms of turnover, rail freight represents, according to the annual study of the Bundesnetzagentur, a market of 5.8 billion euros in 2021, against 5.5 billion in 2020 and 5.7 billion in 2019. Competition is well established as the operators of the incumbent Deutsche Bahn group account for around 42% of the business, compared to 58% for the "newcomers". In 2017, the incumbent still generated 52% of the activity, but the balance reversed the following year and has continued to widen since for the benefit of new market players. "German railway undertakings attained a market share of around 20 percent. Another 19 percent of the market was shared by foreign state-owned railways," the study said.
Rail freight transport saw its revenues increase by 6% between 2020 and 2021, while activity however, in both train-kilometres and net tonne-kilometres increased by more than 10%, says the Bundesnetzagentur. This discrepancy, which illustrates a certain pressure on prices, is less significant on the side of private operators, estimates the agency.
Private operators are also maintaining strong pressure on the Deutsche Bahn group. In 2022, DB Cargo saw its turnover increase by 6% to €4,998 million. On the other hand, adjusted operating income deteriorated further, from € -467 million in 2021 to € -665 million in 2022. This situation prompted a violent reaction from the Güterbahnen association, which represents the interests of private operators: "DB Cargo has continued to secure market share by charging prices that do not cover costs. To compensate, it speculates on the fact that the federal state is releasing even more public subsidies. This unsustainable business model must end this year. It is costing the rest of the rail freight industry and taxpayers money that is lacking everywhere else for investments in the future," said Peter Westenberger, CEO of Güterbahnen.
4/ Invest and diversify
Germany has ambitious targets for the development of rail freight, which were summarised in 2017 in a master plan[4] published by the Ministry of Transport. The plan aimed to create "a lasting and demonstrable improvement in the competitiveness and logistics capabilities of the rail freight sector". In the same year, Germany also unveiled a transport infrastructure plan that provided for a funding package of nearly €270 billion by 2030, including €112.3 billion for rail.
Five years on, however, the association Güterbahnen believes that the expected results are just not there. "The federal government and DB Netz have implemented virtually none of the many projects in the Federal Transportation Infrastructure Plan. Over the past five years, 140 km of railway lines have been put into service or significantly modernised. Since the railway reform 28 years ago, the railway network has only been extended by about 1,800 km", laments the association. The German think tank Agora Verkehrswende, whose aim is to promote the transition to an ecological and sustainable transport system in Germany, also states in an analysis published in January 2023 their opinion that the current infrastructure plan does not meet the objectives of climate neutrality.
The issue has returned to the forefront of German politics. The latest forecasts of the German Ministry of Transport[5], published at the beginning of March 2023, project a growth in rail freight of 14% in tonnes and 33% in tonne-kilometres between 2019 and 2051. During the same period, road transport will increase by 34% in tonnage and 54% in tkm.
This difference, favourable to road transport, is explained in particular by a change in the nature of the goods transported. The flow of bulk goods and energy products (coal, coke, petroleum products, ores, etc.) are expected to decrease, and these goods are traditionally carried by rail.
One of the major challenges for rail freight transport in the coming years will therefore also be to capture new flows. Intermodal traffic is a promising market. Germany has already achieved tangible results in this area, according to the ECM Ventures study for ERFA. "The growth in intermodal transport in Germany over the last 10 years is primarily attributable to semi-trailers. This indicates increasing success in shifting cargo from road to rail, but not in competition with road carriers. It is rather a new form of cooperation between rail and road, where intermodal trains serve the long-haul and road haulers take care of the local pickup and delivery of cargo," the study says. In Germany, (unaccompanied) semi-trailers account for about one third of the intermodal market, compared with two thirds for containers. The weight of semi-trailer traffic is "much higher than in any other European market" the study said.
The challenge will also be to capture new types of goods. In November 2022, three professional associations submitted proposals to the government to promote the transport of parcels by rail. Boosted by e-commerce, parcel delivery continues to grow (4.5 billion shipments to Germany in 2021). The rail option seems to have been chosen in some cases as an alternative to road transport, but on condition that in particular flexibility, reliability, and traceability are improved. "Conversely, it is important for railway service providers to know more about volumes, relationships and customer needs to establish long-term perspectives," emphasise Allianz Pro Schiene, BIEK and VDV.
Professionals in the sector are calling for an increase in capacity, targeting the most strategic corridors for the transport of parcels:
Nuremberg - Hanover,
Stuttgart - Berlin,
Munich - Hamburg
The links between these centres and the Rhineland/Ruhr region.
"Corridors must also be thought of on a European scale, for example with links to Northern Italy, Scandinavia and Great Britain".
As with all railway projects, this therefore involves massive investments in the network and in new generation terminals allowing rail to be integrated into new logistical schemes. Despite results rather better than the European average, Germany will also have to up the game.
---
[1] We use primarily Eurostat figures, which correspond to those of the German Federal Statistical Office. However, we have also decided to use part of the data from the annual survey produced by the Bundesnetzagentur (Federal Network Agency). The results are not identical, due to the application of different methodologies, for example in the consideration of the results of foreign railway operators. Nevertheless, the overall trends are similar and the study provides detailed data which shed light on market developments.
[2] ECM Ventures for ERFA, 'The European Rail Freight Market – Competitive Analysis and Recommendations', 2022
[3] ECM Ventures for ERFA, "The European Rail Freight Market – Competitive Analysis and Recommendations", 2022
[4] Federal Ministry of Transport and Digital Infrastructure, "Rail Freight Masterplan", Juin 2017.
[5] Intraplan Consult GmbH, TTS TRIMODE Transport Solutions GmbH, on behalf of the Federal Ministry of Digital Affairs and Transport: "Prognose 2022 - Gleitende Langfrist Verkehrsprognose 2021-2022", March 2023