Global air freight traffic stabilised at a high level in September. Prices are continuing to grow as the high season approaches.
Air freight volumes are stabilising at a high level, according to the September market analysis just issued by the International Air Transport Association (IATA). Traffic showed a 9.1% increase over the total for September 2019 after the 7.5% increase recorded in August. Seasonally corrected data shows that growth from one month to another was just 0.2%, however, confirming the stabilisation of volumes seen since the month of May.
Capacity is still below its 2019 level, however, except for airlines in North America and Africa. The level has increased, however, from month to month for Asia-Pacific companies which had to deal with sudden airport closures, particularly in China, which were decided as a means of preventing the spread of the Delta Covid-19 variant.
According to IATA, capacity offered aboard all-cargo aircraft was markedly greater than it was before the pandemic. Capacity in September 2021 was up 25.3%, compared to September 2019. Capacity available in passenger aircraft holds was down 34.1%, however, even though it was still at its highest level since the start of the crisis.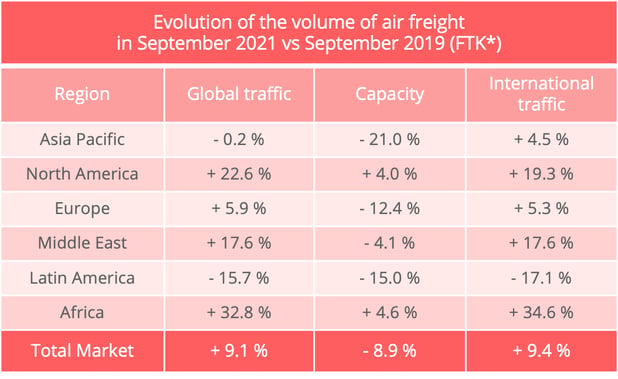 * FTK: cargo tonne-kilometres – Data sources: IATA
Looking at results for the first nine months of the year, traffic showed an 8.2% increase over 2019, even though capacity was down 11.8%. The gap between capacity and demand growth was even greater in the international sector, where capacity was down 13.5%, while volumes were up 8.7%. The load factor thus reached a spectacular 64.3%, compared to 51.1% in the first nine months of 2019. Pressure on capacity was particularly marked for airlines in the Asia-Pacific zone, which registered a load factor of 76.8%, 18.4 points more than in 2019.
Congestion favours air freight for now
The dynamism of the air freight industry is being driven by current strong demand for consumer goods. Stocks are at a low level, which means that quick solutions are needed to replenish them.
Demand for air freight is also being stimulated by the disorganisation currently affecting supply chains. Production is being disrupted by a number of factors ranging from shortages of raw materials and intermediate goods to the introduction of measures to combat the Covid-19 pandemic. At the same time, logistics chains are suffering from congestion, particularly in the shipping industry, leading to longer transit times. The supplier delivery times component of the Markit purchasing managers' index reached a record low of 15.45 in the United States in October and stood at 35.95 worldwide in June, IATA said, recalling that a score of less than 50 indicated an increase in suppliers' input reception times.
To make up for production hold-ups and keep transit times reasonable, air freight looks to be all the more relevant for the fact that it has become increasingly competitive in relation to the shipping sector, where freight rates have stabilised at very high levels. In September, air freight was on average three times more expensive than ocean freight, compared to 12.5 times before the crisis!
Prices head for peak season levels
The narrowing of the price differential is the result of the sharp increase in ocean freight rates. Air freight prices have also increased but in more reasonable proportions. In recent months, they have tended to stabilise but September seems to have marked the start of the peak season, particularly in the intra-Asian and Asia-Europe trades. Monthly fluctuations apart, our data base shows that prices are markedly higher than last year, even though strong capacity constraints had already resulted in a big increase in freight rates in 2020.
The month of October should confirm this trend, with spot prices already showing two-figure growth on certain routes.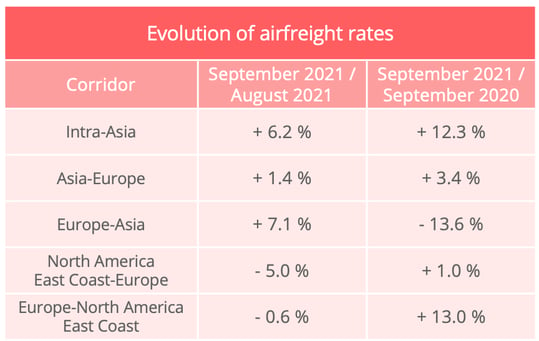 Source: Upply - NB: These estimates are based on real transactions and therefore comprise a mix of spot and regular services prices. The variations shown may be revised over time as new data is included in the Upply data base.
Worrying economic signals
Generally speaking, therefore, we can see that the current economic climate is largely favourable to the air freight sector. With demand strong and capacity supply tight, prices have reached unprecedented levels. The financial results of the leading airlines during the first nine months of the year show significant increases in revenues and unit receipts after they had already reached record levels in 2020.
IATA nevertheless expressed some concern about the inflationary trends affecting both companies and consumers. These trends could quickly have a harmful effect on manufacturing output and export orders. "The corresponding PMIs still point to month-on-month increases globally (levels above 50), but the pace has slowed, and the peak of the recovery has passed," IATA said. "In China in particular, both the new export orders and manufacturing output PMIs have been below 50 for 2 consecutive months in September."
If demand slows, whether because of inflation or supply chain hold-ups, air freight could see its growth weaken. In the meantime, for the next few weeks, the peak season promises to be a lively one, as IATA predicted in August.