SPECIAL REPORT. After the doldrums of 2015, road freight transportation in Île-de-France has picked up, without returning to 2014 levels. The sector is under severe pressure.
In 2018, road freight transportation (RFT) in Île-de-France, excluding transit, international traffic and foreign-flagged companies, has approached the 21 billion tonne-kilometer mark. But the 2.3% increase compared to the previous year was not sufficient to return to 2014's levels. Internal flows grew strongly, to represent 20.3% of all traffic flows in 2018 compared to 16.5% five years earlier. Inflows and outflows, on the other hand, are showing a marked decline, although they have gradually regained ground since the low of 2015.
Data for 2019 and 2020 are not yet available. According to sector professionals, in 2019 a certain slowing-down was beginning to be felt after three years of recovery. It is quite clear that the Covid epidemic will have dramatically aggravated the situation. "The region is very dynamic, but it has been hit hard by the crisis. After the first wave in the spring of 2020, it picked up rather less quickly than others, because activities such as tourism, events management, or the luxury industry, which are very important for the local economy, have only partially resumed," points out Pauline Martin, regional delegate of the FNTR Île-de-France. "Carriers face great uncertainty about volume trends over the next six months," adds Philippe Munier, Regional Delegate, IDF, Centre and Ouest of the Union TLF.

* in millions of tonne-kilometers transported (excluding transit, international traffic and foreign-flagged companies) - Source: SDES, Road Freight Transportation Survey
30 % of its trade is with the Hauts-de-France
Given its economic weight, the region remains a strategic logistics space. In volume terms, road freight traffic in the Île-de-France region stood at 178 million tonnes (Mt) in 2018, this figure is for total regional traffic, excluding transit, international traffic and foreign flagged companies.
Intra-regional traffic was about 100 Mt, up 0.6% from 2017. Inter-regional traffic totaled 78 Mt, an 8.7% year-on-year increase, bringing it closer to the peak of 78.4 Mt reached in 2014. The four main partners of Île-de-France, namely the Hauts-de-France, the Centre-Val-de-Loire, Normandy and the Grand Est, account for more than 70% of trade, 30% of which is for the Hauts-de-France alone.
Inflows dominate inter-regional trade, with a total of 42 Mt in 2018, compared to 36 Mt for outflows.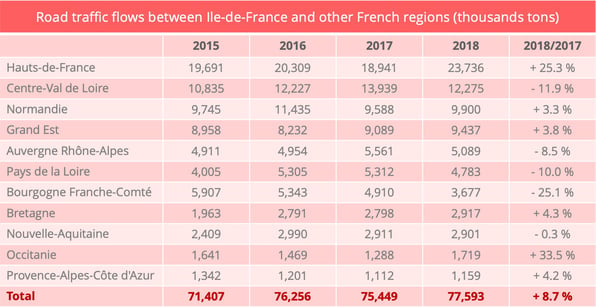 Source : The Department of Sustainable Development's Data and Statistical Studies Service.
Rising workforce numbers
As of December 31, 2019, according to the 2019 regional report of OPTL (Prospective Observatory of professions and qualifications in Transport and Logistics), Île-de-France had 21,445 establishments in the road freight transportation sector, of which 16,205 were without employees. "The number of establishments in the Freight business in its largest sense has increased by 12% in 5 years and the number of employees by 15%," says the OPTL. The groupe Bovis (91), the groupe Delisle (77), Distritec (77), the Transports Prémat (91), Prévoté Transport & Logistique (95) or Vir (94) are some of the region's most iconic names. "Our companies are particularly active in the public works, food, car transportation and, of course, courier sectors, which represent very large flows," explains Pauline Martin.
The companies with 1 to 9 employees represent 75% of establishments with staff, compared with 23% of establishments with 10 to 49 employees and 3% of establishments with more than 50 employees. These structures employ 23%, 40% and 37% of all staff respectively. The Seine-et-Marne, Seine-Saint-Denis and Val d'Oise are at the top of the list of establishments and employees, with a strong increase in the Seine-et-Marne over the last 5 years.
As in all regions, the road freight transportation sector in Île-de-France is facing recruitment difficulties, particularly for drivers and, above all, staff retention. "But the specific context linked to Île-de-France makes the job stressful, especially for the last-mile service providers," notes Pauline Martin.
Strong Environmental Issues
Similarly, environmental pressure is probably a little stronger than in many other regions. "Sector professionals are obviously working on the implementation of alternative modal solutions, for example by developing river transport. But truckers still provide, by far, the overwhelming majority of deliveries. The establishment of low-emission zones will be a major challenge in the coming years, and a real test because today, 90% of the fleet of heavy goods vehicles is still running on diesel", warns Philippe Munier.