Road transportation prices on the French market rebounded slightly by 0.7% in July compared to June according to our monthly Upply barometer. This puts an end to a continuous fall in prices in France for 7 months, but it is not enough to get the transportation sector out of the serious crisis it is going through.
We have become used to seeing road transportation prices fall inexorably in France for several months now. Chronic transportation overcapacity was the consequence of on the one hand a cyclical crisis of declining demand from the automotive industry and on the other multiple economic, social, and health crises due to Covid-19.
As we can see from the graph below, July 2020 marks a halt. Let us try to analyze the reasons for this rebound.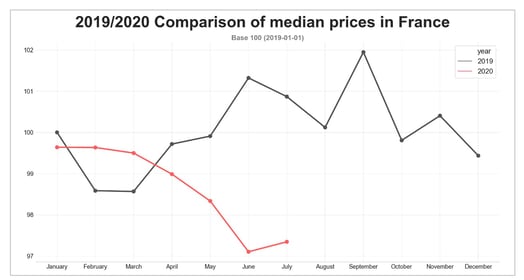 Source: Upply
Signs of recovery
The morale of French bosses is clearly improving, as can be seen by a further increase of 7 points in the business climate measured by INSEE in July (see table at the end of the article).
Based on studies by the consulting firms IHS Markit and Boston Consulting Group, the newspaper La Croix reports that domestic demand is strong in France and that this recovery is the strongest in Europe. This progression essentially illustrates the acceleration in the growth of activity in the service sector, but manufacturing output is also experiencing "strong expansion".
In its update on business conditions in France at the end of July 2020, the Banque de France for its part confirms that activity has continued to recover in July, in industry as well as in services and construction, although at a slower pace than the previous month.
In industry, the capacity utilization rate recovered by 3 points, reaching an average of 72% in July compared to 69% in June (and 79% before the crisis). It recovered particularly well in rubber and plastic products, going from 66% in June to 71% in July, but fell slightly in IT, electronic, and optical products, going from 77% to 75%.
This increase in capacity utilization rates for intermediate goods, taking into account the solid cash flows marked by support for businesses through State-guaranteed loans, could well be interpreted as an increase in supply stocks. This may well be the end of the sacrosanct zero-stock rule obeyed by all supply chain managers before the crisis; in the quest for resilience they will probably anticipate a second wave by preparing for the supply disruptions that it could still cause.
Strains on transportation capacity
According to the Banque de France, in July 2020, the transportation sector was at 95% of its normal capacity (compared to 61% in April 2020). Over the summer period, taking vacations into account, this is almost equivalent to a maximum use of transportation capacity.
These figures are totally in line with the information coming to us from the ground. In July, we received reports of considerable difficulty in finding available trucks.
Tension in supply and increased demand for transportation have therefore resulted in price inflation. However, the increase only applies to spot prices because buyers of regular rates had already negotiated lower prices (see previous article), and as such the overall increase is inevitably limited.
What trends for the coming months?
The first hypothesis of a sustained recovery in price increases seems unlikely. The price erosion had already begun in 2019 due to the drop in European automobile trade. As long as the automotive sector has not recovered, prices will not increase significantly.
There remains two other hypotheses, either a fall in prices, or a stabilization of prices evolving in a sort of tunnel around June and July's values . The months of August and September should therefore be keenly scrutinized. The "second wave" and any related lockdown measures will have an impact on transportation demand. Depending on its intensity, the impact on demand will be more or less reflected in transportation prices. To be continued...
---
KEY INDICATORS

Source: Insee, CNR