SPECIAL REPORT. Road freight transport in the Normandy region has been on a downward trend in recent years despite a recovery in 2018. Internal transport flows are showing the greatest buoyancy.
Road freight transport traffic in Normandy, excluding transit, international and foreign flag traffic, showed a 1.3% reduction in 2018 compared to 2014. According to the 2019 regional economic report from the French national statistical institute, INSEE, traffic totalled 16.7 billion tonne-kilometres. It has increased steadily since the low point registered in 2015 but not enough to get back to the 2014 level.
As in many other region, the increase has largely been driven by internal traffic flows, which showed two-figure growth, while incoming and outgoing traffic fell.

*in millions of tonne-kilometres carried (excluding transit, international and foreign flag traffic) – Source: French transport ministry road freight transport survey.
Hauts de France region is number one partner
The lacklustre state of the market can be seen, too, in the figures for traffic measured in tonnes. In 2018, total regional traffic, excluding transit, international and foreign flag traffic, stood at 138 million tonnes (Mt). This total was 8.7% up on 2017 but down 10.4% on 2014, according to data from the Observatoire Social des Transports de Normandie. Transport for third parties accounted for 67.4% of all tonnage in 2018, which is to say 93 Mt, compared to 101 Mt in 2014 (-8%). Transport for own account accounted for 45 Mt, down 15% over the same period.
Although the trend over several years shows a fall in traffic, 2018 was a good year. Traffic within each of the Normandy departments increased by an average 11%. Traffic between the departments increased 19% and traffic with other regions 2%. Of the 138 Mt total, 62% was accounted for by intra-regional flows. Inter-regional flows represented 53 Mt, of which 27 Mt outgoing and 26 Mt incoming.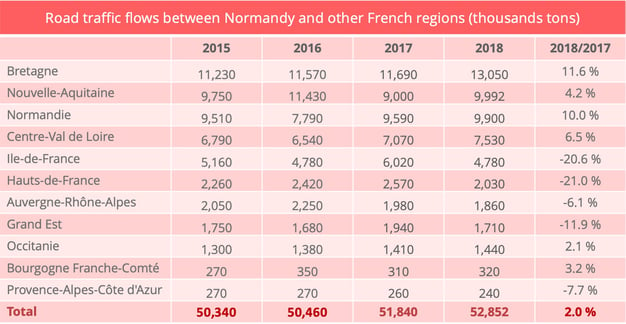 Source: Observatoire Social des Transports de Normandie
Normandy's main partners are its immediate regional neighbours. The rankings have not changed much in recent years. Hauts de France is the leading partner by a wide margin, ahead of Pays-de-Loire, Ile de France, Brittany and Centre-Val-de-Loire.
A more detailed look at the incoming and outgoing traffic flows gives some additional information. Overall, since 2015, incoming flows have been stagnant, while outgoing flows have increased 10%. In the incoming category, Hauts de France, Pays de la Loire and Brittany showed two-figure growth, while traffic from Ile de France fell 30%. Conversely, Ile de France showed a 50% increase over 2015 in 2018 as a destination for a goods coming from Normandy. Hauts de France and Brittany showed increases of 11% and 12% respectively. Pays-de-Loire and Centre-Val-de-Loire, which complete the top five destinations for outgoing traffic, showed declines of 3% and 4% on 2015 in 2018.
As regards the nature of these traffic flows, the three main products transported by road accounted for 46% of regional traffic. These were "food products, agricultural products and mixed goods", according to the Observatoire Social des Transports de Normandie.
Stable companies
Road freight traffic figures for 2019 are not yet available. According to the INSEE report, the regional economy was relatively dynamic but a certain number of warning lights had begun to show. "Port activity, which has a major impact in the region, has suffered in recent years from industrial action affecting the port of Le Havre," said Jean-Marc Pelazza, regional delegate at the
FNTR road transport federation.
In 2020, the region was not spared by the crisis caused by the Covid-19 epidemic but the effect clearly varied according to sector and type of activity. As regards road transport proper, the FNTR's survey of the sector in the second quarter of 2020 shows that, during the first wave of lockdown, revenue loss and the number of lorries out of action among Normandy transporters in June was overall the same as the national average. "The logistics and warehousing part performed fairly well, enabling some companies to hold out," said Pascal Vandalle, Hauts-de-France-Normandy regional delegate at transport and logistics professional body Union TLF. "This period will have an impact, the full effect of which have not yet been measured," said Jean-Luc Pelazza. "The economy was better protected during the second lockdown but our companies have never been faced with such a lack of visibility."
On 31 December 2019,1,922 companies figured on the freight companies register compared to 1,935 in 2015. Seine-Maritime was in the number one position with 703 companies, followed by Eure with 405, Calvados with 366, Manche with 263 and Orne with 185. These figures cover only companies which have their head office in Normandy, taking account of the fact that a company on the freight register is one which provides transport for third parties whether or not this is its main activity. "It could, for example, be a civil engineering company or an agricultural company," the Observatoire Social des Transports de Normandie said in its 2020 report. Companies like the Malherbe group, the Chatel group, Alpak Transports, Mertz, Normandie Logistique, Noyon, Tratel, Transports Jourdan, Transports Olivier Leloup (now part of Italy's Marenzana group), Hirsch Transports and Vallée Transports are among the many which fly the region's flag. Jean-Marc Pelazza noted that there was a growing consolidation trend. As in other regions, the baby boomers are handing over to the new generation and the crisis has intensified this process.
Strategic problems with or without the crisis
According to the 2019 regional report of the OPTL transport and logistics employment observatoryOPTL, companies with between one and nine employees represented 55% of all establishments with employees but employed only 10% of all transport and logistics personnel. At the other extreme, 8% of establishments have 50 or more employees but account for 47% of all employees in the profession. According to Jean-Mac Pelazza, even though recruitment tensions have eased because of the crisis, it would be dangerous to think that the problem now belongs to the past. "Even now, some companies tell us that they are having difficulties recruiting. And, in the longer term, it should not be forgotten that the age pyramid is not favourable."
A second problem, which currently poses no threat but which could become acute again when the economic recovery arrives, is the price of diesel fuel. The United States is currently the world's leading producer of diesel fuel thanks to its shale oil sector but the Biden administration could change strategy, given that the president-elect has promised to re-commit to the Paris agreement. "It is a subject which will need to be followed closely," said Jean-Marc Pelazza. "Transport companies have begun their energy transition but it is clear that diesel will remain the majority fuel for a long time yet. If we get 15% of all vehicles in the fleet to run on gas within the next 10 years, that will be an achievement." Pelazza said that Normandy was behind in this area, adding, "The region has put a lot of its money on hydrogen but it is a technology which is not yet ready for use in heavy vehicles. We have written to the president of our region to make him aware of the need to help transporters to acquire gas-powered vehicles, as some regions are already doing, but also to coordinate the roll-out of a network of (refuelling) stations because, until now, development has been a bit anarchical."